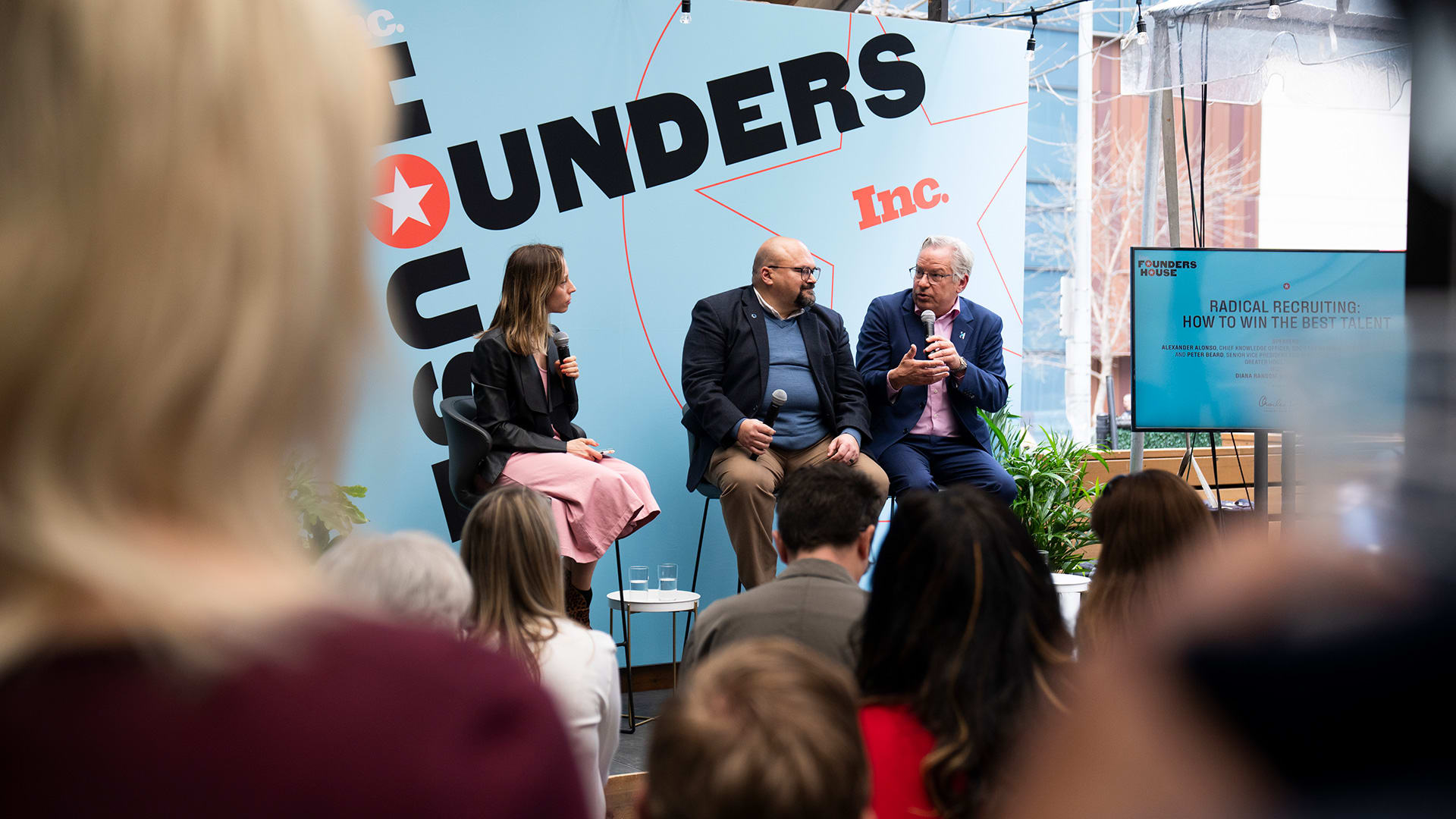 Founders face unprecedented recruitment challenges--and they are not alone. According to August 2021 research by Society for Human Resource Management (SHRM), nearly 90 percent of employers are struggling to fill roles across the board, from highly-skilled positions to lower-wage jobs.
The problem is not a labor shortage. Millions of people in the U.S. are unemployed or underemployed. According to experts at the Charles Koch Foundation (CKF) Radical Recruitment panel at the Inc. Founders House in Austin, Texas, companies are not looking for talent in the right places, and they are not offering the tools people need to come off the job market sidelines.
Let's look at key takeaways from the panel, including how to find untapped labor pools, avoid common recruitment mistakes, and better compete with larger organizations in the race for talent.
The real reasons people aren't rushing to the workplace
Why is it so hard to attract and retain talent? One factor is the Great Resignation, during which people have quit their jobs in record numbers due to low pay, lack of advancement opportunities, and child care issues.
Peter Beard, SVP for regional workforce development, Greater Houston Partnership, highlighted another problem: the pandemic accelerated companies' need for advanced technology skills, but the labor market has not kept up.
Classic and creative hiring strategies
To compete with larger companies and offset the allure of government subsidies, small businesses should consider increasing compensation, panelists said. Offering competitive salaries is particularly important given inflation and the rising cost of living-;but many businesses are hesitant to do so.
Another common mistake concerns training and growing talent, Alonso explained. Investing in upskilling programs is a proven strategy for bridging the talent gap, yet many companies do not prioritize accordingly, he said. Furthermore, employers should offer upskilling the moment they engage with a candidate, rather than waiting until someone is hired.
Many companies in Texas are rethinking their approach to bringing in talent, Beard said, by offering internships, apprenticeships, and project-based work to get to know candidates while teaching them valuable skills.
Other, outside-the-box ideas for attracting and grooming employees include:
Incentivizing retirees to rejoin the workforce or take on project work
Rehiring former employees and offering existing employees a "boomerang bonus" if they help get a former colleague back
Offering a health care concierge and/or fertility benefits
Casting a wider, more diverse net
To compete with larger corporations that can afford to increase their hourly rates, some small businesses no longer require a college degree or, in some cases, even a high school diploma, Beard said.
He believes a growing number of employers will adopt "skills-based hiring approaches," where they emphasize skills, including soft ones, over educational requirements. Other untapped labor pools to consider include people who are differently abled, aging populations, veterans, members of the military, and military spouses.
"These untapped talent pools actually have the skills employers want," Beard said, explaining that military professionals are reliable, agile, and quick to act. NextOp, a Houston-based program that recruits, trains, and places middle-enlisted military leaders into industry positions, is an exciting resource for founders, Beard explained.
Another population business leaders have historically overlooked is the nearly one in three Americans with a criminal record. According to a survey by SHRM and CKI, 53 percent of HR professionals are now willing to hire people with criminal records, up from 37 percent in 2018.
Founders can expand their talent search in terms of location, as well. Businesses with fewer than 5,000 employees typically don't look past a 50- to 100-mile radius when recruiting, Alonso said. He encourages founders to expand this radius.
While the labor market is tight, small businesses can still fill open positions, develop talent, and retain employees. They will just need to employ a bit of strategy, creative thinking, and hard work.
Inc. would like to say a special thanks to our panelists, Inc. Executive Editor Diana Ransom for moderating, and to Charles Koch Foundation for sponsoring the lively and informative discussion.
May 11, 2022