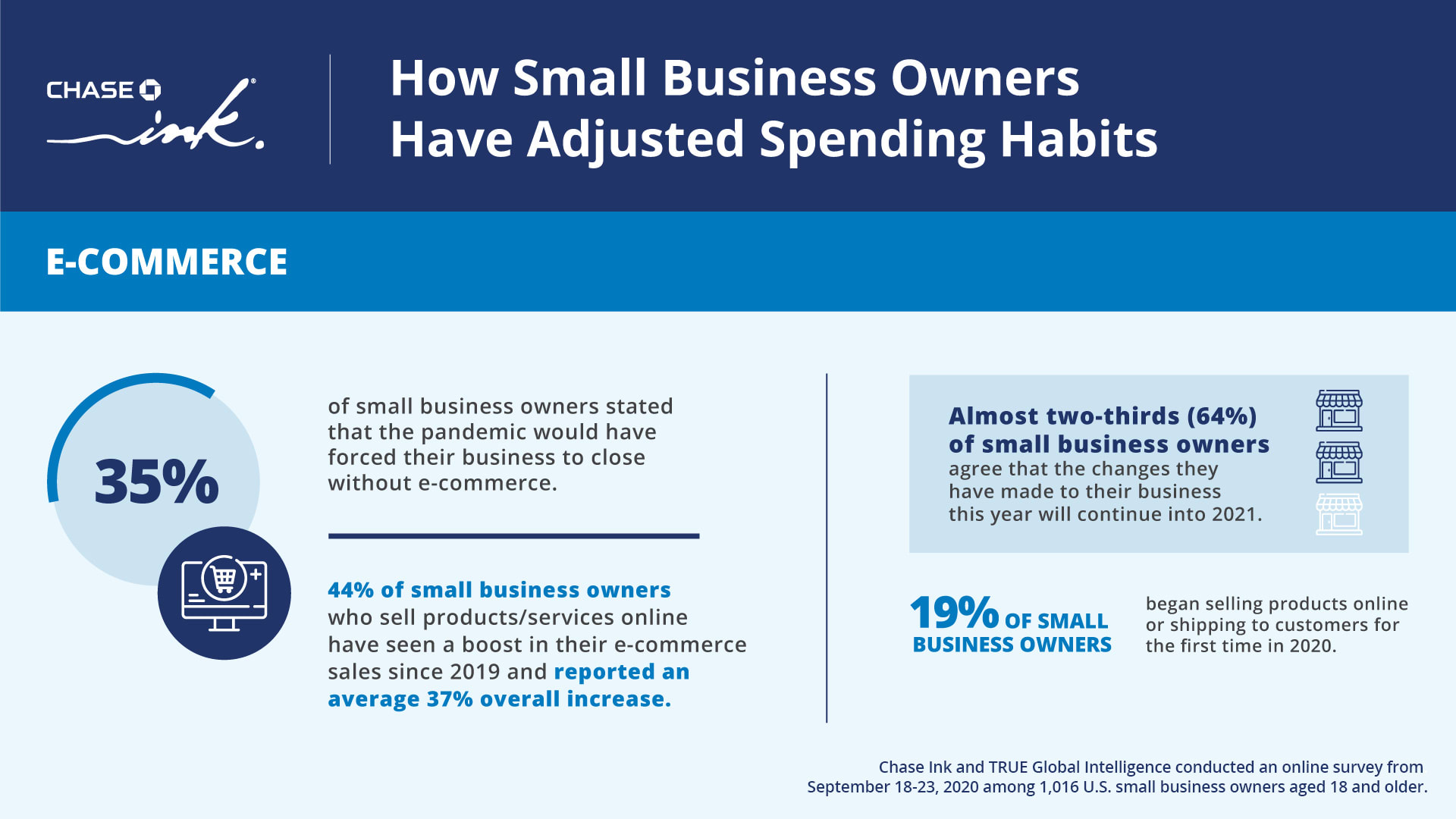 As thousands of businesses across the U.S. were asked to shutter their doors this past spring, many small business owners didn't see this as the end, but rather, a new beginning. In fact, according to a new survey from Chase Ink, nearly one in five small business owners began selling products online or shipping to customers for the first time this year. Among businesses that were already selling online, 44 percent reported a boost in their e-commerce sales since 2019, with an average 37 percent overall increase.
Sips by, a Chase Ink customer, is an e-commerce business that sells personalized tea box subscriptions and has seen sizable growth this year. Founder and CEO Staci Brinkman noticed a surge in sales as customers avoided the grocery store and went virtual for their tea purchases.
With Sips by's business model, customers receive a subscription package with four premium teas every month. "I wanted to do what Sephora did for beauty and what Stitch Fix did for fashion--putting big and small tea brands under one roof and personalizing monthly selections for our members," says Brinkman, whose career in software development helped her launch this online operation.
Here are Brinkman's tips for small business owners seeking to enhance their e-commerce strategy.
1. Find a Product, Leverage a Platform
Brinkman's advice to entrepreneurs who want to make the shift from traditional retail to e-commerce is to select a few key products, things that might sell well during the holidays, and then set up a basic online shop through platforms like Wix or Shopify. "All you really need is an internet connection and a computer," says Brinkman. When it comes to fulfilling orders, pack boxes and stuff envelopes from home, she says, which is something she did until Sips by moved into their warehouse last year.
As a growing number of businesses have increased their focus on shipping, their spending and business expense mix may look drastically different than it did just a year ago. According to the Chase Ink survey, among small business owners who reported business expense increases since last year, more than one in four (27 percent) are spending more on shipping to customers. Additionally, 24 percent of survey respondents noted they are spending more on e-commerce platforms.
In fact, if not for the ability to ship to customers or leverage e-commerce platforms, many small business owners say they would have been out of options entirely. According to the survey, 35 percent of small business owners reported that without e-commerce, the pandemic would have forced them to shut down their business.
2. Rethink Your Product Mix
With more customers turning to Sips by, Brinkman saw an opportunity to broaden her product offerings and make better use of her e-commerce platform. She started adding new items to her online store during quarantine, such as a heart-shaped glass mug and curated tea collections. "I wanted to diversify our product mix," she says. "A lot of people are highly engaged with our digital content, so I thought we could sell something else while benefiting the 150 tea partners we work with around the world."
3. Know Your Customer
Because Sips by is fully e-commerce-focused, they are able to quickly offer new products online, as well as gather insights to help understand customer decision-making. While Brinkman has always paid attention to the numbers, she's considering the perspective of her audience even more today, in part because more people than ever are signing up for subscription boxes and sharing their tea preferences when creating their free Sips by profile.
While knowing what customers want has always been important, it's even more critical today to streamline the customer experience and help customers quickly find the perfect item before they move on to another site. "There's nothing more valuable than knowing your customer, and the pandemic has enabled us to do this even better," she says.
To that end, Brinkman has added a new feature to her site, where 1,500 teas and more than 150 brands can be filtered according to the user's profile. She did so in an effort to capture the experience of shopping in a small store. "One of the things I miss as a shopper (in the pandemic) is going into a boutique where I know who works there and who can help me find the things I'm looking for," she says. "Larger companies don't know their customer like a small business does, and by asking customers to share their unique preferences, you can deliver high-touch, personalized experiences."
For Brinkman, the moves she's made during the pandemic will continue into the future, she says, which is something many small business owners can relate to. Chase Ink found that 64 percent of small business owners will continue with the changes they've made to their business into 2021.
Brinkman's optimism is shared by other female entrepreneurs and business leaders. In fact, 59 percent of women small business owners are optimistic about their long-term future (2022 and beyond).
"We stand to really level up the shopping experience," she says about the improvements her company made this year. "My focus is on delighting our customers."
Oct 23, 2020