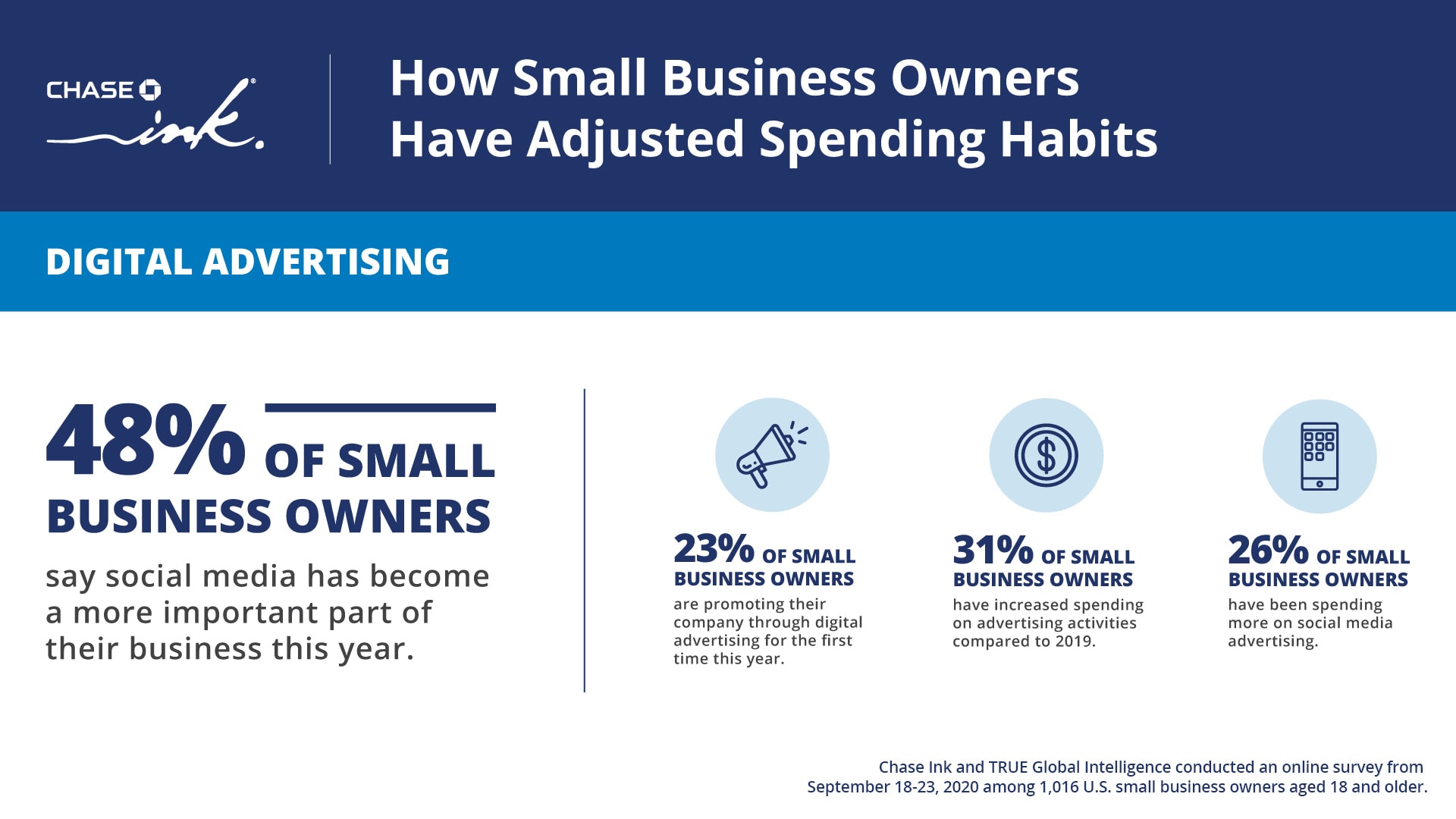 For small businesses this year, a capable digital infrastructure has never been more important. And many have responded by adjusting their spending habits to meet consumers where they are--online--while continuing to social distance.
As consumers continue to spend more time at home and online, digital advertising has become that much more important to America's entrepreneurs, enabling them to position their brand in front of prospective customers. According to a new survey from Chase Ink, nearly a quarter (23 percent) of small business owners began promoting their company through digital advertising for the first time this year, and almost half (48 percent) say that social media has become a more important part of their business.
With the increased focus on these platforms comes increased spending, with 31 percent of survey respondents saying they have upped spending on advertising activities year-over-year in 2020. Small business owners also say they invested 23 percent more in search engine optimization and 26 percent more in social media advertising. To help small business owners maximize these investments, Chase has expanded Pay Yourself Back to Ink Business Preferred and Ink Business Plus cardmembers, who can now redeem points to get 25 percent more value across shipping and select advertising expenses.
Dr. Sonat Birnecker Hart is one of many business owners who accelerated her digital marketing efforts during the pandemic. She is the cofounder and president of KOVAL Distillery, a Chicago-based brand that makes whiskey and other spirits and recently converted its facilities to create much-needed hand sanitizer for the community. Before the pandemic, the company focused its marketing efforts almost exclusively on in-person events.
For Chelsea Moore, founder and CEO of Los Angeles-based BOXFOX, a company that creates and distributes thematic gift boxes for special and corporate events, the pandemic presented a unique opportunity to increase sales and revenue through digital advertising. People looking for a birthday or business gift now tend to shop online to find items that can easily be delivered.
In an increasingly digitalized world, small business owners are finding opportunities to adapt their business models and spending habits. These two small business owners shared the following tips and insights to help boost your digital presence and expand your customer base.
Advertise on the right e-commerce sites
When the pandemic hit, Dr. Birnecker Hart had to rethink how she sold her products. Customers typically bought her whiskey from KOVAL's own brick-and-mortar store, which had to temporarily close due to safety precautions. To keep the business running, she created an e-commerce site where people could buy product and then pick up safely at the store. She also worked with other e-commerce companies, such as Instacart, Amazon Prime, Target, and others for contactless pickup or - where legal - delivery.
One of the advantages of partnering with these e-commerce sites is that Dr. Birnecker Hart could advertise on their platforms, but the process, she found, was complicated. Some larger companies were too expensive to work with, while others wouldn't return her calls. Certain sites also auction off advertising space, and Dr. Birnecker Hart was often outbid. "If someone else makes a higher bid, you might not even get the chance to use your money on the platform," she said.
The experience was frustrating, but then she started looking carefully at the kinds of brands these sites were promoting and how advertising dollars were used. She found a number of companies that wanted to support small businesses. "We had to find the partners that were willing to work with us, and we found some e-commerce platforms, particularly in the alcohol realm such as Spirit Hub, that were innovating," she said. "What's been most beneficial to us as a small business in a competitive industry is taking the time to learn about how to work with every single individual platform, and see where it might make sense to use our ad dollars."
Get help with social media
With her personalized gift box company, Moore carefully curates and ships customized, meaningful packages. While their marketing strategy included some paid social advertising prior to the pandemic, Moore has now increased and enhanced her brand's digital presence in front of new potential clients. Because digital advertising can be complicated and time consuming, she brought in an outside agency to help develop and manage a more robust digital marketing campaign.
Moore recommends seeking out support, especially from those who know the ins and outs of SEO and social media targeting. When partnering with an agency, Moore says to make sure you're setting your business partner up for success. She worked hard to define her company's voice and aesthetic, which informs all of BOXFOX's social media activity, and focused on increasing spending on Facebook, Google, Instagram, and other sites that she knew were relevant to her customers. Then the team went to work. "I said, 'These are the things that are relevant to people; what do you think?' and that led to discussions on tightening SEO and investing in streamlining our feeds," she said.
Measure success
Digital advertising is a great way to build your business and customer base, but how do you know whether it's working? With paid search and social media advertising, companies can measure their success, whether it's clicks to a website, conversions to sales, or social media interactions. In its recent survey, Chase Ink found that many small businesses are benefiting from their online marketing efforts. Of those who use paid search advertising, 52 percent say they have seen new customers, and 36 percent report increased recognition of their business from paid search advertising alone.
Moore is one of many small business owners who has seen an increase in conversions since she increased her digital investment, and Dr. Birnecker Hart has also experienced an uptick in e-commerce activity from her ads. "We can see who clicked on what," she said. "We can see who then purchased our product. If we know that more people are buying from a particular online venue, then those are ad dollars well spent."
Moore and Dr. Birnecker Hart anticipate digital advertising will remain a core component of their marketing efforts moving forward, as do many of their peers. 62 percent anticipate advertising on social media in 2021 to drive sales, and more than half (52 percent) plan to use paid search. "This pandemic is changing our culture when it comes to purchasing," Dr. Birnecker Hart said. "And online retail is going to remain very strong."
Oct 30, 2020