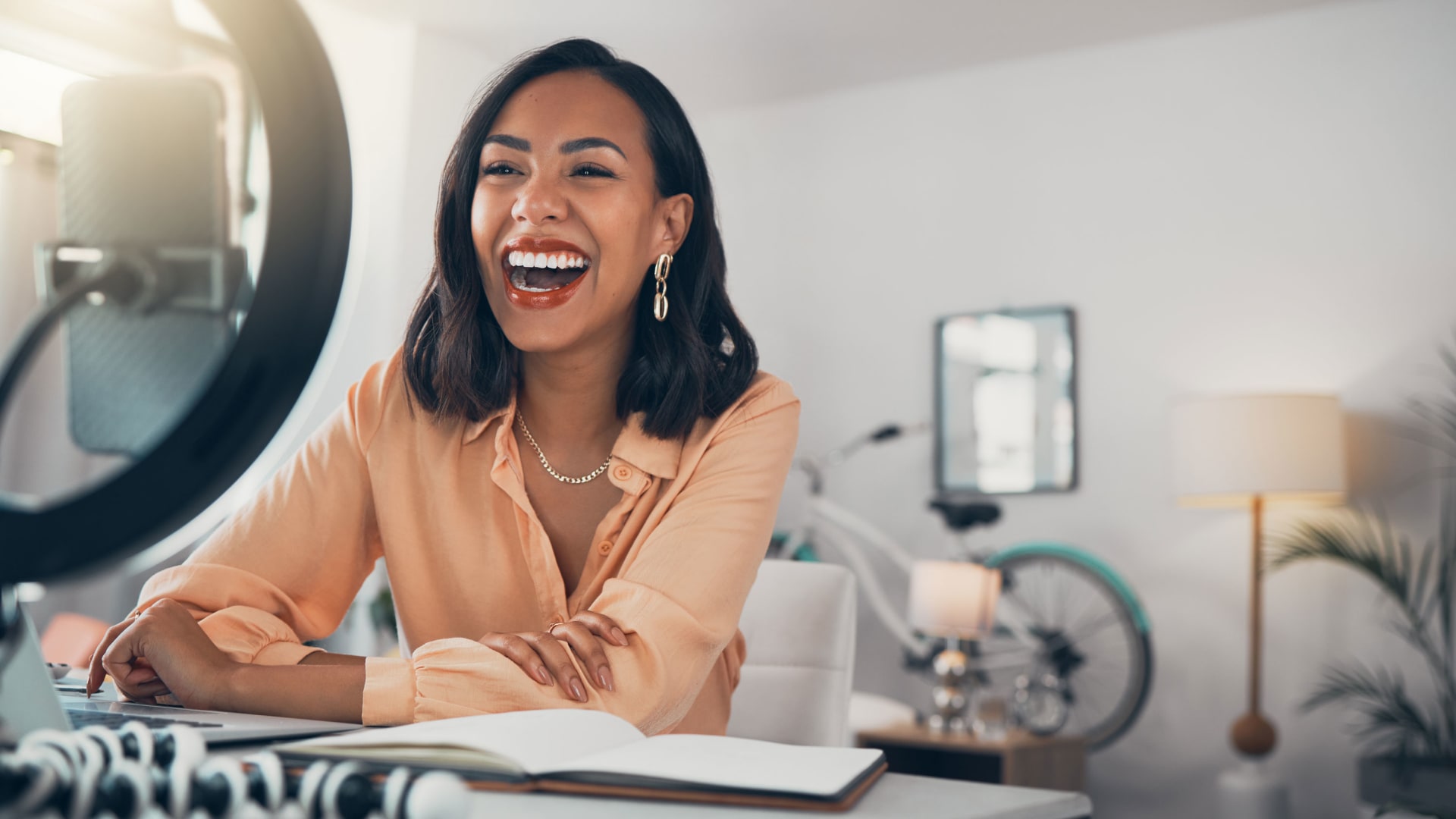 Over the past few years, TikTok has become a fundamental tool for companies looking to grow their online presence and attract new customers.
But the social video platform is not just a great tool for existing businesses--it's also a great springboard for aspiring entrepreneurs like Dylan Lemay. In May 2020, Lemay started making short "storytime" and tutorial TikToks while working at Cold Stone Creamery in Detroit, Michigan. One of his first videos, titled "Your First Day At Cold Stone," taught the audience how to work at the ice cream chain--and got more than 8 million views. Within 60 days Lemay had grown his account to over 1 million followers.
What started as a casual pastime quickly evolved and in the fall of 2021 Lemay raised $1.5 million from investor Chris Camillo to open his own New York City-based ice cream shop, Catch'n Ice Cream, in July 2022. Since its launch, Catch'n Ice Cream has exceeded projections, selling thousands of its ice cream balls per week--some to customers who have traveled across the country to meet Lemay and experience the store. Inc. spoke to Lemay and other entrepreneurs to get their best tips for using the platform to bring to market and promote a business or product.
Create Relatable and Shareable Content
Lemay encourages everyone to "start posting content around the things you love" because you never know when a certain topic will go viral--or what opportunities may come your way as a result. Initially, Lemay thought his Cold Stone videos were dumb fun--something to keep him busy during the lockdown. But as his videos gained several million views, he decided to study the platform and learn how to create a viral video on purpose.
He found that to go viral, you need a great story to tell--and a purpose for telling it. For example, one of Lemay's first viral videos showed him creating a graduation cake for his sister after her ceremony was canceled due to the pandemic. Lemay saw this as an opportunity to share a story that many high school and college students across the country could relate to.
Similarly, Madelyn Machado, a former recruiter at Microsoft, Meta, and Linkedin, started posting TikToks giving career advice and tips on resume building earlier this year. When she decided to lean into TikTok and launch her reverse recruiting business--a service where she helps candidates revamp their resumes and find a job--she went from earning $500 a month to $25,000 a month in less than 90 days. Machado, who is on track to make $500,000 this year, says she she gets the majority of her clients through TikTok and recommends posting 4-8 times per day.
One of her first viral videos explained the benefits for remote employees at her then employer, Meta. The video went viral, reaching 480,000 views, and immediately she had an influx of people asking to set up one-on-one calls. Machado kept the momentum going by posting video responses to popular questions in the comment section. Her subsequent videos all received tens of thousands of views. In addition, a trend Machado has noticed is any video that involves resources, interview questions, or websites people should try, as well as videos that people can save and reference back. People are more incentivized to share these videos and therefore they are more likely to take off.
JT Barnett, the founder and CEO of LA-based TikTok marketing agency StrategyX, says "the most important metric for your videos to continue being shown to new audiences is watch time. Typically, you would have watched the majority of a video if you opted to save or share it to friends--both of which are heavy indicators that your content was found valuable."
How To Turn TikTok Success Into Business Deals
Preston Seo worked in corporate sales selling enterprise cloud applications for Workday, a people management software company based in Pleasanton, California. At the beginning of 2021 he began creating finance-related content on TikTok with the goal of helping 100 people achieve financial freedom. After posting a video explaining the AMC and GameStop craze, his TikTok presence blew up: The video received 2 million views, and, he says, "practically overnight I went from 5,000 to nearly 100,000 followers." Seo noticed people were interested in the topic and continued to create videos touching on the subject. Within two-and-a-half months, his account had grown to a million followers. In the span of a year, he managed to quit his job and consistently generate $100,000 a month through brand deals--with companies such as Fundrise and Morning Brew, affiliate linking, and selling his own educational products.
Seo's strategy was simple. He emphasizes that many creators make the mistake of trying to monetize too quickly and end up losing the trust of their audience. He recommends first focusing on providing as much value--in the form of education or entertainment--as possible, to build trust with your audience. This means being selective about partnerships. He also highlights the importance of spending time answering questions from people within your community, explaining that, "the more time you invest with your audience the bigger the ROI will be down the line."
When it came time for Seo to launch his own product, an educational course on investing, he experienced tremendous success because of the trust he had built with his audience. Over 2,000 people joined his first webinar, which generated nearly $125,000.
Seo and Machado recommend having a place to drive traffic to--so that when you do have a video that performs well, there is a funnel to capture potential customers. They use "link-in-bio" tools like Linktree and Beacons to generate clickable URLs that direct to a single web page serving as a hub for all your products or services. According to Machado, "You have to have an email list. Whether it's for a free newsletter, a blog, a service, or whatever it is, you want a way to communicate with your audience off the platform."
Sep 9, 2022