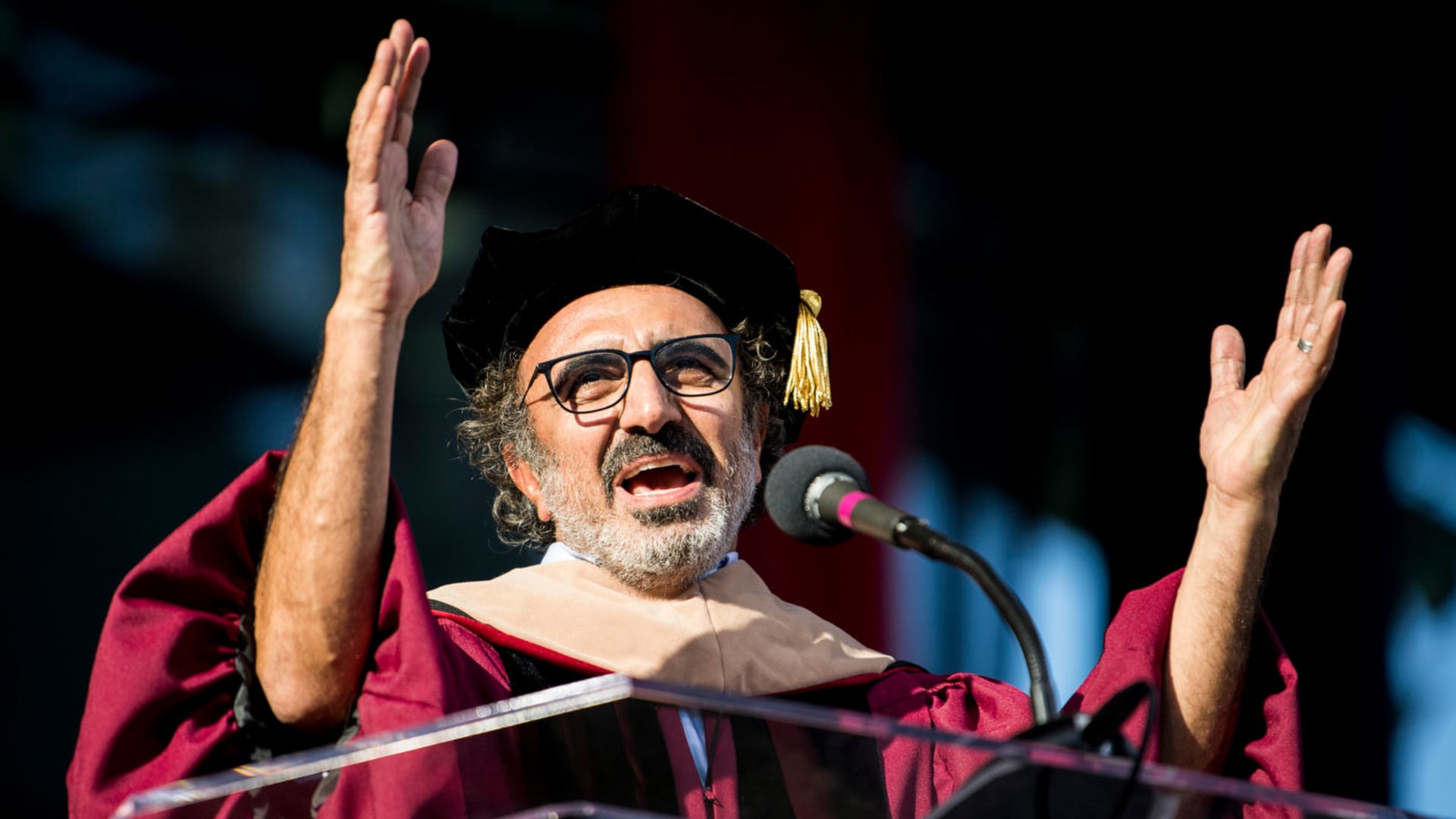 Hamdi Ulukaya gave his first speech at the age of 20. The son of Turkish nomads was nervous, but he told the couple dozen people there with him in a small town near the Euphrates River that he was going to write about injustices and human rights violations. He'd publish a newspaper to confront political injustice.
"I had no idea how to publish a newspaper," he says. "I did it anyway." It was that newspaper that got him in trouble with the government, he explains, causing him to flee Turkey, immigrate to the United States, found the yogurt company Chobani, and begin what would become a coalition of more than 200 companies that aim to find employment for and support refugees around the globe.
On May 13, Ulukaya stood in front of a crowd of new graduates of Northeastern University at Fenway Park in Boston, and exhorted them to make a difference in the world as he has. Looking at their 20-year-old faces, he said, he saw himself at 20: "I can tell all of you have the same fire in you."
"I hope you don't turn away from the things that make you uncomfortable," he advised the audience. "My wish is you turn toward them, look them square in the eye, and work for the rest of your life to change them."
Ulukaya founded Chobani after seeing a listing for a recently abandoned dairy plant in an economically depressed region of New York State. With the aim to employ--with living wages and good benefits--as many people as possible, he grew Chobani into the country's best-selling Greek-style yogurt. Along the way, he was told that he needed to stay quiet about his passion for helping and hiring refugees, or his company would be boycotted and he'd lose all that he'd been working toward. "I said, 'If I'm going to lose everything, I'm going to speak the truth,'" he says.
Ulukaya uses his personal wealth to fund the Tent Partnership for Refugees, his global nonprofit. He also has signed the Giving Pledge to commit the majority of his wealth to philanthropic endeavors.
There's an irony the graduates have to confront, he says: Their generation are considered by some older people to be fragile snowflakes. "But here's the truth: Your generation has had more crap thrown your way than just about any other generation in history," he says, noting the Great Recession, mass shootings, social media bullying, racial injustice, and the Covid-19 pandemic. "And we know you have survived them all."
"Innovation doesn't happen when you're comfortable. Progress doesn't happen when you're comfortable. Change doesn't happen when you're comfortable," Ulukaya told the graduates, while letting them know they each were primed to create the change in the world they seek--whether it's standing up to politicians to get serious about climate change, or to executives to make diversity, equity, and inclusion real priorities. "Of course, you don't need me to tell you this. You are the poster children of uncomfortable."
May 16, 2022