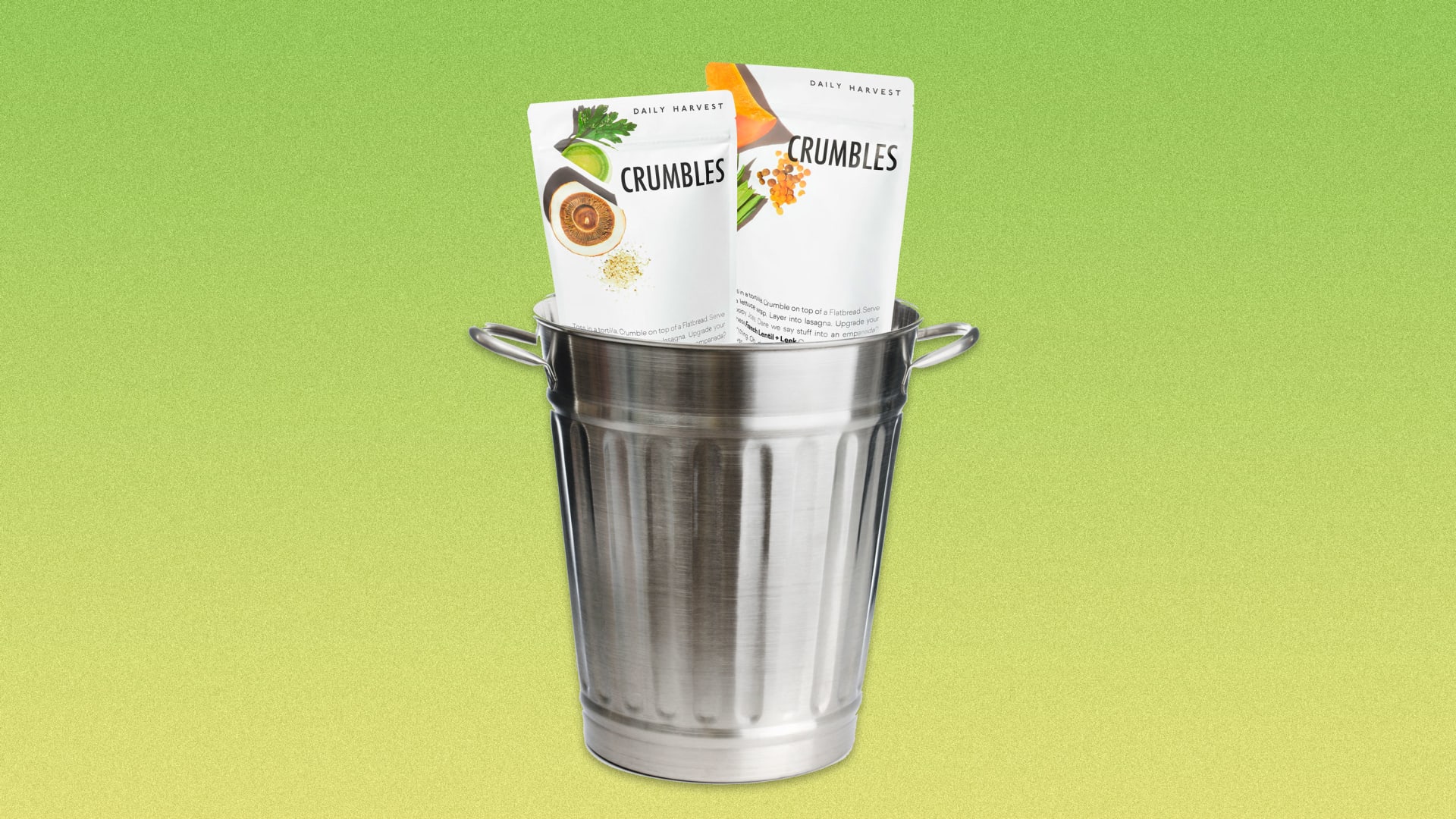 A product recall can be a nightmare for a startup. But according to business and crisis-communications experts, it's not the task of executing the recall itself that entails the most significant risk. Rather, it's the way you communicate with your customers, staff, and the government that can determine the long-term financial impact on the company -- especially in the era of social media.
"A poorly handled recall can do huge damage to a company, from a customer-opinion standpoint, as well as legal and regulatory," says Tim Calkins, a marketing professor at Northwestern University's Kellogg School of Management.
That's a lesson Daily Harvest, a New York City-based subscription service for frozen, healthy convenience foods, learned when the FDA posted a recall of its French Lentil and Leek Crumbles on June 23. The company had emailed customers a week earlier, noting that lentils must be cooked thoroughly and noting that "a small number of customers have reported gastrointestinal discomfort" after consuming the product. The email asked customers to dispose of the crumbles they'd purchased, and offered a $10 credit.
Long before the email, though, a TikTok and Instagram maelstrom had been brewing. Daily Harvest, founded in 2015 by Rachel Drori, had begun sending samples of the crumbles in April. Within weeks, customers began posting about their "mystery illnesses," including stomach pain, liver and gallbladder damage, and vomiting. By June, some of them had convened on a Reddit thread, which helped people with elevated liver enzymes determine they'd all eaten Daily Harvest's crumbles.
To many customers, the mid-June email to customers was too little, too late. "So far, Daily Harvest has made it pretty hard to find this information unless you're really looking for it, and there seems to be more of an effort to minimize the PR damage rather than get the information out to people who could be sickened by this product," said Cory Silverstein, co-owner of Portland, Oregon-based clean-skincare startup Urban Oreganics, in a video on the company's Instagram account.
A comment on Silverstein's video, from June 20, reads: "I will never buy from them again. Had they handled this and recalled ASAP it might be different." A comment by @madame.vegan.ann on Daily Harvest's Instagram post about the recall raged at the perceived inadequacy of the company's actions: "Pay for the hospital bills. You cost people their organs and have no warning on your website. It should be your damn banner. WARNING."
By June 23, the day of the FDA recall, Daily Harvest said in a release that it had received 470 reports from customers about illness or "adverse reactions" to the lentil and leek crumbles. A few days later, Drori posted a more thorough letter to customers on the company's site, admitting that they deserve answers. In response to an interview request from Inc., a spokesperson emailed a similar statement from Drori, including: "At this point, despite consulting with numerous experts, cooperating with FDA's investigation, working with our supply chain, and conducting extensive testing, we have not yet identified a cause."
As of Daily Harvest's latest statement, on July 12, a cause is still unknown. And by the start of the month, the company had been slapped with multiple lawsuits, including from individuals who report having their gallbladders removed after eating the crumbles.
Daily Harvest's saga over the last few weeks is certainly a cautionary tale for other businesses. Fortunately, say Calkins and other experts, with a smart communication strategy it's possible to minimize the potential damage from a recall. Here is their advice.
Have a Plan
"Small or new companies often don't spend time on this, but establishing a process for recalls is something a company really should devote planning to," says Calkins. Planning should extend not only to customer communication, but a supply-chain investigation, government communications, and a legal response.
"To manage a recall you definitely need cross-functional involvement in a company," Calkins says. "This isn't just a messaging question. At the core, it's about making sure the product is safe. It takes sales, public relations, production, legal, and your research-and-development team." He adds that you should integrate the crisis planning into your continual monitoring of products, ingredients, and the supply chain.
Should customer complaints arise in spite of product-safety monitoring, your company needs to have a roadmap ready to help speed execution, Calkins says. "If you have a product at risk of hurting people for any reason, speed is of the essence. You have to move quickly."
Overcommunicate
"Great leaders overcommunicate, whether they are strengthening the brand identity of a company, the brand belief by employees, or solidifying the support of a board or investors," says Clarke Murphy, the managing director of Russell Reynolds Associates, an executive-search firm based in New York City, and the author of the forthcoming Sustainable Leadership. "In a crisis, they try to make a complex situation as simple as possible."
When explaining the situation, Murphy suggests, simplify it by breaking it down into chunks: what happened, why it happened, what you are doing, and why people can trust this will not happen again. It's not just external communications that are important when dealing with a crisis. Internal messaging needs to be just as thorough, and it needs to come first. "When your employees are equally on board and supporting that, there's an army of people communicating that vision," he says.
Murphy adds that it's not impossible to restore customers' faith: "You aren't going to turn a negative into a positive, but you can neutralize a crisis. And you can make your customers believe in the long-term vision."
Don't Make It About You
"If a brand spends all their energy trying to cover their tracks, their integrity is going to be in question," says Edward Sullivan, CEO of Velocity Coaching, an executive-coaching firm in San Francisco and New York City, and the co-author of Leading With Heart: Five Conversations That Unlock Creativity, Purpose, and Results​. He urges business owners to consider "the Trust Equation," which he describes as credibility, reliability, and intimacy divided by self-orientation. "The more self-interest a company conveys in those early days, the less trust they convey," he says. "The first thing for leaders to remember in a product recall is it's not about you. It's about making it right for your customer."
Jul 12, 2022