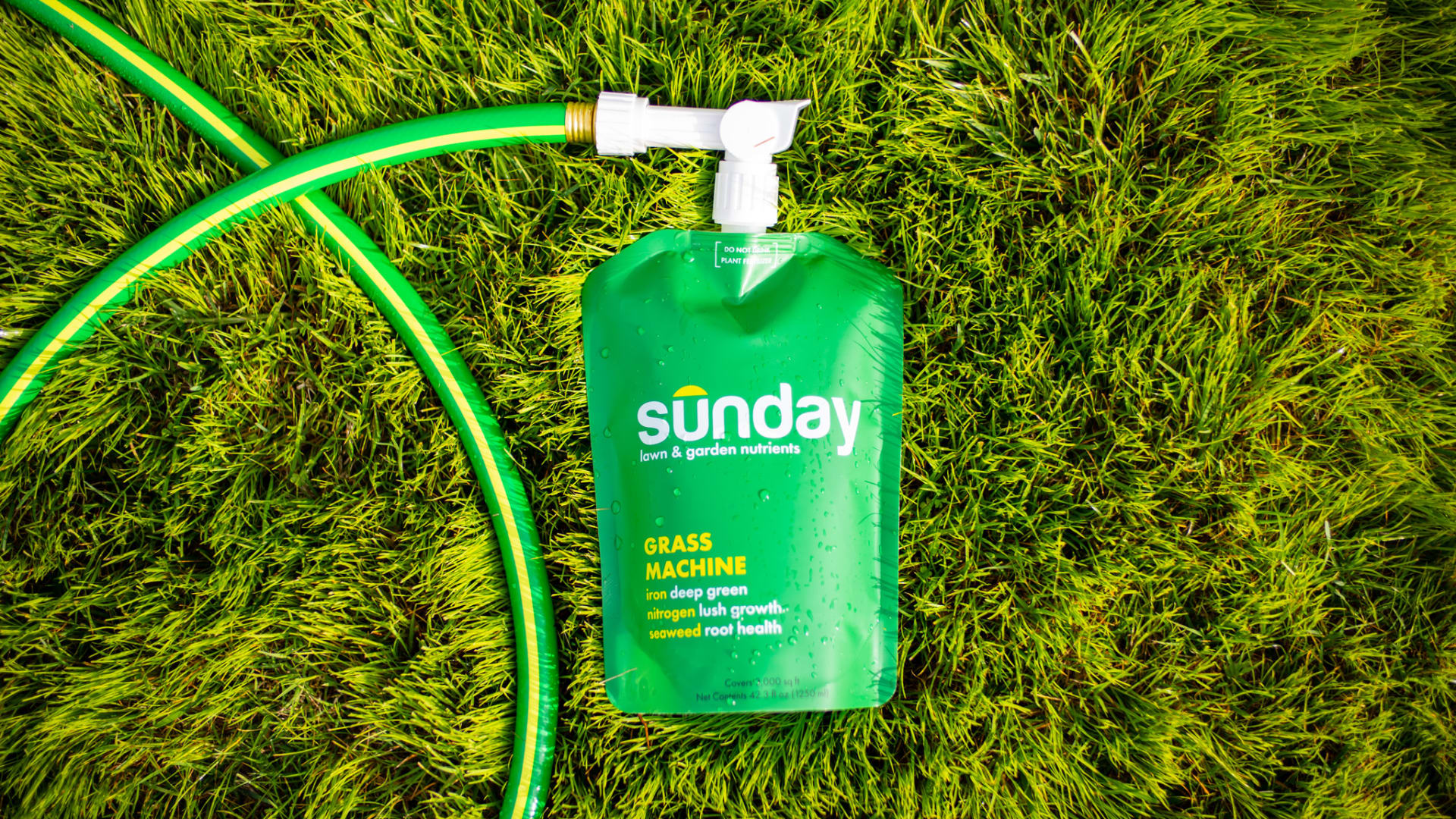 America's backyards are ripe for disruption.
In 2017, healthy snack entrepreneur Coulter Lewis noticed the discrepancy between the care organic farmers took for their land and the way the suburbanites eating his snacks sprayed their lawns with chemical fertilizers and pesticides. After doing some math, Lewis determined that private home lawns, which make up 10 times more land than U.S. organic farms, would be the third-largest U.S. crop by area. He also calculated that homeowners put about five times more pesticides per acre on lawns than farmers put on industrial farms. Lewis thought, why not give lawn care the organic treatment and deliver it directly to consumers through a friendly brand?
In 2018, Lewis began building Boulder, Colorado-based Sunday, a nontoxic lawn care company that sells grass-nurturing systems designed for the land's geography, climate, and soil composition directly to consumers. Sunday's hose-attachment pouches contain ingredients that bring to mind a juice bar: seaweed, iron, potassium, soy protein, and molasses. A year's worth of pouches sells for roughly $200 with delivery in three seasonal shipments.
One of Sunday's differentiators, according to Lewis, is its proprietary agricultural software for soil and geographical analysis, which many prospective buyers can use simply by plugging in their address. The software creates a custom lawn plan by factoring in things like average temperatures, historic rainfall, and the amount of silt, sand, and clay in the soil.
"What is lawn care today? In a store, it's literally pallets stacked high with bags of toxic chemicals," Lewis says. U.S. consumers, he says, treat their lawns like chemical carpets that depend on fertilizers and pesticides to grow. "That's not how nature works," he says.
When Lewis began pitching venture capitalists, he noted that during his time building his previous company, Quinn's Snacks, which his wife and co-founder, Kristy Lewis, currently runs as CEO, he witnessed U.S. consumers' food preferences shift toward organic produce and farming. At the same time, lawn care consisted of toxic fertilizers that can render lawns unsafe for children to play on. Claims over the spot-treatment product Round-up, an herbicide, led its parent company, Bayer, to pay $10 billion to settle cancer lawsuits.
At first, venture capitalists weren't convinced. Many of the investors--usually affluent residents of New York City or San Francisco--believed that not enough people do their own lawn care to warrant a DTC product like Sunday. Lewis kept pitching, however, and eventual raising a seed round from Forerunner Ventures in 2019, which helped get Sunday off the ground. The company has since raised a total of $28 million in venture funding from firms including Tusk Ventures, founded by Bradley Tusk, an early investor in Uber.
Sunday isn't alone in the DTC lawn care market, however. Other startups targeting eco-minded homeowners include Instead, which delivers natural lawn fertilizer each season; Lawnbright, a subscription lawn care service offering natural bug and weed control; and Lawnbox, which sells organic fertilizer and spreaders. Each is entering an already massive backyard-improvement industry. Total U.S. landscaping industry revenue is expected to reach $105.1 billion in 2021 and grow to $118.2 billion by 2026, according to research firm IBISWorld.
The lawn care segment of the home improvement industry could also be overdue for a shakeup, as the top five lawn care companies in the country are between 23 and 80 years old. "You could go back 20 years, stand in the lawn care aisle at a home store, and you wouldn't even know it was 20 years ago," Lewis says. "It looks exactly the same."
The broader DIY home-improvement space has been in a pandemic boom, says Michael Mayer, the co-founder of Windmill, a startup that sells window-unit air conditioners directly to consumers. Mayer notes that the trend predated the Covid-19 stay-at-home orders across the country but felt a lift from people looking at every nook and cranny in their house and thinking, how can I make this better? "They're refreshing things they didn't even know they could before," Mayer says.
Lewis doesn't expect U.S. homeowners to suddenly stop caring about their outdoor space once the pandemic ends. The trend isn't as basic as not wanting to stare at peeling paint during Zoom calls, he says. "I think there's an emphasis on a real home," he says. "That's this idea of having a backyard that you can have your kids roll around in without worry. It's building a place you can feel good about--your own sanctuary."
May 6, 2021