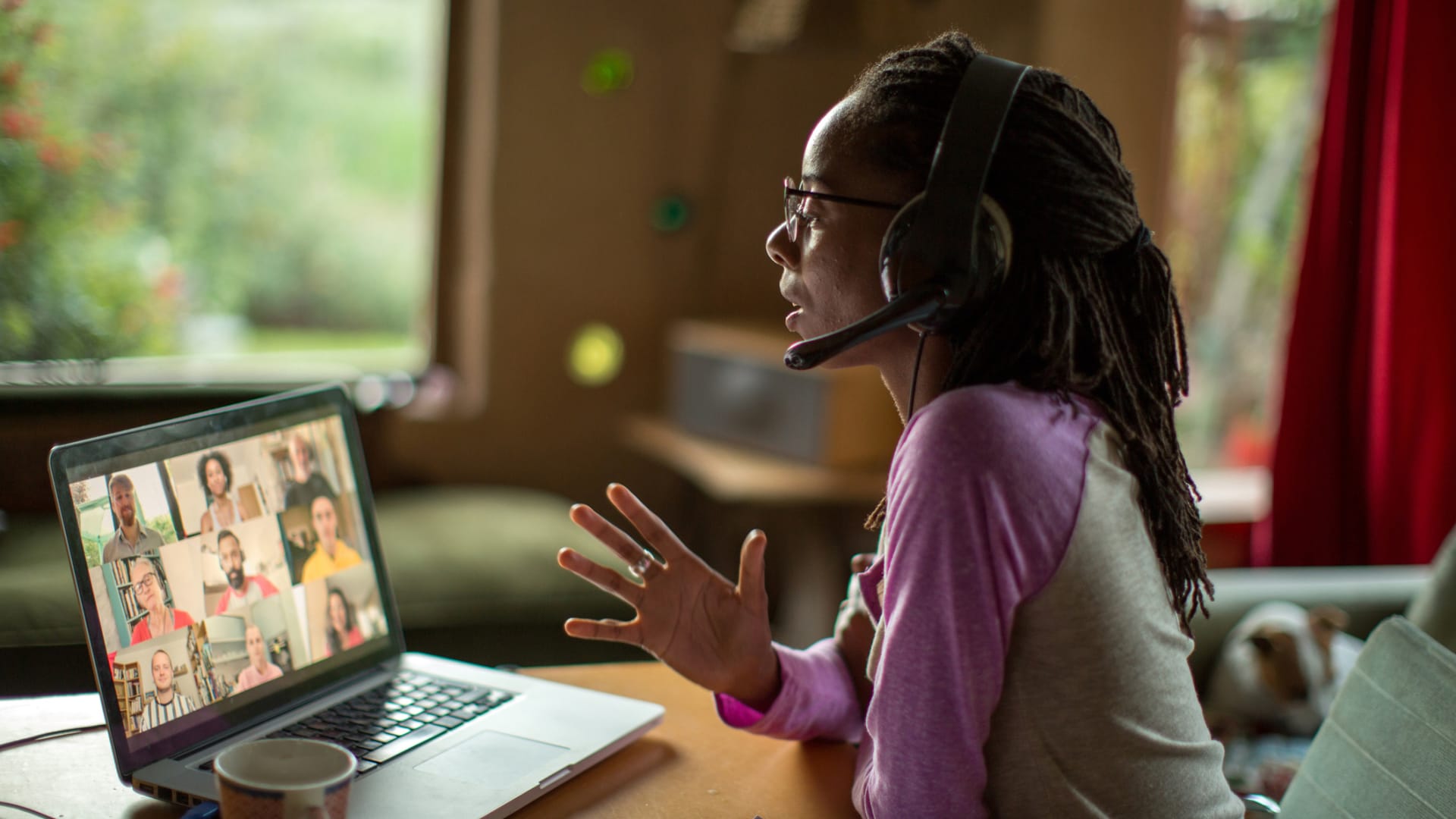 This time last year, I was doing bicoastal talks, shaking hands, and moving books in the back of the room. Now, I'm building up my home speaking studio, creating avatars, and directing attendees to my upgraded book website. For professional speakers like myself, this shift isn't going to change anytime soon. If anything, the future will be a hybrid of pajama keynotes and intimate gatherings as well as virtual meetings and occasional plane hopping. And, like a teenager, it will be awkward for a while.
Here are the big three changes we'll be leaning into.
1. Your website is your hand sale.
I love interacting with people on the road, especially after a keynote. I look at my talk as setting the table and at the audience participation/Q&A/book signing as the meal. You can't do that as much offsite. And even if the world opens back up again, we will be doing it in a more cautious way. This also has a business impact: Like most speakers, I sell more books and merch right before, during, and after a live event than at any other time. Attendees are also more likely to stay engaged over the years from that unique live experience.
From here on out, your website is your hand sale. We create intimacy through our handcrafted newsletters, honest videos, and one-on-one audience engagement. Not just social media. My own newsletter, JoinDamon.me, allows me to talk to the people I serve directly -- they sign up, just as they would opt into coming to my keynote. My YouTube channel lets me share conversations just as I would onstage. And I recently redesigned my website for customers to buy my complete book collection, special merchandise, and one-on-one coaching. I also give event attendees exclusive codes to use on my site: It rewards them with a discount and helps me see where the audience is coming from since we are socially distancing.
2. You annotate your own keynotes.
You can practice your keynote as much as you want (I do the Michael Jackson theory -- practice so much, you can do a speech at the drop of a hat). The venue itself though sets the pace: Is it a big, echo-y room or a small, intimate space? Is everyone standing? Will there be a buffet in the back distracting people?
Going forward, those parameters are set by the organizer's technological needs. Are you prerecording the talk? Do you need to use Zoom, Google Meets, or a proprietary technology? Will you be at the mixer and expected to participate in the chat during the whole event?
It opens us up to unique experiences. When I keynoted the Bedroom Kandi conference this summer, we decided to prerecord the event to make sure we didn't have any tech issues. We played it live and, suddenly, I'm in the "audience" -- the chat -- with thousands of attendees. I was able to see their reaction and reply to their comments. Most notably, I could annotate the talk -- send them links live to the varied business topics I mention. It was lovely.
3. You are speaking in person to computers (and vice versa).
Blended venues are becoming the norm. Speaking live to a group of digital characters? Doing chats as your keynote runs in the background? Appearing virtually to a room with people? All the above. I just attended Afrotech World and it featured live talks on big screens within its digital universe. The hybrid model will be our future.
Dec 16, 2020