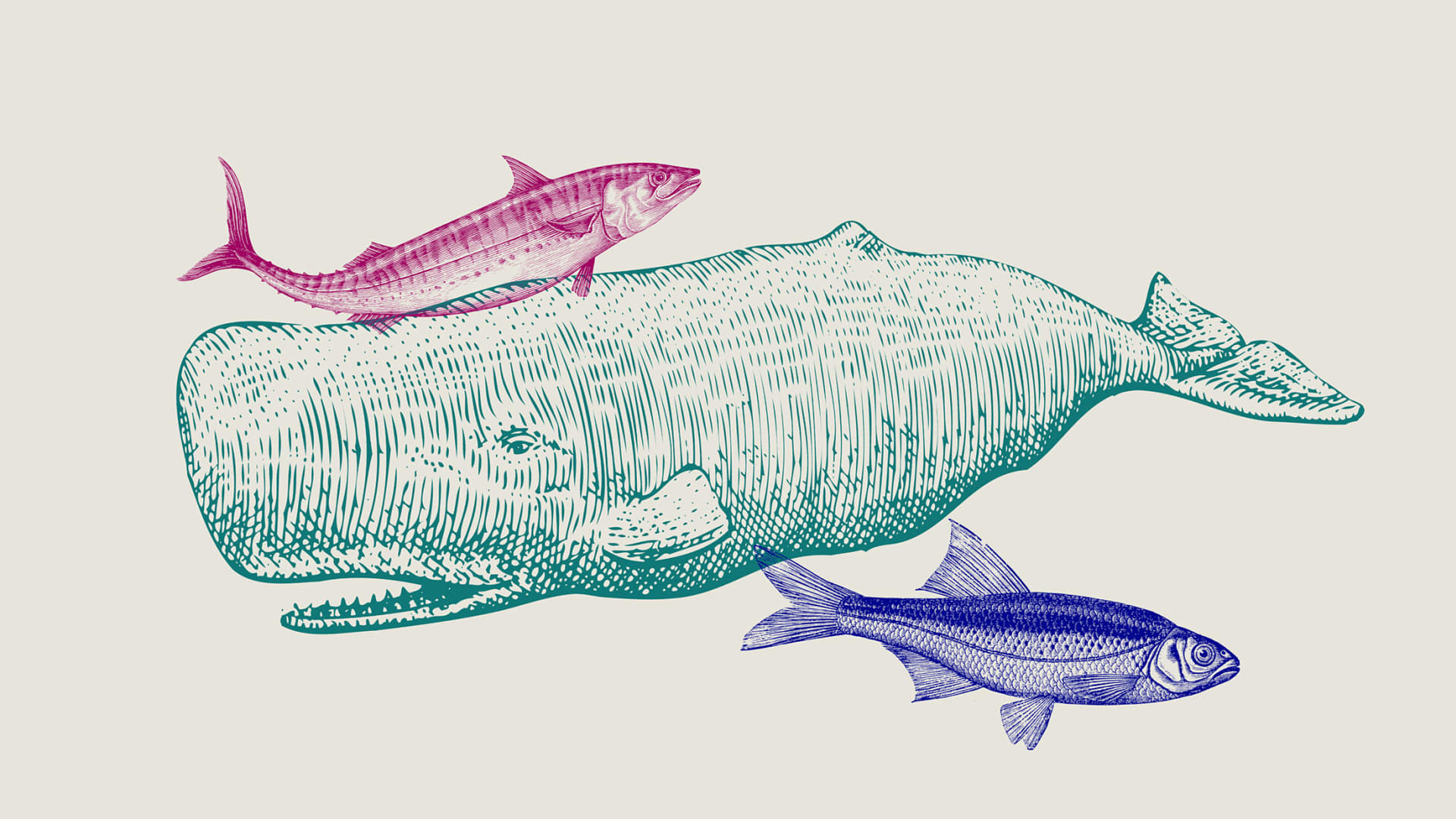 Fishing for opportunity? Across all entrepreneurial pursuits, The Rule of Moby Dicks, Mackerels, and Minnows applies. Use it to help you allocate your time and resources to ensure that you are never starved for growth.
Think of Moby Dicks as transformative once-in-a-lifetime targets like the giant national retail account you want to land or the big funder who can also be a powerful strategic partner. If you spent all of your time hunting only for Moby Dicks, pursuing just the impossible deals with no guarantee of materializing, you might never be able to feed yourself - and could eventually starve. On the other hand, if you strictly played it safe, going after only the tiniest, easy-to-catch accounts - call them Minnows - you might also wind up with a grumbling stomach, staving off hunger from living snack to snack.
Right in between Moby Dicks and Minnows are the Mackerels that provide consistent, filling food. Still, when it comes to advancing your entrepreneurial pursuits, you cannot be sure that you'll catch a Mackerel every day. If you do reel one in, it may meaningfully bolster your enterprise, but it's unlikely to catalyze breakthroughs.
The right way to fish for opportunity is to establish a balanced diet of all three.
Moby Dicks
Moby Dick pursuits should occupy roughly 20 percent of your business development endeavors. There's always the chance that they won't pan out, but when they do, they become watershed moments. Whatever you do, don't write off Moby Dicks altogether, or you may never take your business to the next level. Scaling your impact globally, becoming a household name, and turbocharging social impact almost always depend on landing at least one Moby Dick in your enterprise's lifetime.
KIND's first big Moby Dick was Starbucks. At the time we were pursuing Starbucks, its policy was to exclusively sell Starbucks-branded foods versus to carry third party brands. My board advised me not to waste my time chasing unrealistic objectives; but we implemented the AND Philosophy and pursued "more likely" accounts while also continuing to chip away at our seemingly unattainable goal. Year after year, I took every opportunity to introduce myself to Starbucks executives, share regular updates on KIND's growth, and find innovative ways for our newest products to land on buyers' desks. In the end, we successfully demonstrated why KIND was the healthy snack that Starbucks guests were missing. As a result, millions of Americans discovered their first KIND bar while checking out at a Starbucks register.
While building OneVoice, a movement of moderates working toward peaceful resolution to the Israeli-Palestinian conflict, we dealt with a different flavor of Moby Dicks: dignitaries whose participation in our work would validate our efforts, attract new constituents, and open doors to key policy-makers. Had we spent all of our time cultivating Moby Dicks, we would have risked having nothing to show for our efforts; but by dedicating a small percentage of time and resources to building these inroads, we managed to attract foremost Palestinian, Israeli and International diplomats, business leaders, religious figures and celebrities. Their endorsement gave us the credibility we needed to eventually garner over one million signatories.
Minnows
Next on the menu are Minnows. Give roughly 20 percent of your time to your tiniest accounts to ensure that, at the end of the day, you have something to eat no matter what. These small accounts can feel like more effort than they are worth, but they give you sustenance to fall back on when times get tough. In KIND's early days, I could spend an entire day "fishing" at bodegas up and down Manhattan, only to walk home with a profit of 35 dollars in my pocket. These accounts got me started (and I am eternally grateful to them for it), but alone they would never allow me to grow. In general, Minnows supply the bare minimum to keep you alive while you search for bigger fish.
Mackerels
The remaining 60 percent of your time, and the bulk of your resources, should be concentrated on blocking and tackling the Mackerels that feed your enterprise with healthy, consistent growth. At KIND, our Mackerels were accounts like Kroger, HEB and Safeway that required our tireless work ethic and strategic planning to land, but were ultimately within reach. These retailers remain loyal partners with whom KIND has been honored to grow over the years.
Now that you've divided up the ocean, here's one last piece of advice: never go fishing without the right equipment. A tiny net might work for Minnows, but to catch a Moby Dick, you'll need a harpoon. That means arm yourself with the right data, pitch materials, and best-in-class team to give you a fighting chance. Don't forget to check the weather (i.e. market conditions) and choose your timing wisely. From there on, it should be smooth sailing and happy fishing.
Feb 4, 2022