My first self-published book sold less than 100 copies in 10 years and has five reviews on Amazon.
But my next books did much better: Engagement from Scratch!, for example, has been downloaded over 100,000 times and has over 200 reviews on Amazon. It was on Amazon's marketing bestsellers list for two years straight.
It's not that I became a better writer. I got better results, because I became a much better book marketer.
(It should go without saying that you first need to write a good book before you go about marketing it!)
I got better by studying and deconstructing the book launches of successful authors. Here's what I learned:
1. Plan Your Launch Around Your Goals
Whatever your goals for publishing a book, the way you promote it needs to fit around them. For example, if you want to make the New York Times bestseller list, you have to sell thousands of copies of your book from vendors who report their sales to the NYT, and you have to do it within a specific time. Your strategy could include offering a bonus to people who pre-order the book (since pre-orders count towards the first week of sales).
2. Build Relationships Before You Need Them
Start working on your book launch at least six months in advance, because that's the minimum amount of time you need to build relationships.
Get under the radar of influencers by supporting them. If you have your own platform, like a podcast or blog, interview them and give them exposure. Sign up for their programs and be one of their success stories.
When the time comes, send influencers copies of your book, and ask for an endorsement and/or a review. If they like the book enough, they may even promote it to their audiences.
3. Engage Your Audience
Begin drumming up interest in your book by engaging your audience throughout its development. Hint that you're up to something. Ask for their inputs on the cover design. Tease them with excerpts.
You'll also want to keep building your audience through blog tours, interviews, and media exposure. Try signing up as a source on HARO.
4. Don't Copy Blindly
When I was launching Engagement from Scratch, I wanted a book trailer like the one for Tim Ferriss' 4-Hour Body, that cost $12,000 to produce.
When I tried to approximate his trailer (spending $1,000 I couldn't afford then), I ended up with a poor imitation. So I made a different kind of book trailer. Not only did it take just an afternoon and $50 to create, it also resonated better with my audience.
Instead of trying to copy flashy strategies that are outside your reach, apply the simpler strategies you can execute well.
5. Get into Amazon's "Also Boughts"
If you want to get as many sales and downloads as you can, you'll want to appear in Amazon's "Also Bought" recommendation.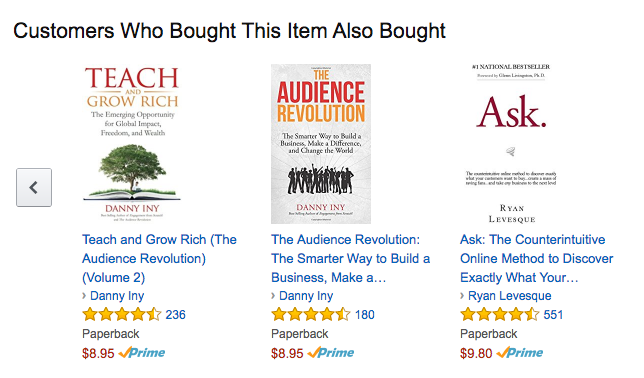 You can get into the engine by publishing your book on Amazon's Kindle Direct Publishing. This lets you put the Kindle version of your book for free for five out of every 90 days. In that time, do everything you can to get the word out so that as many people as possible download your book. When you reach a certain threshold, then your book will appear in "Also Bought."
This will eventually bring in a stream of sales even when you're not actively promoting your book.
6. Get Reviews
Put a lot of effort into getting those reviews. Within the book itself and to your email list, ask readers to post a review. You must ask readers to post their honest opinions. As long as they in fact read the book, they're entitled to their opinions.
One thing that works well is to send a free copy of the printed book to those who are willing to post their honest reviews.
7. Go Beyond the Book
A book launch doesn't have to be the end goal. It can be the beginning of a larger process, such as a product launch or a marketing funnel. This builds your authority and creates more revenue for you.
To do this, give book readers the opportunity to keep getting communication from you, so you own and control your relationship with them. Make an offer inside the book for free updates and additional content in exchange for their contact information.
"A subscriber is more important to me than a sale because I know that I can offer them lots of books, rather than one," says Mark Dawson, self-published author who earns $450,000 per year from Amazon. "I want to get into a position that I can market to them directly."
The New York Times reported that "only a small fraction of self-published authors sell enough books to make a living, and many are put off by the drudge work and endless self-promotion involved."
If you're one of the few who won't be put off by the work, then you already have an edge.
Nov 22, 2016