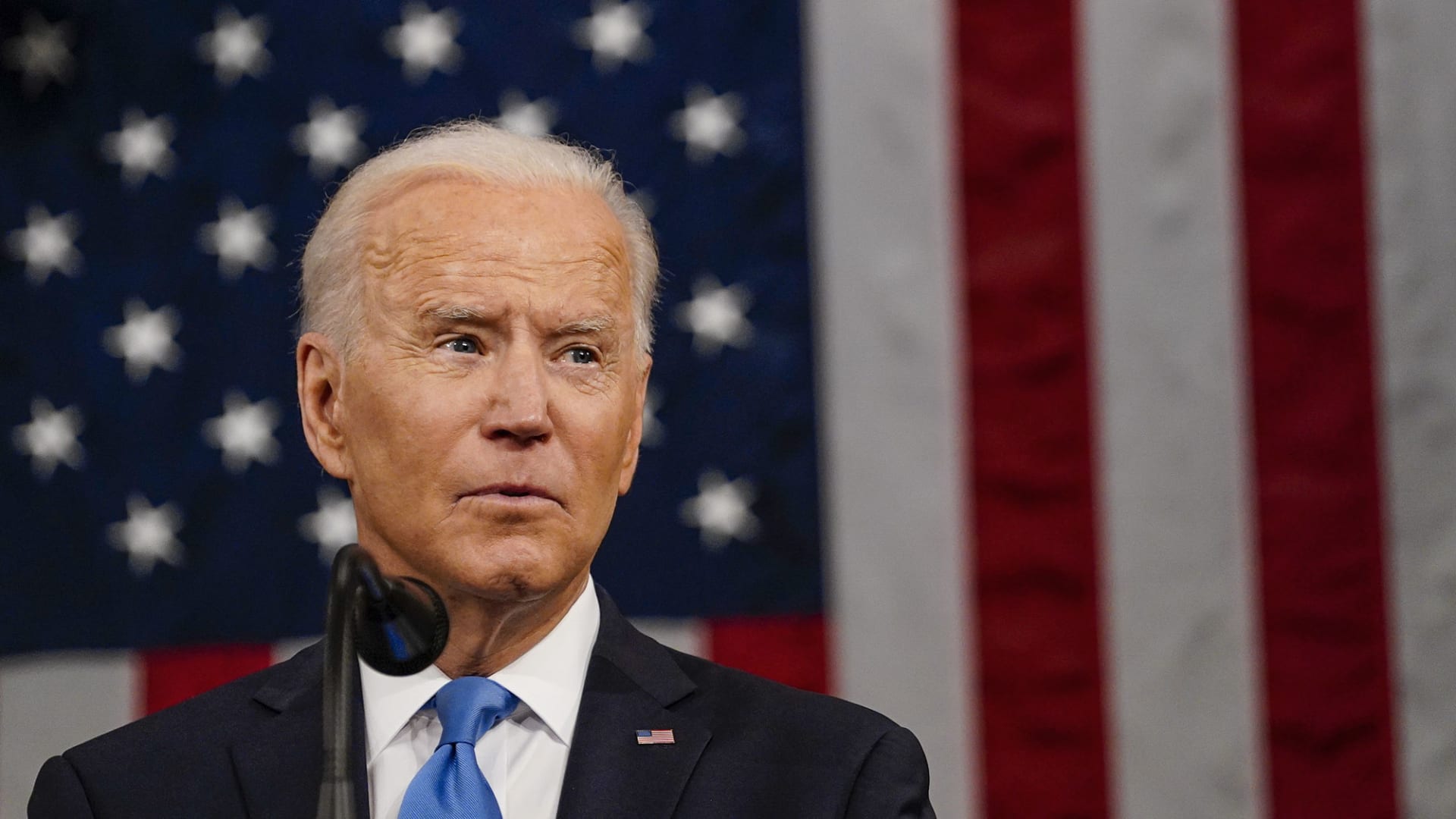 In his first address to a joint session of Congress on Wednesday evening, Joe Biden offered another proposal to fix America's woes. Some businesses won't like it.
The president outlined his latest policy initiative, dubbed the American Families Plan, which would expand child care and educational opportunities, as well as offer tax cuts and credits for middle- and lower-income families. Paying for the $1.8 trillion proposal would largely stem from higher taxes on the richest Americans.
It's no secret that Biden wants to raise taxes on wealthy Americans--who benefited most from President's Trump's $1.7 billion tax cut. On the campaign trail, Biden favored rolling back several key aspects of Trump's Tax Cuts and Jobs Act of 2017. Biden wants to boost the corporate tax rate to 28 percent from 21 percent. Prior to the TCJA, the top corporate tax rate was 35 percent. And he'd restore the top individual bracket to 39.6 percent, from 37 percent--for those with incomes above $400,000. (About the top 1.8 percent of taxpayers.) That could directly affect pass-through entities like limited liability companies and S corps.
More recently--across his various proposals--Biden reiterated those calls, as well as noting further steps. He'd raise the capital gains rate to 39.6 percent, from 20 percent, for those earning $1 million or more--essentially treating dividends as ordinary income. He'd eliminate the so-called "carried interest" provision that benefits fund managers. He'd eliminate the step-up in cost basis that allows those with inheritances to use an asset's current valuation rather than its valuation at the time of purchase. Eliminating the step-up would increase inheritance taxes. And he'd inject $80 billion into the Internal Revenue Service to help audit wealthy taxpayers and buoy tax collection on the notion that the $80 billion would yield $700 billion in collections.
What's in It for Families
Biden would use these additional funds to strengthen support systems for low- to middle-class Americans. In the latest American Families Plan version, Biden would make permanent the earned income tax credit expansion, which was scaled up by his pandemic aid bill, the earlier American Rescue Plan Act. That bill temporarily modifies the EITC, making it available to more workers who may not have children. It also lifts the maximum credit amount to $1,500 from $540, and increases the income cap, making eligible those earning up to $21,000 a year, from $16,000.
The American Families Plan would also extend the child tax credit through 2025. Currently, that provision, which was expanded under the American Rescue Plan Act, allows parents in 2021 only to access higher credits: $3,000 for children aged 6 or older, and $3,600 for those under age 6.
Biden would also lead a massive expansion of America's public education system. The plan would make community college and pre-kindergarten free. The latter program is already part of basic education in places like Florida, Georgia, and Oklahoma. Biden has separately called for providing support for families paying for child care, and creating a national paid family leave program.
These provisions--in so far as they help working families--serve to benefit businesses. Indeed, "businesses should, in principal, be for this," says Robert Litan, an economist and nonresident senior fellow at the Brookings Institution, a nonpartisan think tank in Washington. "Businesses need skilled labor, and more investment in child care is a net good for the economy."
But it's a double-edged sword, says Suzanne Clark, president and CEO of the U.S. Chamber of Commerce, a business lobbying group. In a recent essay, she asserts that "raising taxes on corporations would sap growth and stall job creation just as it's picking up speed." And, she added, many small businesses would also see their tax bills soar if Biden successfully raises the corporate tax rate. "Under the federal tax code, 1.4 million small businesses that together employ 13 million Americans file their taxes as C corps. Raising their taxes would put them at a competitive disadvantage, suppress wage growth, and undo the progress of lowering the rate to 21 percent."
The Payfors Don't Add Up
Besides the question of raising corporate taxes, which Republicans have proved disinclined to do, there's the issue of the payfors. That is, there's a potential mismatch in how the Biden administration is counting on paying for his infrastructure and family bills. The combined plans call for trillions in corporate tax increases over 15 years. And the U.S. should see a revenue boost with Biden's plan to boost IRS audit enforcement. One highly cited estimate from IRS Commissioner Charles Rettig shows the federal government loses around $1 trillion in unpaid taxes every year.
But some analysts have pointed out that Biden's proposal adds up to 15 years of taxes paying for eight years of spending. Typically, with government programs, the revenue period must be equal to the spending period. In this case, the proposals have a mix of mandatory spending through tax credits, with some of the provisions sunsetting at a certain date, while others are permanent. But most of the spending outlined in the plan is discretionary, subject to annual appropriation, with the Biden administration planning to keep them going for at least eight years.
That math will no doubt require some refiguring and compromise. While getting legislation passed in the Senate, of which Democrats hold the slimmest of majorities, is particularly thorny these days, there's reason to believe that lawmakers will glean some level of bipartisan support for Biden's earlier infrastructure plan. "I think the administration is going to make a really good-faith effort to have some bipartisan, hard-core infrastructure bill that is traditional infrastructure and find a way to pay for it," says Litan.
Biden will have a tougher time of getting his social welfare agenda items through, but that's what budget reconciliation is for, adds Litan, pointing to the parliamentary procedure, whereby the filibuster doesn't apply. In other words, Democrats could work with Republicans on infrastructure and pass the Families bill along party lines.
Apr 28, 2021