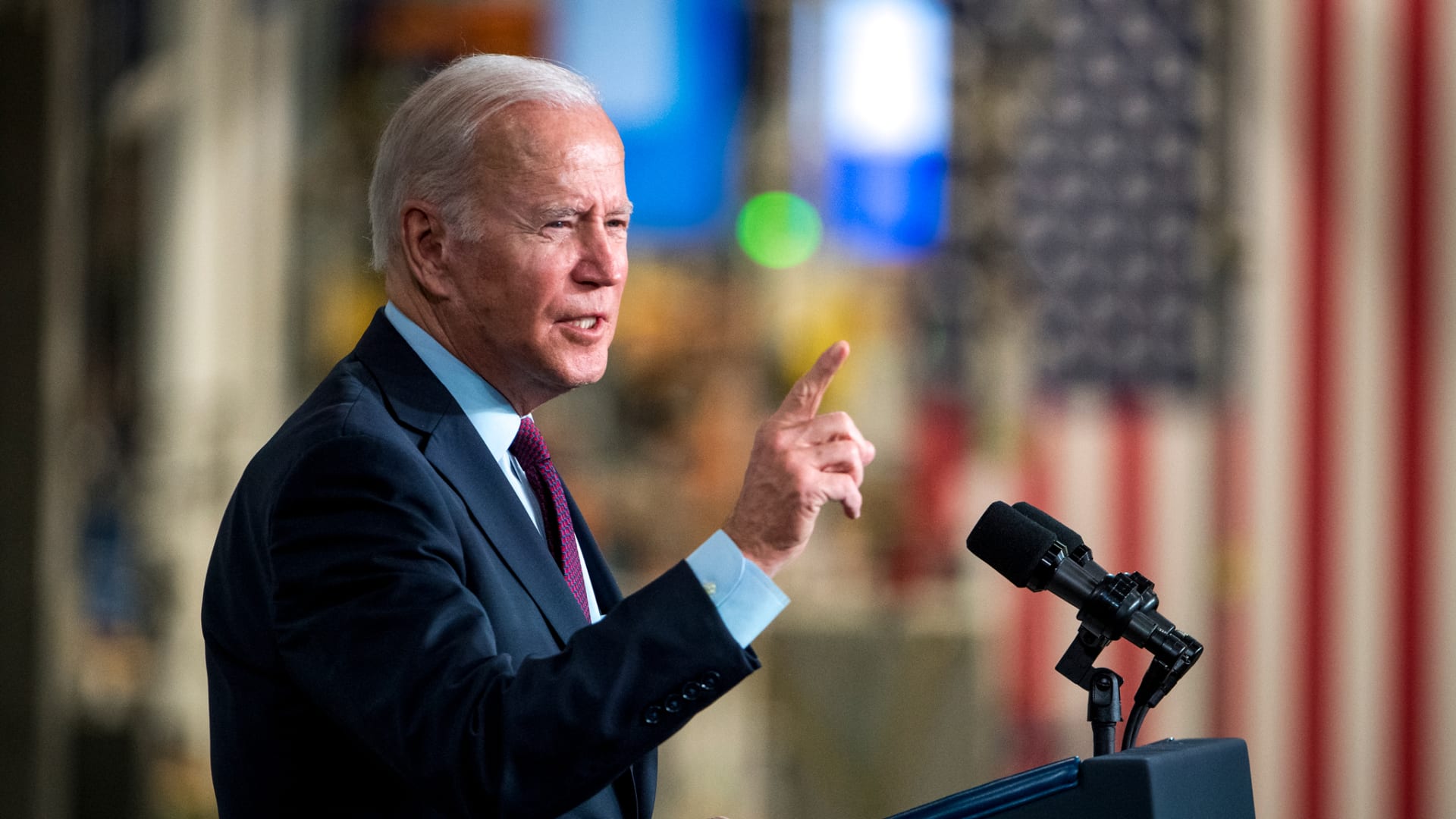 The House of Representatives narrowly approved President Biden's $1.85 trillion social spending and climate change plan on Friday--but business groups say it's a nonstarter.
Despite the pro-small-business elements within the Build Back Better Act, which passed the House in a 220 to 213 vote, business groups are worried about the economic fallout of more federal spending. The Congressional Budget Office on Thursday estimated that the bill, which includes provisions such as universal pre-K and clean energy upgrades, would increase the federal deficit by $160 billion over 10 years.
There's also been growing concern on Capitol Hill and beyond that increased federal spending has led to an uptick in inflation. The consumer price index, a measurement of the average change in prices consumers pay for a basket of goods and services, rose 6.2 percent over the past 12 months, the highest increase since December 1990, the U.S. Bureau of Labor Statistics reported earlier this month.
"Inflation, supply chain challenges, high gas prices, and labor shortages could worsen if BBB were signed into law," says Karen Kerrigan, president of the Small Business & Entrepreneurship Council, a nonpartisan advocacy group in Vienna, Virginia. "It would extract capital out of the private sector that is needed for investment and to weather the unstable economy moving forward."
In a statement, the U.S. Chamber of Commerce echoed those remarks: "American businesses and our economy face the highest inflation in 31 years, supply chain challenges, and worker shortages. The multitrillion reconciliation bill passed by the House will only make things worse. If enacted, the bill would create uncertainty for businesses and families alike and undermine our fragile recovery. This bill should not be passed by the Senate."
The same business groups have praised Congress's recent passage of the $1 trillion bipartisan bill, dubbed the Infrastructure Investment and Jobs Act, which calls for $550 billion in new spending above and beyond existing authorized funding over five years.
However, this social spending bill is different, as it contains new taxes including a 15 percent minimum tax on book income--that is, income before taxes and the amount most often disclosed to shareholders--of "large, highly profitable" corporations. While it's not clear what "large" means in this respect, corporations with more than $1 billion in profits that report to shareholders would be expected to comply.
There's also a plan to levy a new surtax on the income of multimillionaires and billionaires--or the wealthiest 0.02 percent of Americans. The surtax, amounting to 5 percent, would kick in on incomes above $10 million, and there would be an additional 3 percent surtax on income above $25 million. Many smaller businesses are structured as pass-through entities--that is, their business income gets passed through to their personal income ledgers. This surtax may end up affecting them, too.
As for pro-small-business provisions, the latest version of the bill no longer would fund companies that provide paid family leave. It does, however, authorize a significant expansion of the Small Business Administration's powers.
Under the bill, the SBA would be allowed to engage in direct lending outside of disaster scenarios for the first time in the agency's history. The proposed program would be aimed at helping to improve capital access among companies led by founders from underrepresented groups or those who may be located in economically disadvantaged communities. The statute caps the direct loans at $150,000, or $1 million for small manufacturers. The appropriation for the program is $1.48 billion through September 30, 2031.
The bill, in its current form, also appropriates $224.8 million for the SBA's Community Advantage Loan program, which requires that at least 60 percent of loans benefit small businesses in underserved markets, which typically include rural and HUBZone communities with low-to-moderate incomes.
The SBA, under the bill, is further authorized to create a competitive awards program that offers at least $100,000 to eligible entities to accelerate the growth of new small businesses by providing advice and assistance with capital access.
The Build Back Better Act is still awaiting approval in the Senate, which is proving to be a steep challenge since the chamber is split 50-50 between the two parties (Vice President Kamala Harris would cast the deciding vote in the event of a tie). In recent weeks, moderate Senate Democrats--notably Joe Manchin of West Virginia and Kyrsten Sinema of Arizona--have been pushing to both reduce the bill's size, which carries implications for the deficit, and its tax impact.
Nov 19, 2021