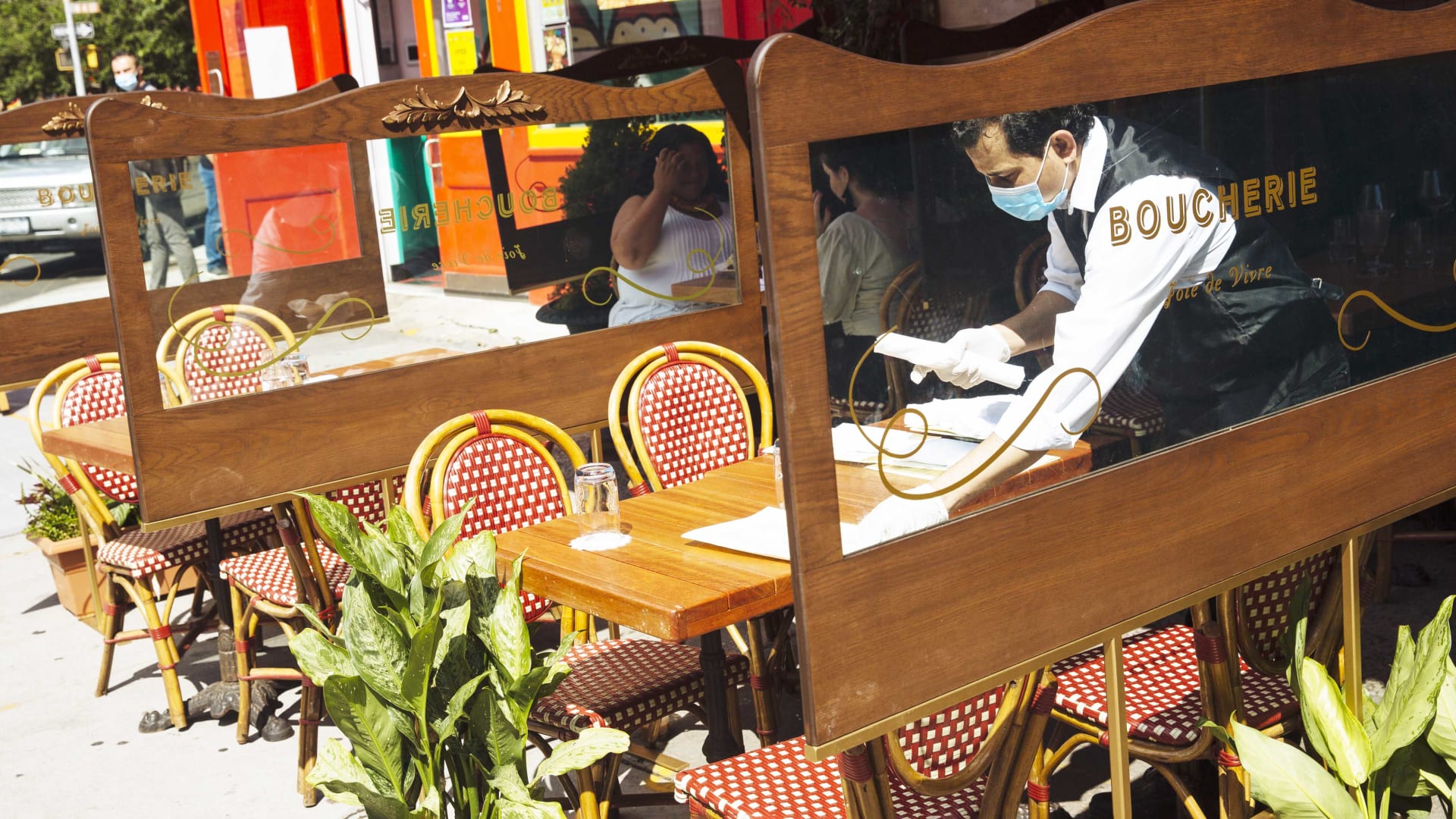 New York City is set to join the swelling ranks of cities and counties that have restored indoor dining on a limited basis. For some Big Apple restaurateurs, the reopening may not move the needle, as empty office buildings and tourist hotels have curbed foot traffic.
New York governor Andrew Cuomo announced on August 9 that New York City can resume indoor dining at 25 percent of capacity by the end of September--six months after the pandemic began and a full two months after restaurants were initially slated to reopen for indoor dining. Although restaurants outside of the city are running at 50 percent capacity for indoor dining, owners are glad to be able to open their doors again.
"Manhattan is a unique place because of the high density," says Frank S. Vellucci, the owner of five Sweetcatch Poke restaurants. "If there is an outbreak, we'll be back to where we were in March and April." While Vellucci agrees with Cuomo's cautiousness, operating at a quarter of what his business can do is a tough pill to swallow. "It doesn't help pay the salaries and keep the lights on."
Indeed, since the pandemic began, restaurants across the U.S. have experienced severe losses in revenue and jobs. According to a June report from consulting firm Compass Lexecon, independent restaurants' revenue plummeted by more than 70 percent year over year during the last two weeks of March and still remain 60 percent lower on average than last year's levels. Many restaurants remain closed--a 100 percent reduction in revenue. The report says that 5.9 million restaurant jobs have disappeared within a matter of weeks--a tally that nearly doubles that of the next most affected industry.
Since then, New York's restaurant owners have taken to the streets. The city's "open streets" program allowed all restaurants to set up outdoors, even using blocked off portions of the street. Of course, that didn't help businesses whose footprint abutted a bus lane or a fire hydrant. On top of it all is growing concern heading into the colder months that consumers will be disinclined to dine outdoors. Although takeout and delivery is standard in most New York restaurants, owners fear that reopening inside on such a limited basis won't go far enough to recover from the months of missed revenue.
There's also mounting concern that many of these restaurants can never fully recover until people go back to work and tourists return. "Is 25 percent going to do anything for Manhattan? Is that going to bring life back to the greatest city in the world?" wonders Willie Degel, the owner of Uncle Jack's Steakhouse, which operates three locations in New York City. Degel has kept his location near Madison Square Garden closed since the early days of the pandemic, while the other two locations have turned to outdoor dining and takeout. "People are scared to death of the city right now," he says. The damage has already been done to a few tourist-dependent, top-end restaurants such as TAK Room, operated by celebrity chef Thomas Keller, who announced in August that the famed restaurant would close permanently.
For the month of August, the occupancy rate of New York City hotels was just over 39 percent, according to preliminary data from STR, a research firm based in Hendersonville, Tennessee. That is down more than 53 percent from last year, when the occupancy rate was around 84 percent. Travel to the city has plummeted, too. International tourists remain largely barred from entering the country, while visitors from 35 U.S. states and territories are required to quarantine for two weeks upon entering New York.?
Office buildings also remain largely vacant, and the loss of white-collar workers deeply affects a massive ecosystem of businesses like Vellucci's, which caters to them. "Today was the first time I saw people dressed up in suits in midtown in a long time," says Vellucci, who operates takeout and delivery only from four of his eateries. The fifth has been shut down since March. "The big key is getting people back in offices and traveling back to New York from wherever they may be," he says. "Until businesses open up, I still think it's going to be tough for many of the restaurants to survive."
Unlike most of the country, Covid-19 cases have fallen dramatically. At a press event, Cuomo noted that the infection rate statewide has been consistently below 1 percent for more than 30 days. The state's police task force--yes, the food police--has been spot-checking establishments' adherence to coronavirus guidelines, and owners have done a good job cooperating. "Because compliance has gotten better, we can take the next step," said Cuomo. He added that the resumption of indoor dining would include restrictions such as temperature checks at the door; at least one member of any party must disclose contact information; and facemasks must be worn unless sitting.
It's unclear if the precautions will help ease concerns among diners. For his part, Degel isn't taking any chances. While he says that he'll keep his city restaurants operating, he's not going to expand in the area. Instead, over the next three months, he plans to open two locations in Georgia, which he says offers more opportunities for outdoor seating thanks to the warmer climate. He already owns Uncle Jack's Meat House in Duluth, Georgia, which opened in 2016. In New York City, "businesses are being crushed" and it's hard to see a future right now, he says. "Manhattan is a ghost town."
Sep 10, 2020