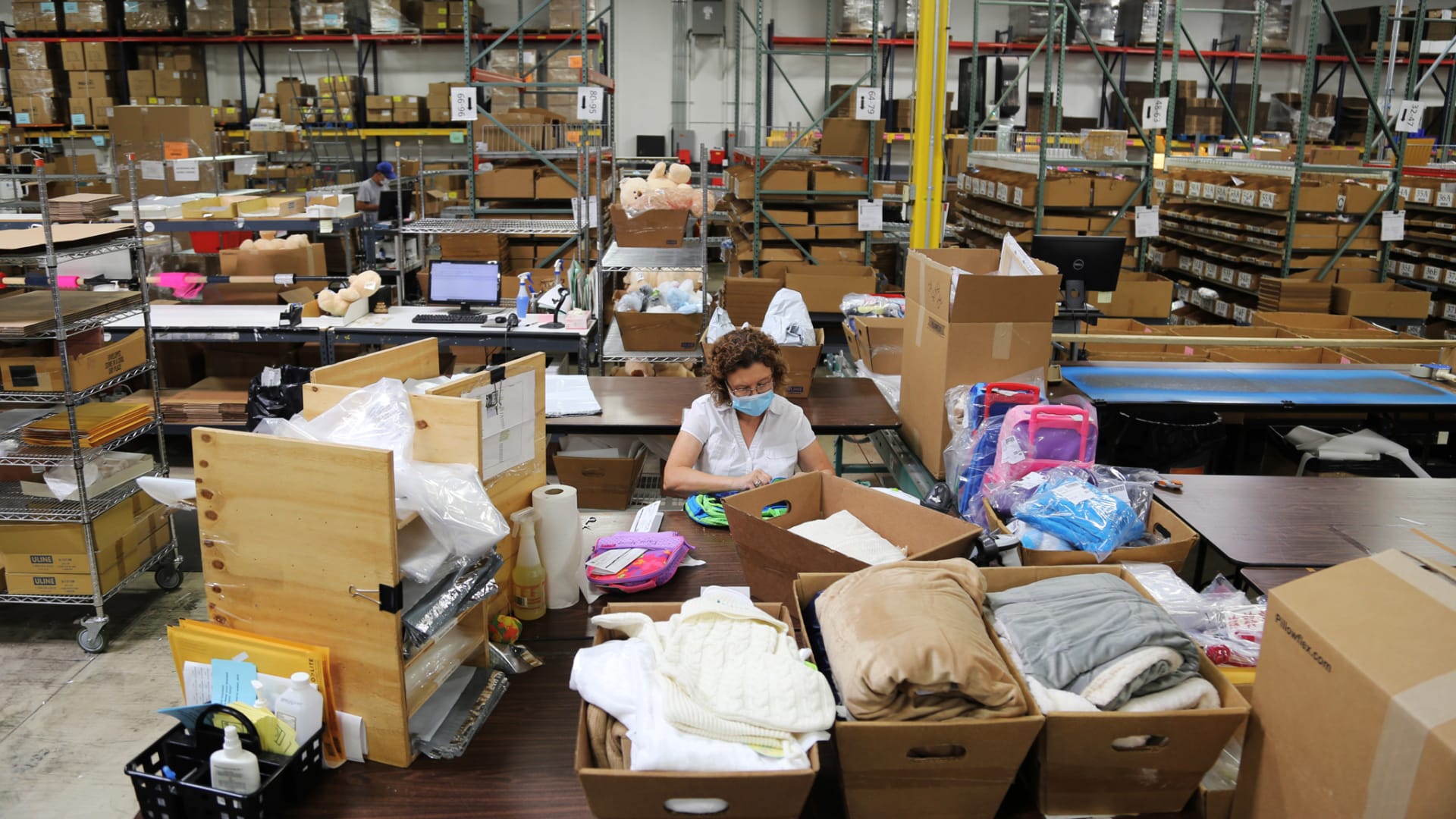 When the Covid-19 crisis first hit, demand plummeted for Romy Taormina's flagship product, a band travelers wear on their wrists to ease nausea. Now that travel is coming back, her business is being whipsawed by the same supply issues that marked the start of the global pandemic.
"We are doing our best to weather this Covid storm and catch the wave to the other side. But it's been a ride," says Taormina, the CEO and founder of Psi Health Solutions, the Pacific Grove, California-based maker of Psi Bands.
Her exasperation is felt by small-business owners across a range of industries in the U.S. Besides the global microchip shortage, which President Biden recently called a "national security issue," electricians can't source the little plastic boxes they need to rewire light fixtures. Contractors are reporting a 200 percent surge in the price of lumber. Even the supply of Taiwanese tapioca is drying up.
While the recent blockage of the Suez Canal may deserve some of the blame -- as do extreme weather events like the freak snowstorm that roiled Texas in February -- the real culprit remains the pandemic, says Sridhar Tayur, professor of operations management at Carnegie Mellon University's Tepper School of Business.
"The pandemic and its recovery is very K-shaped," he says, referring to a post-recessionary climate in which certain parts of the economy resume growth while others lag behind indefinitely. "Some of the companies' issues with supply and supply-chain management and labor is because they're unable to meet increased demand." For others, he says, "they're really hoping their former level of demand will come back."
The situation at Psi Health Solutions is one case in point. Psi bands are manufactured in China. When the pandemic hit, the factory was closed for an extended period of time and then operating at half capacity. Stores canceled purchase orders, as they too closed down, either temporarily or permanently. Travel came to a screeching halt, and so did demand for anti-nausea wrist bands.
Yet even now -- more than a year later -- long after her factory reopened its doors, Taormina is still facing product delays. Freight hold-ups, cost hikes, and store closures continue, she says.

The Labor Crunch
For many businesses, hiring has been -- and remains -- a key challenge. Not only do some workers still feel unsafe returning to the office or the factory floor because of Covid, some can't return because they're still juggling caregiving responsibilities -- whether it's caring for a child or a sick loved one. Others are making more money on unemployment than they would if they were working.
The $1.9 trillion American Rescue Plan Act provides an extra $300 per week benefit to anyone receiving state unemployment benefits through September 6, 2021. While that's less than the amount unemployed individuals received at the outset of the pandemic -- the Cares Act provided $600 a month in enhanced benefits for unemployed workers through July of 2020 -- some employers say the extra aid has made it tough to bring people back.
For Bill Prettyman, hiring has been difficult across the board. He is the CEO of Wise Business Forms, an Alpharetta, Georgia-based print manufacturing company that operates five printing plants, located in different regions in the eastern half of the U.S. "All of them are challenged to find new team members," he says.
Prettyman says he's certain that the labor shortage his company is experiencing is an "unintended consequence" of the additional weekly unemployment supplement, which may allow people to pocket $15 or more per hour unemployed. In Georgia, for instance, the maximum weekly benefit amount is $365. Paired with the extra $300 a week, that's $665 a week, or north of $16 an hour.
"I think Congress probably did the right thing a year ago when Covid hit in trying to extend unemployment benefits and helping people out.... I'm not so sure we needed it in the fall when it was renewed. But for sure, when Congress renewed it again a couple months ago, it just didn't need to happen," says Prettyman. "Right now, there's 6 percent unemployment, but it feels more like 2."
The subsequent hiring crunch has pushed some employers to hike wages. According to the latest survey from the National Federation of Independent Business, 28 percent of small-business owners surveyed said they raised compensation in March -- the highest level in the past 12 months. Another 17 percent say they'll boost wages over the next three months.
Carnegie Mellon's Tayur, who formerly ran SmartOps, a software company that was acquired by SAP in 2013, says he expects the hiring picture to improve as vaccination rates tick up -- and that could help ease pressure on supply. Training those new recruits will take time, however, so product delays could continue for the next several months. Further, he says, this transition period may take longer in more rural areas, as they tend to have fewer skilled workers, he says.
"In larger cities -- places that have warehouses and supply centers already -- there is a lot more flexibility in capacity, capability, and labor," Tayur says. "If the business is not near one of the bigger cities, their location is going to be the reason they feel the pinch."
The Benefits of "Smart Buffering"
Barring another crisis, Tayur says shipping issues and delays should clear up by the end of the summer. But that's not an invitation to return your company operations to business as usual, he says.
Business owners should stop prioritizing efficiency over buffering or "smart buffering," he says, pointing to the practice of having a diverse supply chain, investing in local capacity, and stockpiling key products.
In other words, just because a system is faster and cheaper doesn't mean it's better, Tayur says. "The pandemic has woken people up," he says. More business owners are realizing, "'Look, we were never 100 percent humming. Let's make sure we get this right.'"
Apr 16, 2021