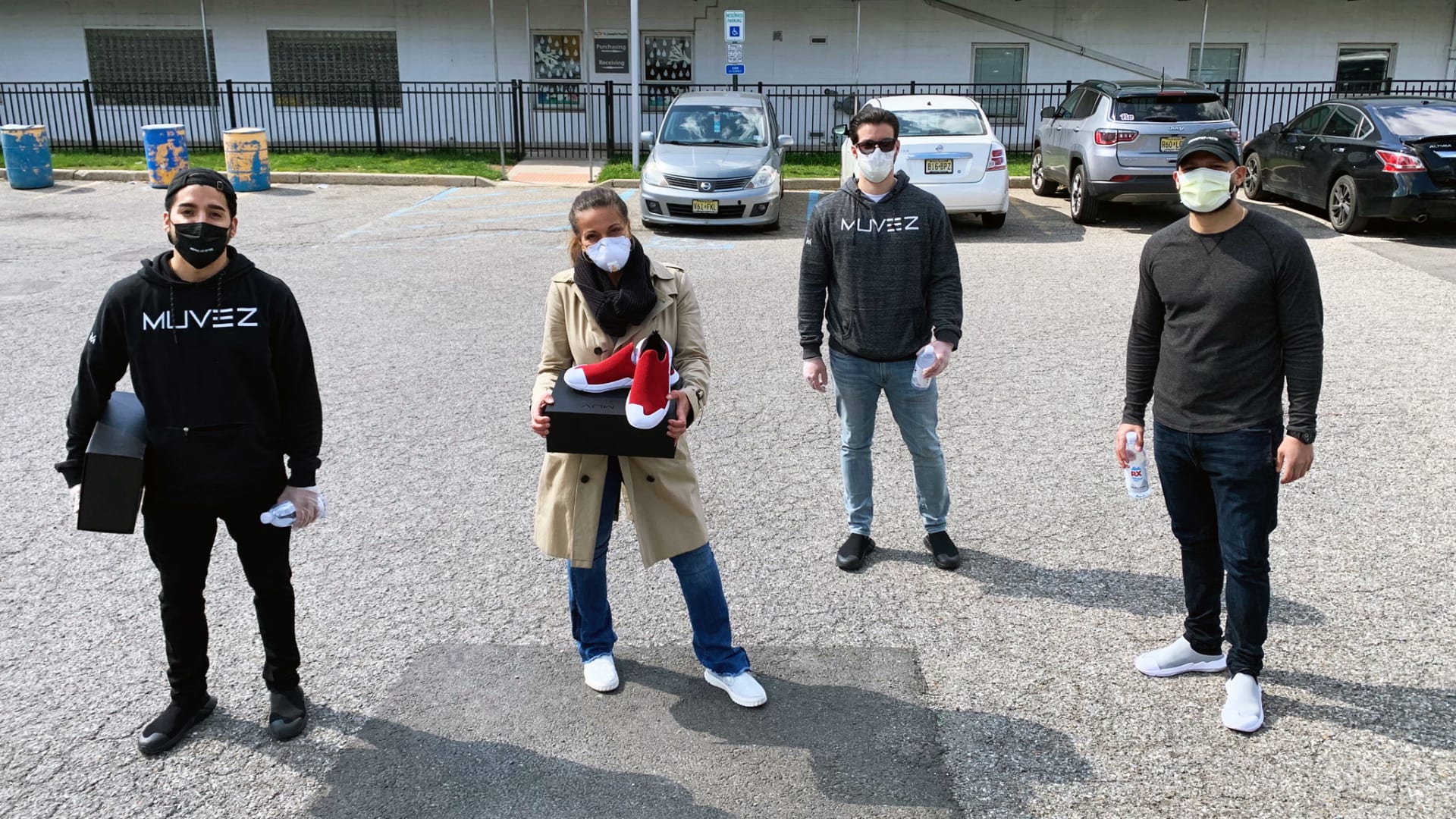 "We knew that we were going to have a really big platform," says Kevin Zamora, one of the three co-founders of Muvez, a slipper that can convert to a sneaker by adding a lightweight foam sole. "If ever there was an opportunity to give back at our biggest potential, it was then."
Companies that appear on Shark Tank, regardless of whether or not they get a deal, typically experience a spike in interest after their episodes air: In the nearly three months following the show, Zamora and brothers Eric and Ryan Cruz quadrupled their entire 2019 revenue of $100,000. With that momentum, they were able to collect $9,500 for the WHO. Zamora says they plan to send the donation when they hit the $10,000 mark.
While continuing that campaign for the foreseeable future, the Jersey City, New Jersey-based company also has launched a local philanthropic effort: Donating Muvez shoes to hospital workers in the area and working with other companies to deliver food and water. The co-founders tapped their network of friends and customers to donate the supplies and have given away about 100 pairs of Muvez shoes, which normally sell for $100. Other businesses have since reached out to Muvez offering donations of T-shirts and scrunchies for their upcoming hospital visits.
"We're more than OK taking the hit because of the cause," Zamora says of the cost of donating shoes and money. "Once you become a brand, it's your responsibility to give back and set that example." Establishing a philanthropic angle to the business was something the co-founders had wanted to do for a long time, Zamora added.
Zamora has been close with the Cruz brothers since high school. The idea for Muvez came from Ryan Cruz's college thesis in 2013, for which he was tasked with improving an everyday product. But when Cruz presented an early prototype of Muvez, his teacher told him there was no market for the slipper. The trio abandoned the prospect of turning the idea into a business and moved on to different careers.
Three years later, they noticed the slipper company Mahabis was producing a similar product and generating buzz. It sparked their interest in reviving the college project. They quit their jobs and launched Muvez in 2016.
By the summer of 2019, they noticed a demand for women's shoes. The trio started a Kickstarter campaign seeking $15,000 to finance a new collection, and ended up raising more than twice that. They also got a call from Shark Tank asking if they wanted to be on the show. The co-founders struck a deal with Daymond John when they shot the episode in September, giving him 25 percent equity in exchange for $200,000.
Jun 30, 2020