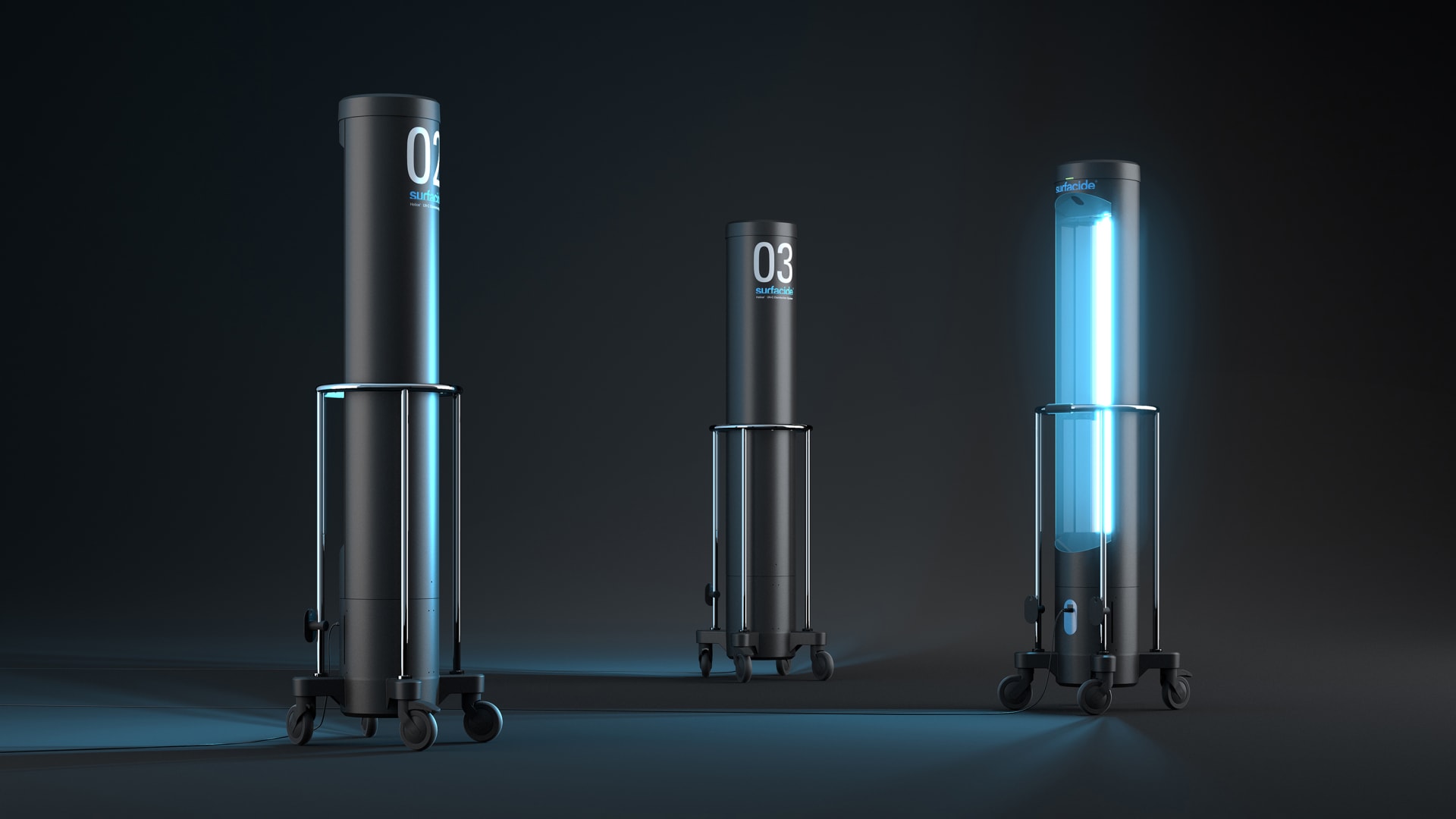 Here are three companies whose products have become even more useful during the Covid-19 era.
1. Surfacide
In late January, entrepreneur Gunner Lyslo got word from an infectious disease expert that the Chinese government would not be able to contain the coronavirus. That's when Lyslo mobilized his company, Surfacide, which makes an automated surface disinfection system, to brace for a surge in orders.
Surfacide's Helios System looks like a standing fan and uses UV-C radiation to kill germs on surfaces. Launched in 2010, Surfacide's products were primarily used by hospitals before the pandemic to prevent health care-associated infections. Now customers include restaurants, hotels, and tourist attractions, such as Seattle's Space Needle, according to Lyslo, founder and CEO of the Waukesha, Wisconsin-based company. A three-tower set costs about $100,000.
In early February, Lyslo ramped up production of Surfacide's technology, anticipating increased demand from hospitals that would require better disinfecting tools once the coronavirus reached the U.S. His bet paid off: Surfacide's revenue between January and July grew more than 350 percent year-over-year, thanks primarily to a large increase in international sales, according to Lyslo. He declined to disclose the company's revenue.
"We really didn't get any engagement or traction outside of health care until the pandemic," says Lyslo. "Now we're seeing a tremendous inflow from businesses that have numerous employees or where social distancing becomes a challenge."
2. Sanigirl
When Susan Thompson launched her portable female urinal Sanigirl in 2019, she marketed it as a sanitary tool for campers and hikers. Her customers were primarily outdoor enthusiasts and musical festival attendees. After the pandemic forced event organizers to postpone festivities, Sanigirl's sales dropped by about 60 percent year-over-year between January and April. To keep her Pompano Beach, Florida-based company afloat, Thompson began focusing on women who didn't want to use or who couldn't use public restrooms, modifying its marketing on social media, Amazon, and its own website, where a package of 10 costs $8.99.
"I reset everything to catch this woman who's coming back to a new normal after Covid-19," says Thompson. "They're looking for a solution to avoid germs and protect themselves when they go back out."
So far, her strategy has worked: Sanigirl booked about $40,000 in sales between May and June, equal to Thompson's full-year sales in 2019, she says. Her bootstrapped business is having trouble meeting demand, however, due to shipping delays from international manufacturers.
3. Proxy
Proxy is a touchless technology that lets users open doors, unlock offices, and call elevators with a digital "identity" signal sent from a smartphone. Denis Mars and Simon Ratner launched Proxy in 2016, selling to commercial real estate companies setting up large offices for employee access. Sales are rising in the pandemic, as businesses look for ways to reduce the spread of Covid-19, according to Mars.
"It feels like the future got pulled in three or four years sooner," he says.
Now the company sees opportunities in smaller workforces. What's more, Proxy's staff is coming up with ways to add contract tracing and health monitoring to its technology. For example, if an employee in one of Proxy's workplaces reports he isn't feeling well, Proxy's system can identify that person's close colleagues and encourage them to stay home and monitor their symptoms. Mars expects to roll out the service later this year.
Proxy's touchless reader service, which supports unlimited users, is $50 a month, and its readers range between $199 and $249. Based in San Francisco, Proxy has about 70 employees and has raised a total of $58.8 million after closing a Series B round in March. Mars, who declined to disclose his company's annual revenue, says the pandemic is accelerating his company's growth timeline.
Jul 8, 2020