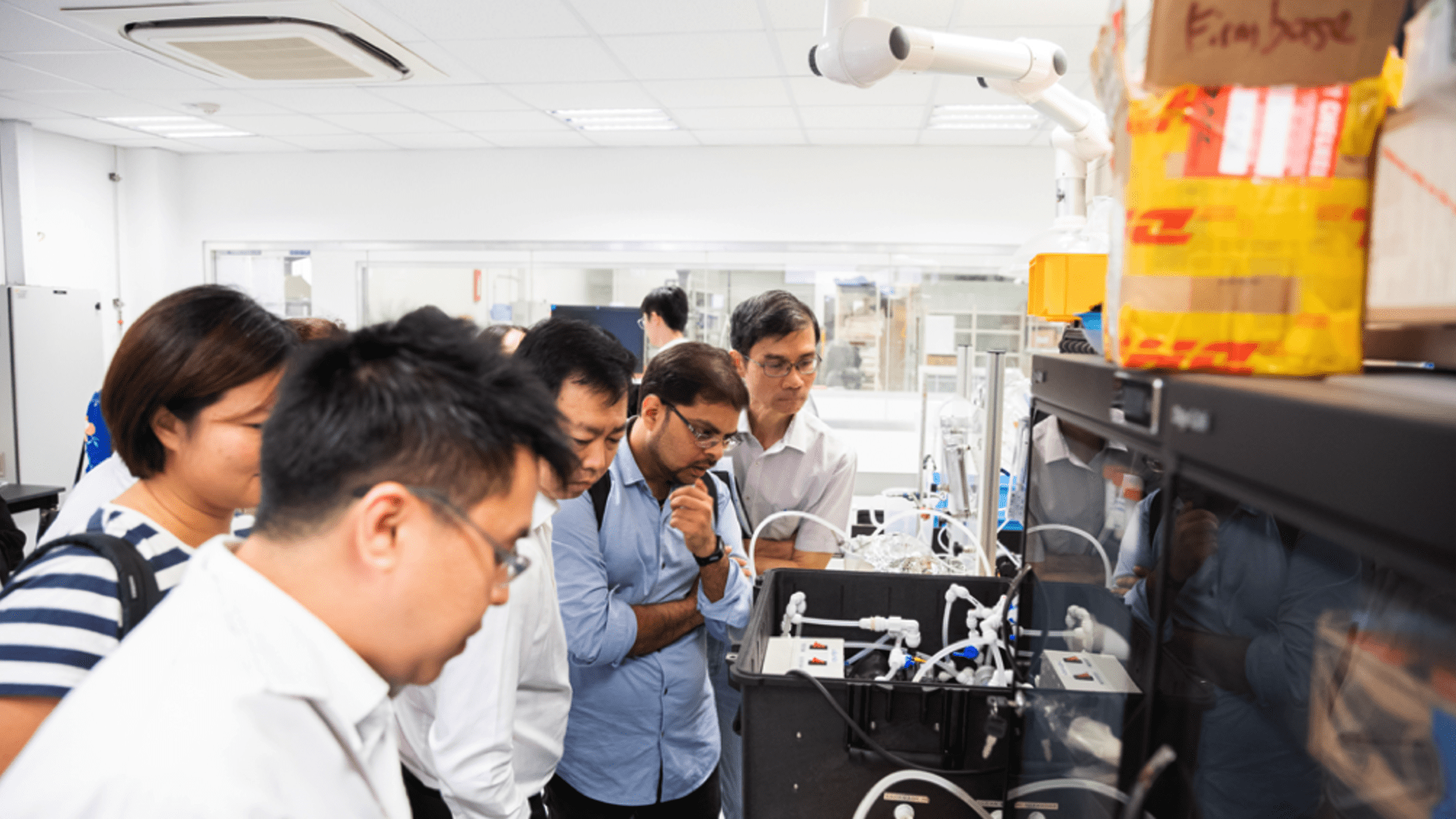 Technology is progressing at an unprecedented rate and disrupting the way we work and live. How can companies keep up with the ever-changing needs of the market and remain globally competitive? Innovation.
There has been a rise in the number of innovation labs set up in Singapore, across both fintech and deep tech sectors by corporates, learning institutions, government organizations, and more.
These labs may be an extension of the organization or a newly formed entity, and they are usually run independently. They provide end-to-end support for startups and innovators to prototype and test their creations to bring their products and services to market. They have access to research facilities and equipment, co-working spaces, expert knowledge, and a network of partners.
As physical test beds for startups, such labs can bridge the "Death Valley curve," defined in the startup world as the period between the beginning of operations and revenue generation.
Participants had a glimpse behind the scenes of these deep tech labs and discovered potential collaborative opportunities to pursue.
As part of the tour, the labs showcased recently launched products and revealed their facilities and workrooms. Some labs offer engineering and design expertise, while others focus on innovating and improving existing manufacturing processes.
Innosparks
Innosparks is an Open Innovation Lab which is part of ST Engineering, an integrated engineering group headquartered in Singapore. Head of Innosparks Gareth Tang said the lab was set up to spearhead co-creation, collaboration, experimentation and to launch breakthrough concepts to market.
It is located in JTC LaunchPad @ one-north, where many of Singapore's startups reside. Innosparks houses more than 40 resident designers and engineers from four disciplines: mechanical and control, electronics and electrical, material and chemical, and software and design.
An in-house design team specializes in design thinking, creating new products that look good but also solve real-world issues.
Startups usually face the challenge of turning prototypes into commercially viable products. To address this, Innosparks houses multi-disciplinary hardware and software capabilities in a single platform, from design and concept to build and launch. This allows for rapid iteration and a tight feedback loop, and it helps to bring the products to market much quicker.
For instance, the Air+ Smart Mask--the world's first smart mask--was one of the first few products developed in Innosparks. It was conceptualized, tested, and commercialized in just 18 months. The secret behind this speed? Their in-house prototyping lab.
There were more than 100 prototypes designed for the mask, and the prototyping process would have taken more than two years if outsourced.
Access to experienced, quality engineers is also a practical issue often faced by startups. Many work in established companies, and few would be willing to venture into new enterprises. It is also costly to engage a few specialists at a time.
At Innosparks, startups can work with engineers with different expertise for the term of the project. The varied experience these professionals bring allows for greater flexibility and stability.
With a key focus on smart cities and health care, startups in these sectors can partner with Innosparks to bring their ideas to life.
Verizon Innovation Community managed by JustCo
Launched in 2018, JustCo was appointed by the Verizon Innovation Community to manage its innovation-community space in Singapore. Startups from highly specialized fields such as cybersecurity, fintech/blockchain, digital media, internet of things (IoT) and robotic process automation/artificial intelligence can be connected to a vibrant tech community at Verizon's first-in-Asia initiative.
Silver Wings, a startup that creates virtual and augmented reality tools is a member of the Verizon Innovation Community managed by JustCo. They work with companies from different industries like tourism, real estate, and manufacturing to address real-world problems with customized immersive technology solutions.
The innovation lab crawl helped participants experience the artificial worlds that virtual and augmented reality tools create and how these worlds can impart knowledge in a fun and engaging way.
Immersive technology tools no longer come in just the form of a headset; they have evolved to be more user-friendly, with a wider range of options for end consumers to choose from.
3D visualization technology is being increasingly used in education. For example, geography teachers can use their mixed reality tools to offer students a glimpse of how the Jurassic world would have looked like in real life.
Startups looking to be plugged in to the tech ecosystem can join the Verizon Innovation Community managed by JustCo to collaborate, learn, and network with the closely-knit community in the city center.
Advanced Remanufacturing and Technology Centre (ARTC)
Led by the Agency of Science, Technology and Research (A*STAR) in partnership with Nanyang Technological University, the Advanced Remanufacturing and Technology Centre (ARTC) is a contemporary platform built on strong public-private partnerships to translate research to industry applications.
Manufacturing makes up 20 to 25 percent of Singapore's yearly gross domestic product. As such, deep tech capabilities and innovation are crucial for staying ahead of the curve.
Startups and corporates looking to adopt Industry 4.0 in their businesses can co-innovate with ARTC through research and application of new technologies such as additive manufacturing, industrial internet of things (IIoT), robotics and intelligent product verification. And in doing so, they can create the factory floor of the future.
How will these technologies help manufacturers? Let's look at the Virtual Manufacturing Lab, which ARTC developed in order to create digital twins of manufacturing processes, as an example.
Companies can adopt this technology in their workshops to observe their machines and even train operators to operate their equipment in a safe environment, without the need to halt production.
Industry players can now plan the positioning of their machines in workshops, prior to the factory even being built. This allows for greater efficiency and more informed decisions in workshop arrangements.
Environmental & Water Technology Centre of Innovation
Set up in 2007, the Environmental & Water Technology Centre of Innovation (EWTCOI) is a joint initiative between Enterprise Singapore and Ngee Ann Polytechnic. It focuses on applied research and technology enhancement and translates ideas into solutions that address industry's problem statements.
Corporates and startups looking to co-innovate on environmental solutions can tap the Centre's specialties, namely, water technology, sustainable materials technology, energy efficiency technology, and membrane technology.
EWTCOI has led about S$20 million worth of projects since its inception.
One such project is the car wash wastewater recycler. A typical car wash uses 26 gallons of water to wash just one car, so EWTCOI partnered with Hock Cheong Automec, the Public Utilities Board (PUB) and the National Environment Agency (NEA) to develop a compact and low-cost system to treat wastewater. The recycler helps reduce water expenses and cuts down the water consumption per car wash.
Participants toured 15 laboratories and workshops that house comprehensive equipment for continuous experimenting and prototyping. The company's membrane technology team, for instance, makes and tests finely-constructed, noodle-like membranes for their ability to filter water impurities.
PIXEL
Technology innovators from the infocomm and media (ICM) industry, including e-sports, immersive experience, and online content creation can work with PIXEL to create customer-centric digital experiences for the future.
With shared production facilities, incubation and hotdesking spaces as well as immersive experiences and usability testing labs, startups can access the facilities they need to at PIXEL to testbed their technologies and solve industry pain points.
Lab crawl participants got to experience the visualisation of big data using Magic Leap One, a spatial computer and an untethered multiplayer Battle Royale laser tag game.
All were made possible with PIXEL's support, which includes project-based coaching and one-to-one sessions with a dedicated consultant to build capabilities.
Turning ideas into reality is a path often fraught with challenges, with many entrepreneurs ending up with stalled projects, because they lack funding, guidance, or the right equipment to get started. Startups and corporates can collaborate with innovation labs in order to grow and to remain relevant.
From designing and fashioning prototypes to tapping the right expertise to improving manufacturing processes to introducing digital elements into their business, innovation labs are indispensable to a company's growth journey.
Discover more innovation partnership opportunities to springboard your business into Asia, by joining us at the Singapore Week of Innovation and TeCHnology 2020, December 7-11. Together with the Singapore FinTech Festival, the round-the-clock, week-long digital and physical event will feature more than 800 international speakers, the world's largest digital showcase, and infinite partnership opportunities.
Don't miss out-;get your passes today!
Oct 22, 2020