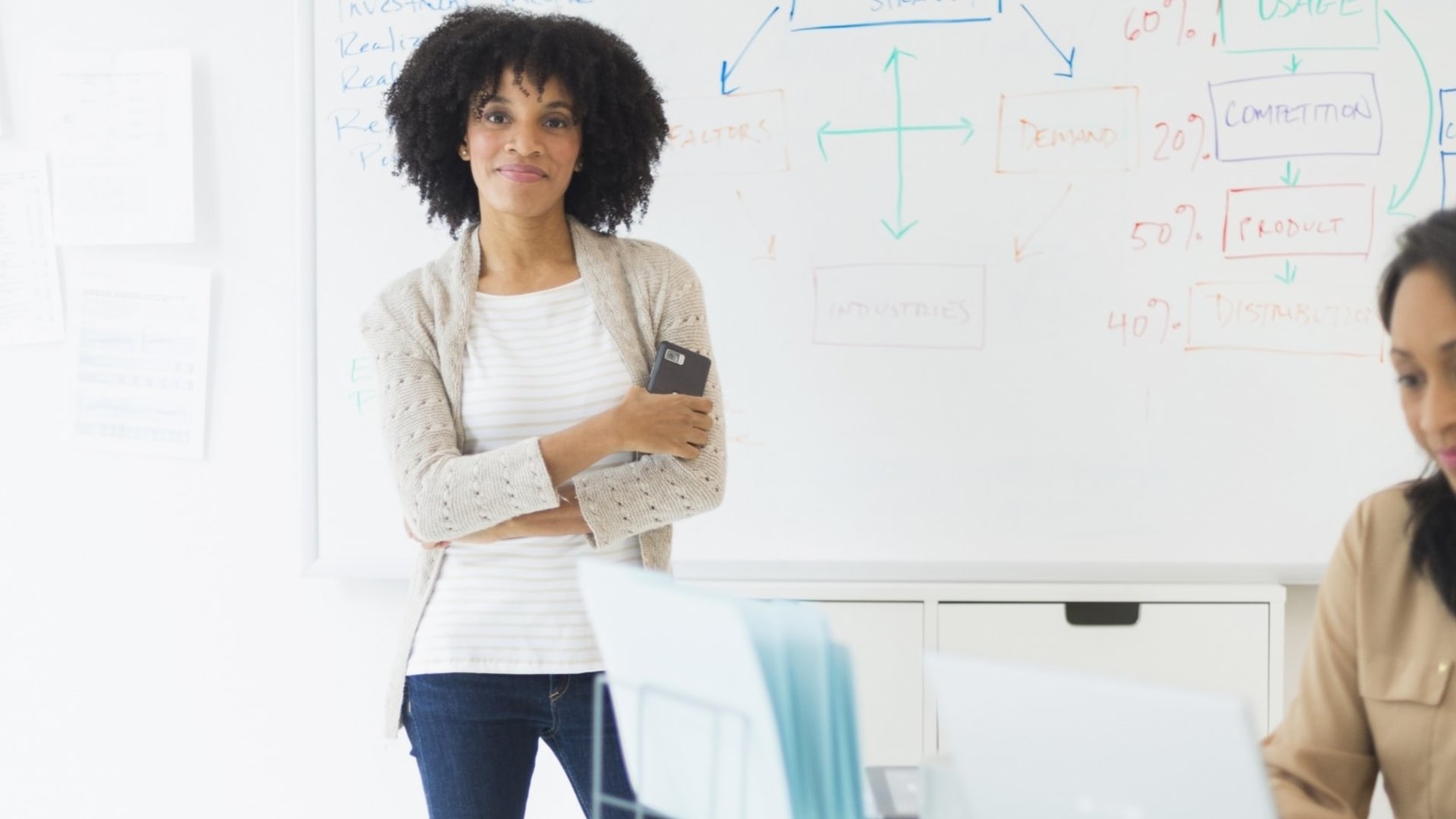 The value of diverse business perspectives
Delaney: In EO, we place significant value on sharing experiences and perspectives around the challenges of entrepreneurship. When I joined the chapter 10 years ago, we weren't as diverse as we are today.
It made me realize that when our small-group Forum meetings included women and people of color, I gained more value from their shared insights. They helped me understand people better, both in business and personally. It became apparent to me that when you have people in the room who come from a different place of birth, with different ethnicities and genders, it enriches the experience. People who operate from a completely different background introduce new perspectives around business challenges. That's huge when you're trying to solve complex issues.
How business accelerator programs help companies scale
Delaney: EO Accelerator is a learning program for entrepreneurs who want to grow their business beyond the $1 million threshold through learning content that builds leadership acumen and access to mentors, business leaders, entrepreneurial peers, and subject matter experts.
We reached out to the CLT Alliance because they, too, wanted more opportunities for racial and ethnic minority business owners. We collaborated on developing a Diverse Business Accelerator Scholarship: The Alliance pays half of the EO Accelerator participant fees for a select number of minority entrepreneurs each year. Participants pay the other half. They also get Alliance investor-level benefits that provide opportunities to build relationships with regional business leaders and key decision makers--people most small-business owners may not otherwise encounter.
Accelerator scholarships provide knowledge and insider access
Garvin: The CLT Alliance's mission is to promote opportunity, economic growth, and prosperity for all. Through our philanthropic foundation we aim to ensure that minority-owned businesses--black and brown business owners in particular--get the resources and access they need to succeed. Entrepreneurs of color tend to hire greater numbers of racial and ethnic minority employees, which helps advance economic opportunity and prosperity for all.
Last year, we provided scholarships for three minority-owned businesses to participate in EO Accelerator and gain premium access to the CLT Alliance's investor-level events through our Scale Up CLT program. This year, we're excited that the City of Charlotte partnered with us, making two additional scholarships possible. With more financial support, we'd like to be in a position to provide 15 or 20 scholarships each year, making Charlotte's entrepreneurial ecosystem more equitable and inclusive.
Jackson: We offer a similar scholarship program through the City of Charlotte's Economic Development Department. It's in conjunction with AMP Up--our intensive business growth course for ethnic minority entrepreneurs to connect with the business knowledge, management know-how, and networks necessary to propel small businesses.
We see Scale Up CLT and EO Accelerator as the "graduate program" for AMP Up alumni. Our department is providing scholarships for two promising AMP Up alumni to participate in EO Accelerator and receive CLT Alliance investor-level access, so they can access additional learning, and connect with seasoned entrepreneurs, mentors, and influential business leaders. The knowledge EO and the CLT Alliance provides and the mentoring relationships our alumni form are critical for their ongoing success.
Why intentional outreach is the key
Delaney: We're also talking with Charlotte's other ethnic minority business chambers to explore additional opportunities to collaborate.
We've tapped into community programs where we didn't previously have a presence--because we believe entrepreneurship is for everyone. We aim to help business owners of all backgrounds run their companies more effectively and implement frameworks that fuel growth.
Since we started intentional outreach in 2018, diversity in EO Accelerator has increased significantly. It's gratifying that we're reaching a more diverse population of entrepreneurs. As EO Accelerator participants graduate and qualify for full EO membership, our chapter is positioned to enjoy an influx of racial and ethnic minority entrepreneurs, giving us the benefit of even more diverse perspectives.
Entrepreneurial success doesn't happen in a vacuum
Jackson: These collaborative programs are breaking down silos and expanding boundaries. We want a vibrant, growing business system. In an ideal scenario, after graduating from these programs and achieving greater and greater success, our alumni will pay it forward by mentoring and helping other entrepreneurs in their communities. That way, we can continue to scale Charlotte's racial and ethnic minority businesses.
I hope to share this model with other cities that want to implement programs to expand minority entrepreneurship.
We want business owners to realize that they're not alone. Entrepreneurial success doesn't happen in a vacuum. To get to that next level, you have to be in a room with other entrepreneurs and small-business owners. It's like bringing fresh eyes to your business--and to our community. It just makes good business sense!
Garvin: Our scholarship alumni say it best:
"Scale Up CLT provided an opportunity to participate in EO Accelerator, which included exposure to strategies for scaling our business, interaction with other like-minded entrepreneurs, and access to the CLT Alliance, resulting in connection and visibility within the broader business community." -- Christopher Moxley, co-owner, 704 Shop
"Investor-level access with the CLT Alliance, coupled with EO Accelerator, has positioned us to be surrounded by quality business-minded people and achieve sustainable growth." -- Vanessa V. Mathews, founder and president, Asfalis Advisors
Jul 14, 2020