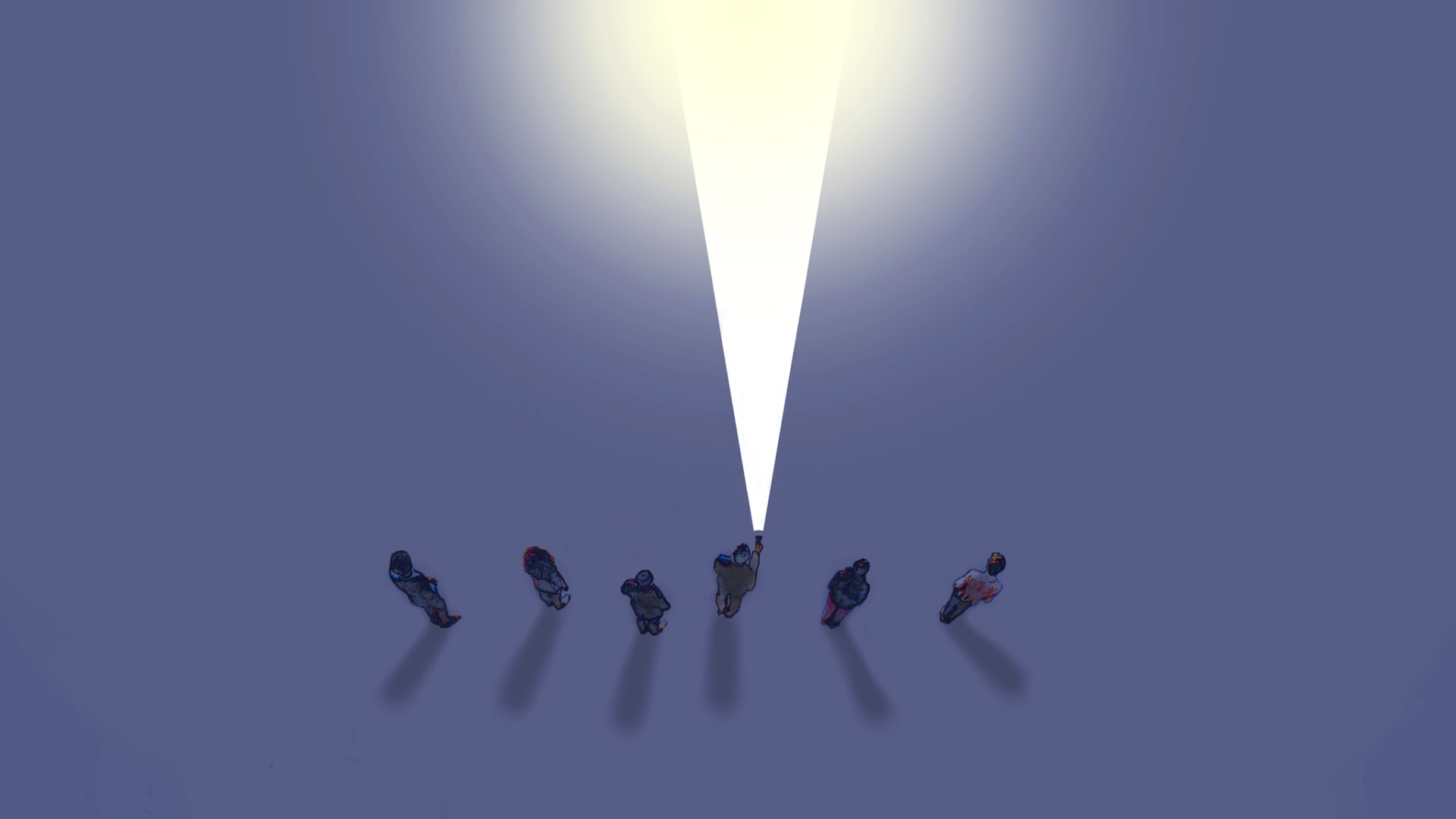 As a result, "stay at home" categories, such as connectivity platforms, streaming sites, and online retailers, have boomed financially.
Yet, certain companies rose above the rest even within these industries. And, more surprisingly, some businesses have seen significant growth in revenue and public reputation, despite having offerings unconnected to or even disrupted by these crises.
Business performance, in good times and bad, comes down to more than product offerings. It comes down to great leadership. What can we learn from looking back at leadership over the last year?
Across industries, leaders at companies that have thrived actually had a lot in common. They all leveraged five key concepts in order to lead with humanity:
1. An animating idea
Great organizations are animated by ideas powerful enough to galvanize people and build new futures. Behind every animating idea are questions that hold the potential for transformation -- of mindsets, of markets, of society -- and the creation of new value, from growth and profits to social impact.
Companies that thrived in 2020 and the start of 2021 brought stability to their organizations through demonstrating an unwavering commitment to the company's animating idea. Leaders have used this as an anchor, giving employees a sense of purpose, motivation, and a shared logic for decision making in a fast-changing situation
The animating idea behind Pfizer -- "Breakthroughs that change patients' lives" -- is backed up by deeply felt company values. As the pandemic unfolded, Pfizer doubled down on this animating idea as a source of inspiration -- rallying their employees, their suppliers, and their shareholders around it -- to become the first company to have a Covid vaccine approved by the FDA, and in record time.
In his end of year note to employees, CEO Albert Bourla wrote, "It is because of your courage, your excellence, your commitment to equity, and your capacity for joy, that we continue to realize our purpose -- breakthroughs that change patients' lives -- and that we are on the cusp of changing not only patients' lives, but the world."
2. Human flourishing
Great organizations are designed to recognize and nurture human potential. They seek more equitable access to opportunity and create working conditions, products, and services for humans to thrive. They cultivate communities of belonging where differences are not just accepted but valued, and in which people connect, learn, and grow.
In a year where many are working harder and longer than ever on top of the emotional toil of living in a pandemic (and often caretaking), burnout and exhaustion is rampant. There are health consequences related to burnout -- increased cynicism, physiologic responses like headaches and insomnia, negative well-being generally -- but it also carries financial costs. According to Harvard Business Review, burnout costs "$300 billion a year in absenteeism, turnover, diminished productivity, and medical, legal, and insurance costs." It's to everyone's benefit that companies invest in enabling human flourishing.
For Etsy, which was added to the S&P 500 in 2020 and finished the year as its No. 2 performer, the prioritization of human flourishing has correlated to exceptional pandemic results. As Jill Simeone, Etsy's chief legal officer, noted, "Since the beginning of the pandemic our guiding philosophy has been to keep our employees and community members safe and our business thriving. Prioritizing our employees' well-being meant taking swift action to close our offices to keep everyone physically safe, while also acknowledging the personal and emotional challenges that many people were facing, including childcare struggles and grieving the loss of loved ones. In spite of 2020's many challenges, our workforce was agile and resilient, and showed up ready to deliver for our sellers."
Internally, Etsy -- whose mission is to "keep commerce human" -- prioritized employee physical, mental, and financial safety. It was one of the first companies to move its entire workforce virtual, first testing remote work in February of 2020, and then moving to 100 percent out-of-office work in early March. Since then, the company has built an impressive infrastructure to stay connected to and support employees in their unique circumstances. This includes everything from redesigning their internal communications strategy, offering backup child care, extended paid family leave, health and mental health paid time off, and work-from-home stipends.
Externally, Etsy advocated on behalf of sellers in the U.S. and EU to win Covid economic relief for the self-employed. And when the CDC changed its guidance on wearing non-medical-grade masks, the company reached out to sellers asking them to pivot and start making face masks to meet the needs of buyers clamoring for handmade masks. While many new buyers came to Etsy in 2020 to look for masks, many came back to shop their values, support small businesses, or seek an online destination for something special.
In 2020, Etsy's 4.4 million active sellers (81 percent of whom identify as women) collectively made $10.3 billion in Gross Merchandise Sales (GMS), up 107 percent year-over-year.
3. Courageous leadership
Great organizations are guided by an approach to leadership that brings seemingly contradictory actions into productive tension: holding power while distributing it, seeking diverse voices while creating common ground, taking decisive action while accepting "not knowing," delivering short-term performance while ensuring long-term thriving.
Periods of crises and adversity breed uncertainty and anxiety at companies. People are worried they'll lose their job, or that the company will change course in a surprising way. Rumors and speculation abound.
Leaders who are courageous with their people have not shied away from the struggle and pain of this moment. They have acknowledged it, showing heart and humanity. They have led with transparency -- not denial -- in ways happy and sad. They were honest when they didn't have all of the answers -- around racial justice, the economy, child care, and the future of their business.
They've communicated more of their thinking, inviting people in to see them more fully -- not just as executives but also as humans who are sharing in the challenges we face. This approach requires vulnerability, emotional resilience, and courage.
A pandemic is an awful time to be in the travel and hospitality business. With global travel at a standstill and revenue impacted, Airbnb -- whose ethos is connection and belonging -- laid off around 25 percent of its staff.
And yet, though the humanity and heart at the center of their company culture was put to the test, Airbnb leaders rose to the challenge. In a demonstration of compassionate leadership, CEO Brian Chesky spoke live to employees via video and shared a letter with employees that walked through his thinking with clarity and transparency -- letting people into his thought process and pain, and reiterating that these layoffs were the result of having to make incredibly difficult decisions to make the business sustainable, not a reflection of the extraordinary talent that they were having to let go.
While layoffs are never a positive thing, Chesky and Airbnb's handling of their permanent employees' layoffs has received positive recognition (though there were questions raised regarding how Airbnb parted ways with its freelancers) for bringing empathy and humanity to a tough situation and enabling impacted employees to exit the company feeling valued, respected, and cared for.
Despite what was, at the time, an uncertain financial future, the company prioritized the financial, physical, and mental health of its outgoing colleagues -- offering them generous severance packages, including paying for a year of health insurance, and allowing them to keep their company-issued laptops, an essential tool for job search. They created a talent directory of laid off colleagues and pivoted internal recruiting teams toward helping impacted employees find jobs at other organizations.
And while it would have been an easy ritual to skip while working remotely, Airbnb had employees stay on for several days past their layoff conversations so the company could acknowledge and celebrate their contributions.
"We approached these layoffs with a set of guiding principles, one of which was to do as much as we could to support the amazing employees who were impacted by layoffs and to be unwavering in our commitment to diversity," says Beth Axelrod, Airbnb's global head of employee experience. "We also sought to treat our team members with kindness and respect, which has continued to guide us as we've navigated the past year."
All of these actions took money and energy, but were the right thing to do. Employees left the company feeling grateful for their experiences, appreciated for their talents, and well-positioned to find other jobs. Remaining employees felt that their former colleagues were treated with respect and supported their leader during the transition. Employees today are focused on preparing Airbnb for the travel rebound.
All of these actions took money and energy, but were the right thing to do -- for both the departing but also the remaining colleagues.
4. Creative audacity
Great organizations pursue their animating idea with vision and imagination. They don't settle for optimizing what is. They believe in making possible what hasn't been before. They design experiences, products, and services that build belief and manifest the future they are fighting for. And they pioneer the new methods, tools, and materials needed to bring this future into being.
We saw this in many companies and industries throughout the pandemic. With tourists gone, hotels began offering housing to frontline workers. Restaurants started creating to-go meal kits. Photographers pioneered virtual photoshoots.
The entertainment industry was particularly hard hit. Film and television productions all around the world halted at the start of 2020. Like other companies, Comcast NBCUniversal pointed their assets at the pandemic. They quickly transitioned to remote work where possible, and closed theme parks around the world. Comcast created a $500 million relief fund to support employees through continued pay and benefits where operations had been impacted and provided free and discounted internet access to groups, like university students, who needed it most.
As the pandemic raged, however, the company was called to get its people back to work and create moments of joy for its customers. The leadership team came together to rethink their options, including what it would take to be truly responsible for the health of their people. As a result, NBCUniversal created rigorous contact tracing programs, safe production playbooks, and robust testing and screening processes all tied to rigorous metrics that served as a framework for operations throughout the pandemic.
"NBCUniversal has been making strategic investments in virtualizing production and distribution capabilities, laying the groundwork for the transition of most of our employees to remote work while keeping critical operations safely up and running," says Ian Trombley, president of NBCUniversal operations and technology. "Throughout the pandemic, cross-functional collaboration was key, as we leveraged every resource and asset available from medical experts, industry partners, and especially the expertise of our production teams to develop a safety protocols and procedures playbook that has been followed by dozens of TV and film productions as they return to work."
5. Adaptive systems
Great organizations build the operating models required to translate their animating idea into the financial, human, and social impact they seek. They challenge the mechanized and extractive models of our past to design for complex, living systems. And they develop new capabilities, processes, and culture to create space and flow for people to flourish, while executing rigorously and powerfully.
Recognizing the need to stay adaptable and nimble in unprecedented circumstances, Microsoft sought to better understand what was needed for their employees and business to thrive in the Covid era.
"There was so much uncertainty in the early months of Covid," says Kristen Roby Dimlow, corporate vice president for total rewards, performance, and HRBI at Microsoft. "We knew that we had to be ready to listen, learn, and adapt to whatever came our way, whether by rolling out new policies or processes or updating and adding to our products. In order to do this, we put in place a series of adaptive systems to learn from our employees. These insights shaped our response in support of employees and shaped guidance to managers, who have been critical to keeping connections and prioritizing work."
Microsoft CEO Satya Nadella says that, unlike many of its peers, Microsoft expects its employees will be back in the office at least 50 percent of the time post-Covid. This decision was made based on the more nuanced perspectives collected from employees about the benefits and challenges of remote work.
Their surveys also revealed that one-third of Microsoft employees found that "the lack of separation between work and life is negatively impacting their well-being." They realized that the "once-dreaded commute actually helped maintain work-life boundaries -- and our productivity and well-being along with them."
Seeing that a large portion of its employees missed the forced break created by their commute, Microsoft created a virtual commute and added it as a new feature in Teams, the company's collaboration platform offering. Based on survey insights that some people responded more to emotion-based queries and others to task-based ones, Microsoft even designed two versions for Teams.
Survey responses also prompted Microsoft leaders to dig into their workflow data. Finding a high percentage of employees having after-hours communications, it realized the need to evolve its productivity tools to promote individual well-being and organizational resilience.
It forged a new partnership with Headspace to create a set of mindfulness and meditation experiences for Teams. It also created new ways for clients to glean insights from Teams in order to better understand how work was really happening, and the impact on their employees' well-being.
Microsoft's sales for the quarter ended January 2021 were $43.1 billion, an increase of 17 percent from 2020, with profits rising 33 percent, to $15.5 billion. Even with the pandemic's favorable effect on industries like gaming and cloud computing, the results far surpassed analyst expectations.
Moving Forward
Almost all companies and individuals were caught off guard last year when Covid became our reality. Now, business leaders must proactively imagine the future they want for their organizations and drive towards that future.
A year into the pandemic, we can look back and begin to draw out the signals in the noise. Amidst competing concerns and considerations, what lessons have we learned about where to focus our attention as business leaders?
Most of the organizations that thrived over the last year have invested energy and resources in rallying stakeholders around an animating idea, demonstrating courageous leadership, enabling human flourishing, being creatively audacious, and creating adaptive systems.
They didn't see leading with humanity as a distraction from business performance. Rather, they understood that humanity and performance mutually reinforce each other -- in a crisis, and over the long run.
Apr 15, 2021