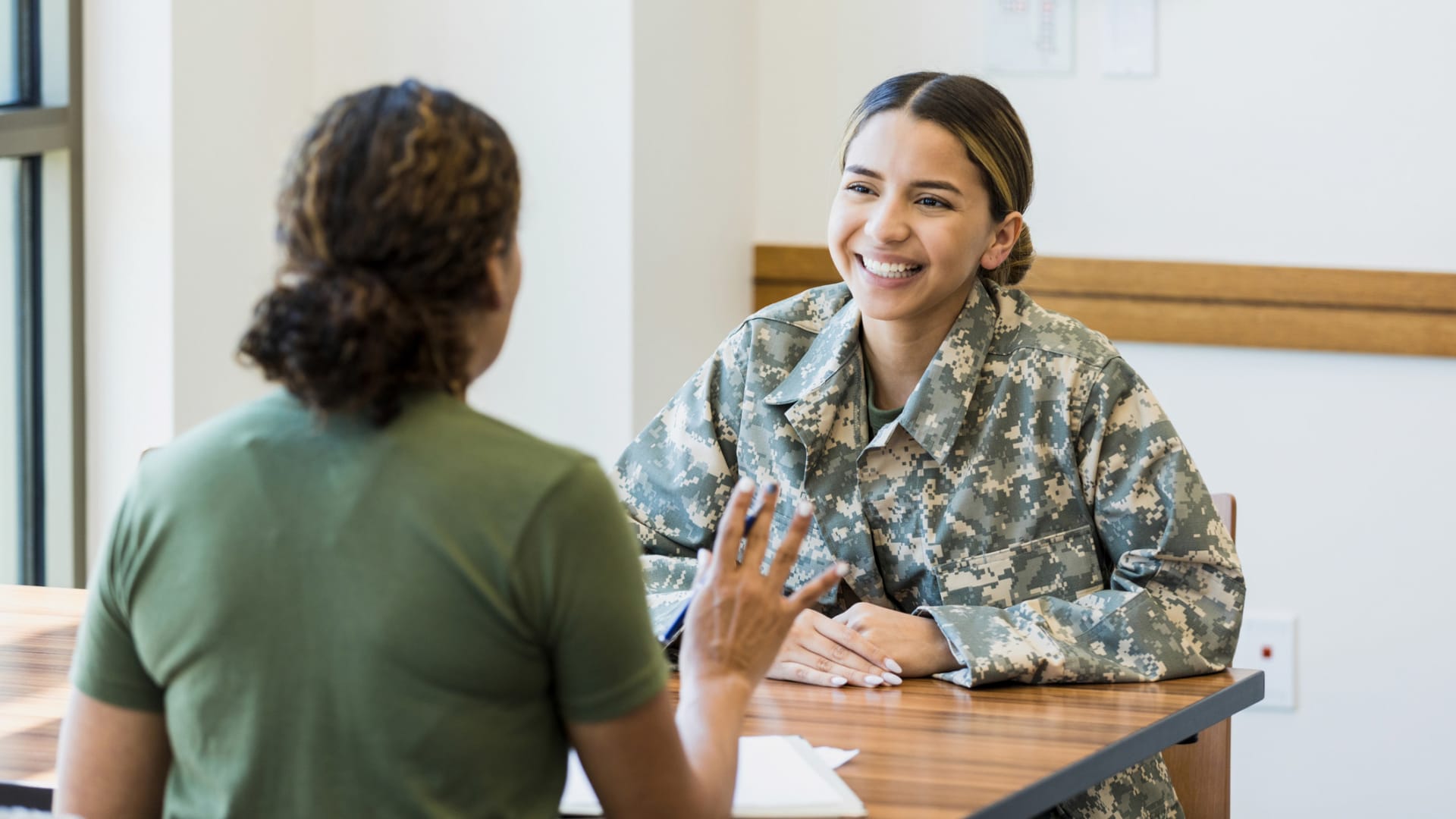 With labor shortages amid the Great Resignation, good help can be hard to find. So don't overlook an entire pool of would-be employees: veterans.
Each year, nearly 200,000 service members transition out of the U.S. military. The trick is attracting them--and doing so while meeting their unique needs. For instance, providing personal and professional development training may be just as important as helping them adjust to an unfamiliar environment. Yet if you get this right, you may be able to tap a massive pool of new employees. What's more, major corporations including Starbucks, Walmart, and Hilton have launched initiatives focused on hiring veterans in recent years, in part because it opens the door to a more diverse workforce.
"Military veterans also bring a unique set of skills from their experience in the military, like strong leadership [skills], integrity, determination, adaptability, and the ability to perform under pressure," says Mandy Price, CEO and co-founder of Kanarys, a Dallas-based diversity, equity and inclusion data and analytics company.
Getting them in the door and helping them stay engaged can be a challenge, however. Here are seven tips.
Focus on skills versus degrees.
Tailor job ads to detail the skills needed to succeed in a position, versus the education or tenure requirements. "Some veterans may not meet your specific expectations but the soft skills they've learned in the military can make them excellent candidates, so keep an open mind during interviews," Price says.
Study up on military culture.
Veterans shouldn't have to adapt to your company--not if you're serious about making a workplace that works for them. Instead, consider learning about military culture. It's a modest step but it could go far in helping make those connections between you and your prospective employee, says Price. "Find common ground and discuss the best ways to work together."
A number of resources are available if you wish to bone up. Check out the U.S. Department of Veterans Affairs website, the Veteran Employment Toolkit, the U.S. Department of Labor's resources on employment and veteran training, and Military OneSource.
Offer a helping hand.
Adjusting to the workplace may take time, particularly for newly released service members. To aid the transition, pair new veteran employees with a mentor, typically a more seasoned staffer, who can serve as their go-to person for advice or questions. "Encourage those mentors to schedule coffee, lunches, and regular check-ins to share feedback and openly communicate," says Price.
Be clear and direct.
People who've served in the military are likely familiar with clear communication and receiving instructions. So aim for clarity and directness--from the onboarding process to the job requirements to your company's policies and procedures. Avoid unwritten or amorphous rules. When you write things down and codify them, you not only set your veteran employees up for success, you also benefit from that clarity, adds Price.
Support veteran-focused groups.
Employee resource groups, or ERGs, can play a crucial role in supporting veterans in the workplace, while helping them build connections with other veterans within the company. One way to ensure that veterans feel supported is by allotting a portion of your company's budget towards ERGs, while also emphasizing the importance of the group within your company.
"Most importantly, employees who take on extra work to support ERGs should be compensated," says Price, noting that their effort should not be viewed as volunteer work.
Check in with new employees.
While connecting veteran employees together can help them gain comfort at the workplace, getting them acclimated within the larger organization should also be a goal. Employees who feel a sense of belonging and inclusion are 3.5 times more likely to contribute to their company more, a Harvard study found.
To create those warmer vibes, check in with your recent hires to see how they're adjusting, Price explains. This is likely a good practice for any new employee, but veterans who may feel even more isolated might benefit even more from the outreach. Ask how they're doing, as well as feedback about the job so far. That input can help you build a more holistic work environment that can ultimately benefit everyone.
Get help.
As you strive for a more inclusive workplace, it can be helpful for your company to engage with diversity, equity, and inclusion (DEI) consultants and industry experts who can identify hidden or systematic barriers by conducting equity audits. Such an audit can help your company diagnose gaps before jumping into training new veteran hires.
Once your company is armed with data, Price explains, your firm can begin tackling those systematic barriers and issues and work towards improving them. Outlining long-term fixes can help your company create sustainable and measurable goals that extend for years.
Nov 11, 2021