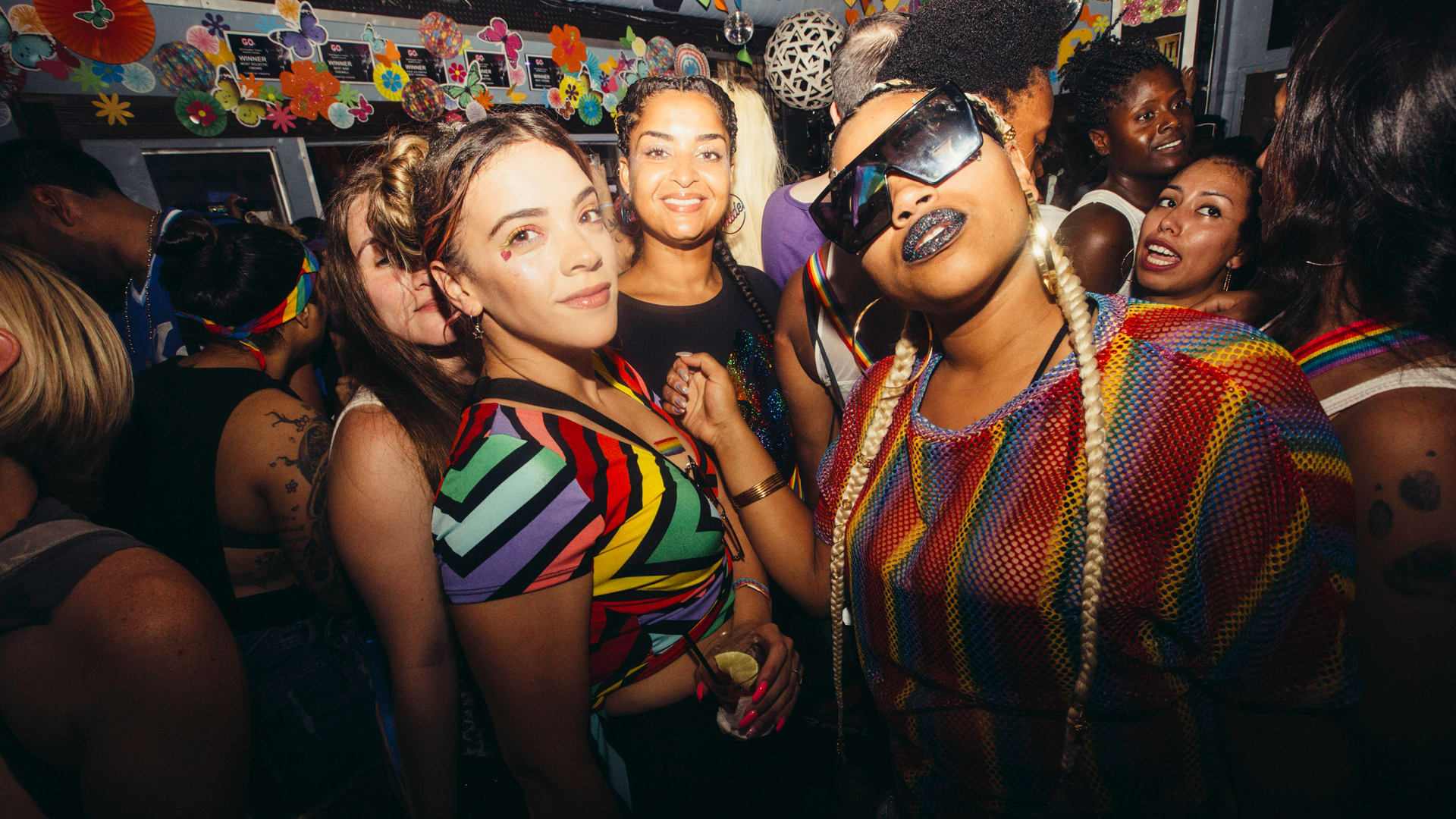 The bartenders at A League of Her Own (Aloho), a bar for lesbian and queer folks in Washington, D.C., are trained to chat up newcomers and make them feel at home. That's the case with most watering holes, but at Aloho, it's a little different. When a new patron comes alone to the bar, bartenders also offer to introduce them to one of Aloho's dozen or so regulars. It's a way to create community and make the bar's queer patrons feel like they have a safe space--something that can be hard to find for any marginalized population.
"D.C. is a transient city," says manager Jo McDaniel. "When you're also queer, that can really breed some impressive loneliness. If you know the bartender right away, that just immediately makes the place feel like home."
For decades, LGBTQ bars have served as more than just a place to get a drink--they've been a place for queer people to find safety, community, and activism. But even before the pandemic, the industry was in decline: According to a study by Oberlin College professor Greggor Mattson published last December, LGBTQ bar listings dropped by 36.6 percent and lesbian bars by 51.6 percent between 2017 and 2019.
Now, because of Covid-19, many of the remaining spaces are in danger of closing--though not if their owners have anything to say about it. Here are the strategies a few of the nation's LGBTQ bars are using to survive the next several months.
Get a makeover
"I don't think I would be as motivated or passionate if it was, say, an Irish pub," says Lisa Cannistraci of her lesbian bar Henrietta Hudson. "I made it this far. Covid is not taking me out." Henrietta Hudson, which is the oldest lesbian bar in New York City, founded in 1991, has been closed since March. Instead of trying to navigate shifting state and local guidelines, and figure out how to serve food, Cannistraci has relied on federal aid, a $40,000-plus GoFundMe campaign, and the bar's savings to pay the rent and make some much-needed renovations to the space. She plans to unveil a new Henrietta Hudson in April, transforming a packed-dance-floor dive bar into a high-class eatery with extensive outdoor seating, small bites, and a "living room salon vibe." To reduce overhead, she plans to use furniture rental service Feather.
Ken Lowe Jr., co-owner of JocksPHL in Philadelphia, has also used the pandemic as an opportunity to renovate. He plans to install a new kitchen to help the bar expand service of what has become one of its most popular offerings: his Aunt Shirley's soul food cooking. A menu featuring oxtails and seasoned party wings, along with alcoholic slushies, has helped get the bar through the pandemic, and Lowe hopes the larger kitchen will sustain the bar for years to come.
Michael Sharpton, managing partner of The Scorpio, a gay nightclub in Charlotte, North Carolina, says, pre-pandemic, his space didn't pick up until 10 or 11 o'clock each night. State orders have restricted the sales of alcohol to end as early as 9 p.m., so he's thinking of a pivot. He hopes to reach a new audience--the "5 to 9" crowd--with an outdoor restaurant, complete with craft beer and food trucks.
Ramp up the entertainment
Despite the pandemic, a few bars are still trying to draw customers in with events--both live and virtual. A League of Her Own is hosting a virtual ticketed New Year's Eve Party with cocktail mixing and charcuterie board tutorials, a mindfulness/intention-setting session, and a DJ. A sliding scale entry-fee system will help keep the event accessible.
Meanwhile, Rachel Crouthton, business manager of Herz, a lesbian bar in Mobile, Alabama, says she's working on bringing in a wider variety of entertainment--rock bands, country performers, and drag kings--to appeal to a range of patrons and beef up revenue.
Over at Henrietta Hudson, Cannistraci also says she wants to up the ante on virtual events, with a tentative winter roster that could include educational events with luminaries like activist Roxane Gay, as well as other queer authors, chefs, and comedians, livestreamed from the bar. "It's going to be like Master Class, but with a queer twist," she says.
Speaking of a queer twist, The Rosemont, a gay bar in Brooklyn, began weekend "drag queen delivery" of hot dogs, ramen, and other menu items in early December, according to manager Kelly Gorman. Twelve people have ordered the service so far. One of the bar's drag queens--driven around by bar owner Troy Carson in his Jeep Renegade--brings takeout to a customer and performs a socially distanced drag number outside their house. The first performance is included in the cost of delivery, the next is $10. Tips are always welcome.
Ask for help
Crowdfunding, in one form or another, has been a consistent survival strategy for many businesses this year. Lisa Menichino, owner of New York City queer bar Cubbyhole, raised more than $70,000 by posting about the bar's GoFundMe on social media regularly. Meanwhile, filmmakers Elina Street and Erica Rose recently launched the Lesbian Bar Project, a documentary film and crowdfunding effort, which raised a total of over $117,000 between October 28 and November 25 for 15 lesbian bars. (There are thought to be fewer than 20 lesbian bars left in the country, according to NBC Out.)
And now is the time to call in a favor if you can. In the '90s, when the local carpenter's union needed more women, Cannistraci got nearly 30 Henrietta Hudson patrons to join. Last week, she called a friend from the union to ask if they could help her build a new outdoor structure for the 2021 reopening. They agreed to do the construction for free.
Peter Alexander co-founded Los Angeles gay bar Akbar in 1996 to revitalize the gay community after the major loss of LGBTQ life and social infrastructure wrought by the AIDS epidemic. He sees parallels with the situation today. "We were born out of response to a pandemic, and would love to still be there for our community and our neighborhood and our people when this one is over," he says, noting that he resisted raising money at first. Everyone was struggling, he figured, so why put that burden on patrons? But things got dire, so in early December, Alexander and his co-founders created a GoFundMe campaign that raised $150,000 in 24 hours and is now at more than $170,000. "That's how special the community thinks Akbar is," he says.
Dec 18, 2020