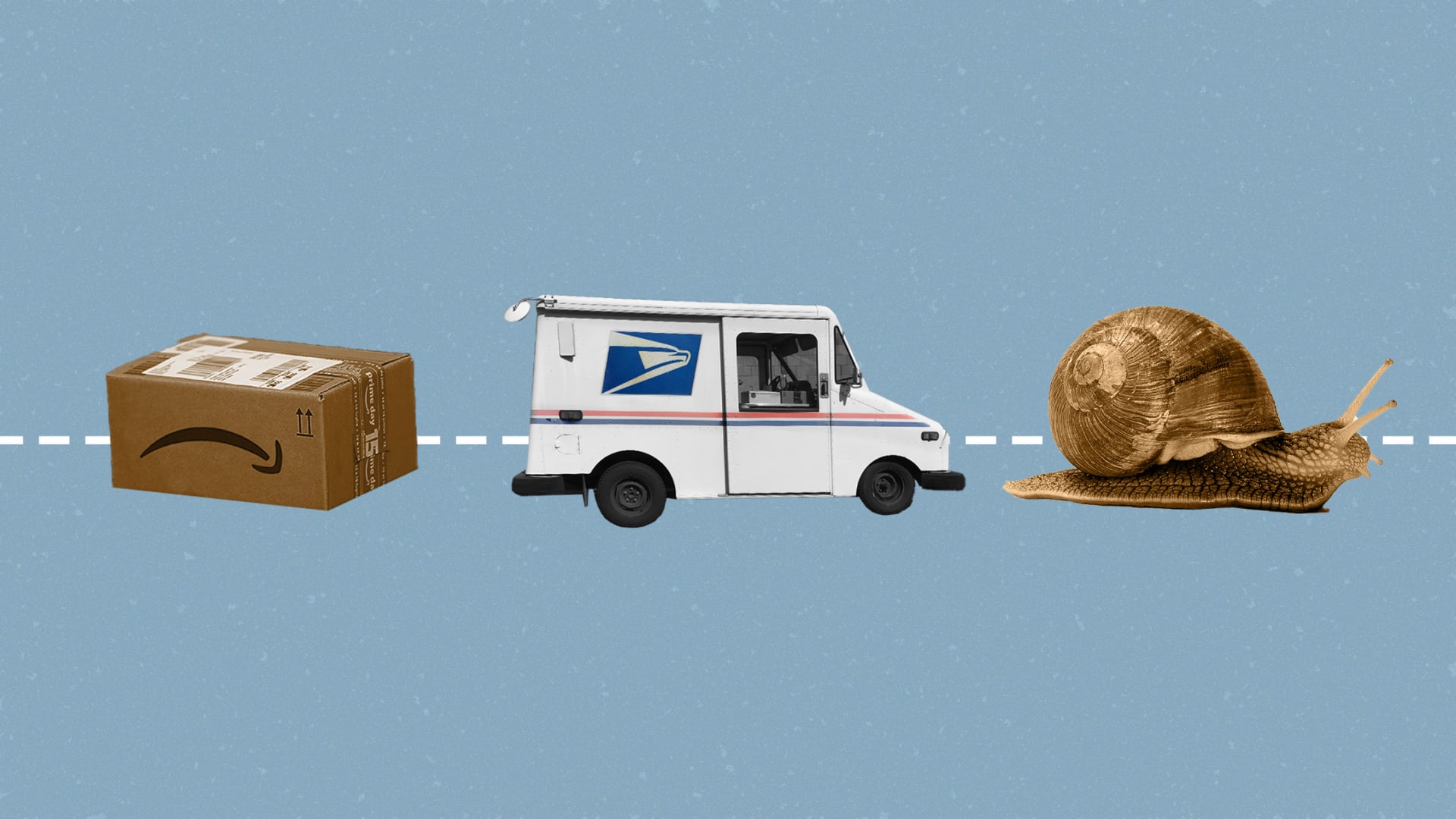 Meaghan Thomas keeps hearing the same question from customers: Where is my package?
The co-founder of Louisville-based direct-to-consumer spices retailer Pinch Spice Market, Thomas has had around 250 of her August orders--nearly 10 percent--experience major delays on their U.S. Postal Service route.
"That has serious implications for us," Thomas says, adding that customers who don't receive their high-quality spices in a timely manner will just buy them at the supermarket. The company earns about 40 percent of its revenue from Amazon orders, nearly half of which Thomas and her partner Thomas McGee fulfill themselves through USPS. The rest are sent from Amazon warehouses through Fulfillment by Amazon (FBA).
For companies like Thomas's that rely on Amazon orders, losing steam on your shipping times and repeated complaints can hurt your place in Amazon's algorithm, resulting in fewer sales, among other consequences. Anyone who fulfills their own Amazon orders faces a unique set of challenges amid the postal slowdown, according to Eli Coen, CEO of Amazon consultancy firm EliCommerce.
Here is the advice that Coen and other sellers have for how to make it through the USPS crisis--whether you're selling on Amazon or anywhere else.
1. Consider UPS or FedEx
Business owners who signed up for Amazon's Seller Fulfilled Prime before the company halted new registrations--there is currently a waitlist--must use their own carrier to ship orders on a Prime schedule using the "Buy Shipping Service." It calculates the best carrier based on location and delivery date, according to an Amazon representative. If the seller hands off the package on time and it is delayed, it should be the carrier's fault and not affect the seller's standing in SFP, the representative adds. But Coen says his clients are reporting that packages are not getting scanned in at the post office in a reasonable timeframe, so delays seem like they are the seller's fault--and it's difficult to prove to Amazon otherwise. This has resulted in warnings from the platform and could theoretically cause one of his sellers to lose their spot in the highly profitable SFP program, Coen says.
Aside from SFP, when sellers miss shipping targets, Amazon's algorithm can bump you down the search list for products or remove you as the default option (called "buy box") for a certain product, which can tank sales, according to John Ghiorso, CEO of Amazon consulting firm Orca Pacific. Considering the high-stakes Amazon algorithm, Coen and Ghiorso say it might be best to stop using USPS for now, particularly for Seller Fulfilled Prime users, and try UPS or FedEx. Coen also advises sellers to extend order handling time on their Amazon accounts. That way, Amazon isn't holding you to as high of a standard, and your ratings are less likely to go down.
2. Negotiate for the best rate
In July, entrepreneur Jeff Neal, founder of the Critter Depot, says he lost $20,000 in one week because of USPS delays. His product, live bugs, died in transit. After two weeks of that, he had to eat the cost and move to UPS to avoid losing more customers. "There's a dollar amount that got lost, but there's a trust factor that gets lost," he says.
If you do make the switch and you have enough business, Neal advises negotiating your rates. Pit competitors against one another. He called FedEx first, which he says offered him a poor deal. So he called UPS to ask for a better one and then called FedEx back, which sweetened its offer. Finally, he took that back to UPS and ended up getting the best rate, he says. Also, in contrast to the USPS, there are more tiered rates on FedEx and UPS. Spend time researching the subtleties and come prepared to haggle over the details with the sales rep. "That half-hour is going to pay off," he says.
3. Stuck with USPS?
If you're stuck with the USPS because of costs, there are still things you can do to protect your business from losing customers. After years in the shipping business, Neal says he learned a trick: Go to USPS.com or Stamps.com (whatever you use to print your labels) and print out a SCAN Form (also known as an "end of day" form). The post office can use it to mark all the packages whose labels you printed that day as "in" at the same time. Consumers can then look up their tracking number and see that the package is stuck with USPS, not that you delayed in mailing it.
For Thomas, getting products to customers faster literally entails going the extra mile. Lately, she's been driving her packages to the larger sorting center in Louisville instead of the post office near her house. "It takes out one more layer of something that could go wrong," she says.
Aug 28, 2020