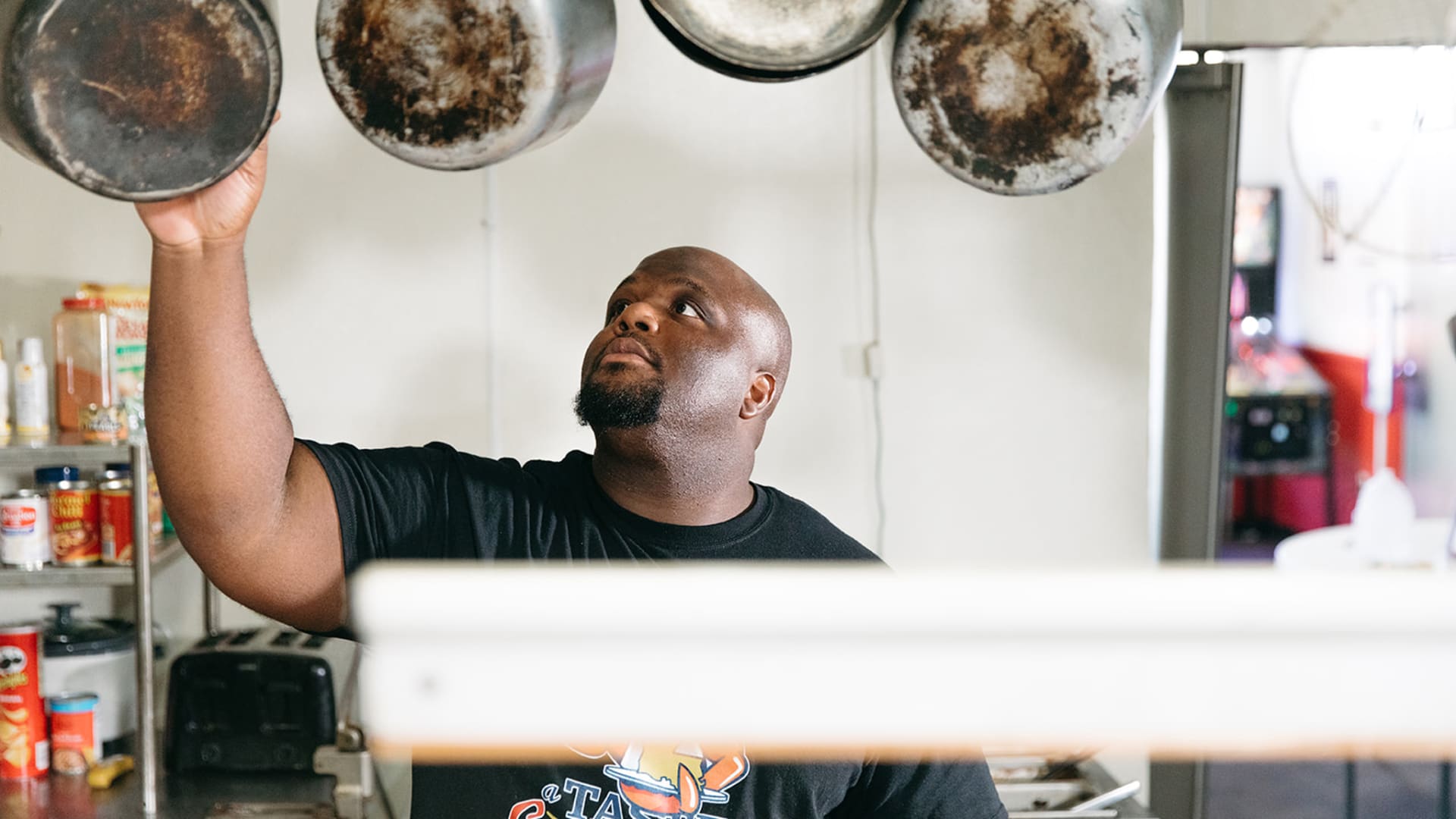 Steven Murphy was all set to close up shop.
The Lincoln, Nebraska, entrepreneur, who often goes by the nickname "Pokey," had opened his Cajun restaurant A Taste of Louisiana in June 2020, and soon was doing steady business. But by October 2021, orders had slowed down dramatically because of the pandemic, his credit cards for the business were maxed out, and he was behind on rent. He decided to cook everything he had left over for the homeless, and shut down.
What Murphy hadn't taken into account, though, was how important he and the restaurant were to the community. After he told his plan to Carrie Kiene, a friend and volunteer employee, she started a GoFundMe to save the business. On the campaign page, she touches on why it was so vital to keep it operating: A Taste of Louisiana isn't just a good place to get crawfish étouffée, it's also a place where anyone can get a meal regardless of their ability to pay.
"There was a time in my life when nobody looked out for me, so I know how that feels," Murphy says.
In 2015, Murphy got out of prison in Louisiana after 10 years for charges including distribution of cocaine. The Lake Charles native says he had gotten involved with the gangs and drugs that were pervasive in his environment growing up. Following his release, he says, he began spending time with people who were involved in the same types of activities as those he had known before being incarcerated.
Something had to change. His brother had lived in Nebraska for years, so in 2018 Murphy shared a place with him in Lincoln. "It's the most peaceful place I've ever been," he says. He started working in construction but held on to a longtime dream to start a venture of his own. "I like doing things my own way," he says. "And the only place you're really going to be successful doing things you want to do is running a business."
He had been interested in starting a gym, but he decided that Lincoln, Nebraska, was in need of good food. So he combined his love of cooking (for which he credits his grandmother) with his entrepreneurial spirit. "I wanted to show what we could do down South," he says, adding that he didn't see any Cajun restaurants in the area. He started cooking out of his sister's house before opening a physical location for A Taste of Louisiana for in-person dining and takeout.
Right away, Murphy's policy was to feed anyone who came in and needed a meal. He says he promised his creator he would help others if he got his business off the ground. So every week he provides food to about 10 people without homes, and on the fourth Wednesday of each month he closes the restaurant to distribute even more free food. He also keeps the restaurant open on every holiday to feed dozens more people. All the seafood gumbo and jambalaya he gives out accounts for about a quarter of the business's expenses, he estimates.
That hardly fazes Murphy, whose largesse is inspired by his personal experience. When he was 18, he was homeless for six months after getting out of a five-year stint in juvenile detention.
Murphy's poignant turnaround story was part of the inspiration for Kiene starting the GoFundMe, which surpassed its $10,000 goal within a week. (Murphy is using the money to pay off his credit cards and back rent, develop A Taste of Louisiana merchandise, and buy a portable air fryer and other items to expand the restaurant.) "She was like, 'Hang in there,'" he says. "'You've made it this far.'"
Nov 25, 2021