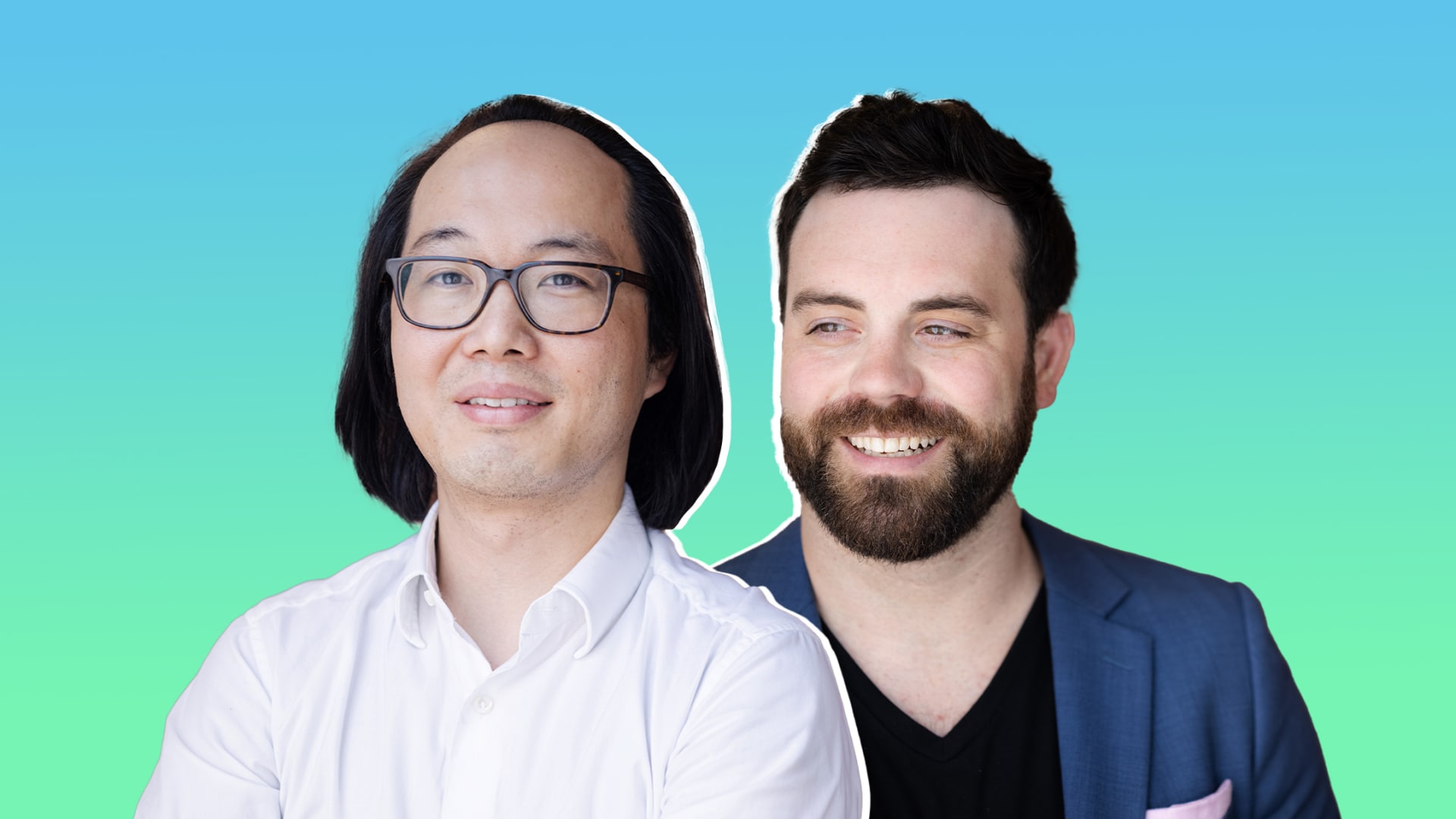 Close to getting his PhD, Jake Becraft was wondering what he should do with his career--and then a friend called with a PowerPoint.
Becraft was at the Massachusetts Institute of Technology, completing his doctorate in bio-engineering, specializing in messenger RNA. RNA is the single-stranded cousin of DNA and uses its instructions to build proteins. Messenger RNA, known as mRNA, delivers those instructions. Famously, a synthetic version of mRNA powers the Pfizer-BioNTech and Moderna vaccines by telling cells to create proteins that teach the immune system how to fight the coronavirus.
In the PowerPoint, Becraft's former MIT research colleague Tasuku Kitada pitched an opportunity to spin out their own lab innovations with mRNA into a company.
That was in 2017. Now, they run Cambridge, Massachusetts-based mRNA company Strand Therapeutics. The company announced a $52 million in a Series A round in June. Becraft and Kitada hope to bring to market their method for making mRNA instructions more specific and longer-lasting to develop cures for a range of diseases, from the rare to the neurological, starting with cancer.
The therapy, says Becraft, has the potential to change how people think about drugs, ushering in a new era of "platform therapeutics," in which one tiny piece of mRNA can solve a variety of problems.
"We saw what we could do and the fact that we could bring cures to patients that don't currently exist," says Becraft. "That's a world I wanted to be a part of building." Still, the earliest that Stand's therapy could become available is several years after starting phase I clinical trials, which are expected to begin next year.
'This is going to be huge.'
To build an mRNA company, you need to build a whole lot of microscopic things first--that is to say, a bunch of rigorous science. Messenger RNA had its major breakthrough in 2005, when pioneering studies detailed how to bypass the human body's natural response to man-made mRNA, which is to destroy it immediately before it can do anything helpful. The work inspired scientists who went on to help create Cambridge-based mRNA giant Moderna, in 2010, and Maiz, Germany-based BioNTech in 2008, respectively, according to a report by health care publisher Stat and The Boston Globe.
Becraft first encountered mRNA therapeutics when he started doctoral studies at MIT in 2013. As an undergraduate, he worked in a lab at the University of Illinois at Urbana-Champaign trying to deliver DNA to the nucleus of cancer cells. But getting into the nucleus, where DNA lives, is a major challenge. Messenger RNA has to reach just the cytoplasm--the goop that fills up a cell.
Becraft says when Kitada, who was then a post-doc at the lab at MIT, explained it to him, "I was like, 'Oh, my god. This is going to be huge.' "
Platform therapeutics
Much of that "huge" impact lies in the field of immunotherapy, where mRNA as a platform for a variety of immunotherapies has enormous potential, says Ruplekha Choudhurie, an industry analyst at Mountain View, California-based research-and-consulting firm Frost & Sullivan. These immunotherapies include cancer treatments. Immune cells normally stop "abnormal" cells from developing into what people think of as cancer, but sometimes cancer cells find a way to hide from the immune system, she says.
Strand's first therapeutic, an immune-oncology treatment for tumors, uncloaks or shines a spotlight on cancerous cells. This is important because it gives the immune system the chance to work as it normally would, which is to destroy cancer cells on its own. Other mRNA startups are similarly working on next-generation mRNA cancer treatments, including, for example, Cambridge, Massachusetts-based Kernal Biologics, Choudhurie adds. The future mRNA market, she says, has immense potential and "is growing rapidly because of the Covid-19 launch," focusing on infectious diseases, as Moderna is, and beyond. "It's going to be very dynamic for the next couple of years."
When Becraft considers the role of mRNA in the future of health care, he draws a comparison to the tech giant Amazon. Just as the Seattle-based company built one platform to sell books but now sells nearly everything, platform therapeutics holds the potential to cure a range of problems.
"A new age of medicine is coming that is going to resemble the tech boom of the 1990s or 2000s much more than the past 30 years in biopharma," he says.
Back to the future
In 2013, Becraft chose to mold his thesis on the mRNA therapeutics and worked with MIT colleagues to program mRNA to turn on in a specific type of cell in the lab. If you want mRNA to tell the immune system to remove a tumor, for example, the mRNA has to actually activate only when it encounters cancerous cells and not attack healthy tissue, Becraft says. He was interested in entrepreneurship, having worked part time at two VC firms and seen investors line up for biotechs based in and around Cambridge.
But Becraft didn't think of starting a company based on his team's discovery in mRNA therapeutics until Kitada made that fateful call in 2017. Kitada, then a hedge fund analyst, had seen problems crop up with immunotherapy and mRNA startups. For example, the strands degraded too quickly, or treatments were too invasive. Their research solved some of those problems, so they thought: Why not start try their own startup? They founded the company with Ron Weiss, their lab director at MIT, and Darrell J. Irvine, and raised a $6 million seed round in 2019. The U.S. drug approval process can take up to 12 years and cost as much as $1 billion.
Now Strand Therapeutics is working on studies to seek approval to start a phase I clinical trial. The recent funding will go to lab equipment, manufacturing, and hiring, he adds. It recently hired 13 employees and plans to add another 27 by year's end, bringing the total to 60. The company is hiring senior executives and administrators and building a 60,000-square-foot-headquarters near Fenway Park in Boston.
Initially, the biggest challenge was getting people to take them seriously, Becraft says. As young founders from academia, they faced a lot of skepticism from investors.
"I wanted to show people all of the science all of the time, so that they would get excited like I was," Becraft says. He quickly learned that science presentations aren't how you get investors really excited. "You have to explain why the science you're so passionate about is important in a broader sense," he says.
Dec 1, 2021