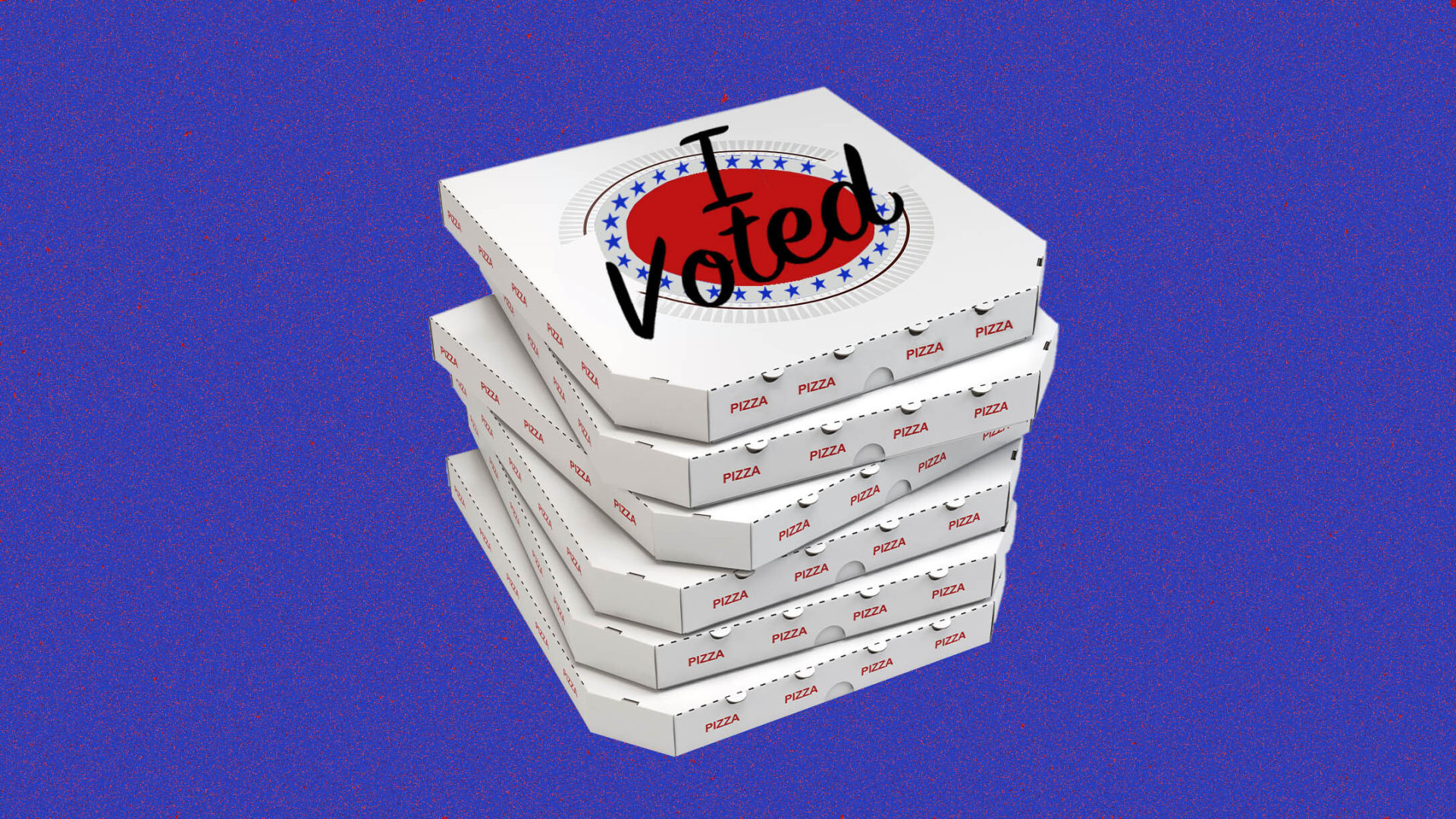 Not surprisingly, when Jen Martin heads to the polls this year, she will be armed with snacks. As co-founder of New York City-based Pipsnacks, she's always armed with snacks. She's anticipating that this year, voters will need the sustenance. Record turnout across the country amid the coronavirus pandemic has meant people in some states are waiting in hours-long lines to cast their ballots in person.
To that end, Martin's company is participating in Pizza to the Polls, a nonprofit initiative founded in 2016 to deliver food to people waiting in line to vote. Pipsnacks is sending more than 30,000 bags of its popcorn balls, 20 percent of which the company is donating while Pizza to the Polls purchased the other 80 percent.
In anticipation of heavy turnout, Pizza to the Polls this year launched a food truck-style program in 25 cities (and has already sent 5,986 pizzas to 415 polling places) to get more food to voters in line, according to program director Amirah Noaman. Brands like Shake Shack, Voodoo Doughnut, and Kind are participating. Martin, along with two other New York City area-based businesses, are helping get out the popcorn, empanadas, and chicken fingers to polls in the city and beyond.
Martin says she's learned the best way to do good in the world is to do something you're good at. In her case, that's making and distributing her popcorn snacks. "We can encourage people to be there, and maybe uplift their spirits, or maybe they stay in line a little bit longer, because they have a snack that they didn't have to bring," she says.
Pipsnacks--which is in Whole Foods nationally and won a $200,000 deal with Barbara Corcoran on Shark Tank in 2014--planned to donate all 30,000 popcorn balls. When Pizza to the Polls offered to pay for 80 percent of them, Martin accepted. She says especially in a year that has been trying for Black founders like her, "to be paid for what we do and not just give it away," she says, "I think that is really incredible."
When Ariel Barbouth, founder and CEO of North Bergen, New Jersey-based Nuchas Empanadas--and a fellow Shark Tank alum--learned about the effort to feed people while they're voting, he was on board instantly. Nuchas is donating 1,000 and providing 7,000 discounted frozen empanadas from its kitchen in New Jersey to a truck in New York City that will heat them up, and then give them to Pizza to the Polls vehicles to distribute to voters.
The brand has five retail locations and two trucks in New York City, all closed since March for lack of business, which has cost the company about half its revenue, Barbouth says. Nuchas also sells its products through wholesale and direct-to-consumer channels and has donated roughly 10,000 empanadas ($30,000 to $40,000 retail value) to hospitals in the city.
Sticky's Finger Joint CEO and co-founder Jon Sherman plans to donate close to 1,000 meals to Pizza for the Polls. Sherman says the effort is a natural extension of the fast casual brand's program to donate 500 to 1,000 meals a week to hospitals throughout New York City from April to July. "This is going to be a stressful election for a whole lot of reasons," he says. "We just want to be able to make that experience a little more enjoyable."
To help keep voters' spirits high, Pizza to the Polls workers, besides handing out individually wrapped meals and snacks, will be blasting Spotify playlists at voting locations, says Noaman. The "People's Playlist" features songs like "Run the World (Girls)" by Beyoncé and "Don't Stop" by Fleetwood Mac. "We tend to forget this is a joyous occasion, getting to cast your ballot," she adds.
More restaurants reached out in recent days to give food than Pizza to the Polls could accommodate on short notice. "I wish we could say yes to everyone," Noaman says. "It's been really heartwarming to see how many people want to be involved."
Oct 27, 2020