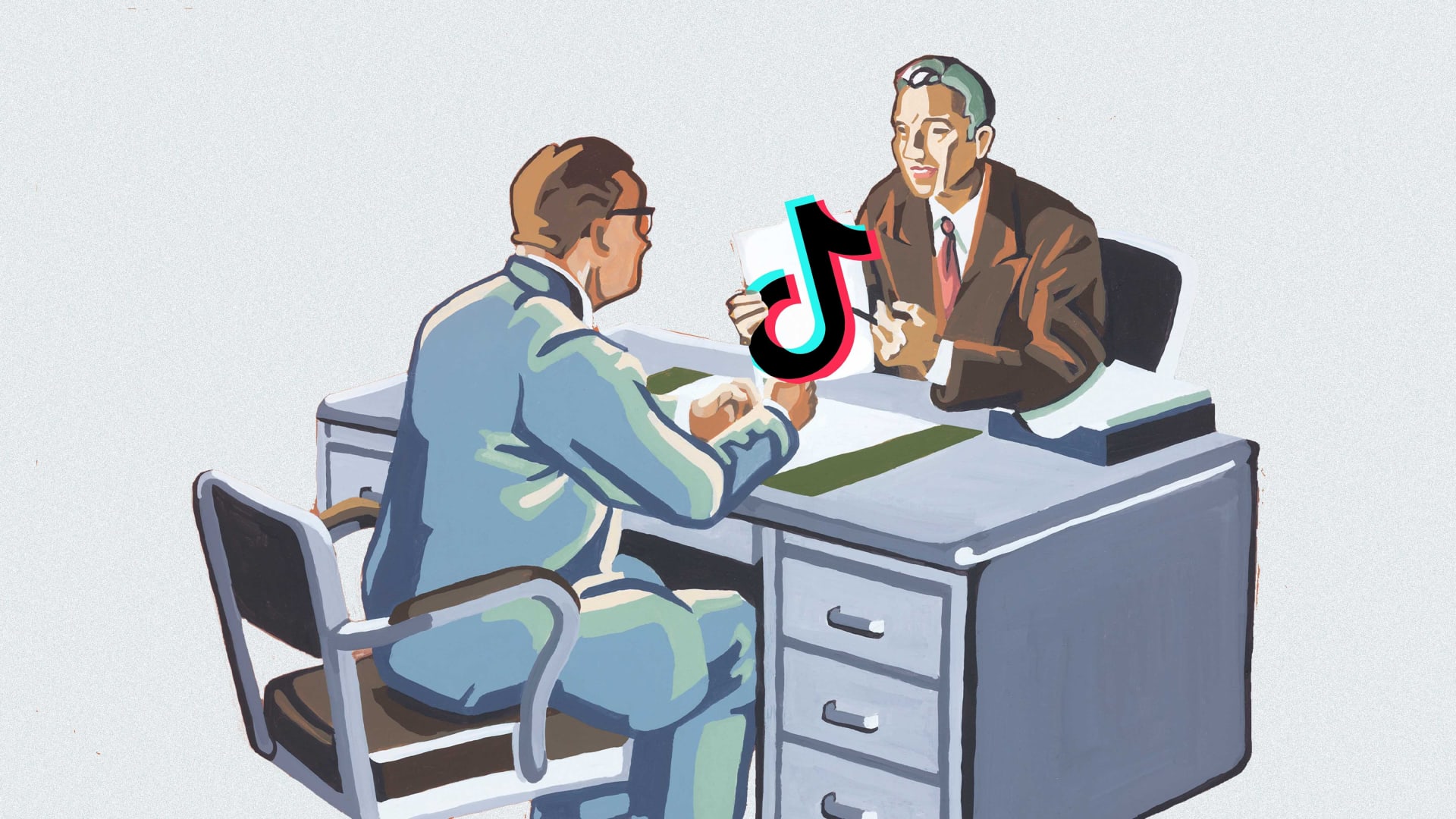 Earlier this month, the U.S. Department of Commerce declined to enforce a ban on TikTok. So as long as the social networking service continues to operate in the U.S, your business should be using it.
Short videos on TikTok enable small brands to garner a wealth of eyeballs inexpensively, without amassing a huge follower count first, say Nick Eischens and Jason Alvarez-Cohen, the founders of Los Angeles-based Popl. They should know: In February, they posted a 13-second video of someone using their product that landed 10 million views within two days.
The hype cleaned out an early run of Popls -- stick-on, coin-size devices that allow you to share contact information between phones just by tapping them together -- stored in their apartment. The video eventually climbed to nearly 80 million views. "Think about how much brands would pay for 80 million views on other platforms. And we did it for free," says Alvarez-Cohen.
Here's how to make TikToks for your business, distribute them to drive followers, and take advantage of the platform's business tools.
Getting started
Unless you want to pay an influencer, you'll need to make your own videos. Step one: Get used to feeling exposed. On TikTok, you "have to be a little more open to showing the good, the bad, the ugly of your business," says Tyler Farnsworth, founder of influencer marketing firm August United.
Next, draft a list of topics that you plan to address on your account, advises Keenya Kelly, an entrepreneur who has nearly 200,000 TikTok followers. Topics correspond to hashtags you will use in captions in your videos, so the greater the variety, the more users you can reach.
TikTok initially designates all new accounts as personal. While it's simple to change to "pro" in the settings to access more analytics tools, it's best to wait until you build up a fair number of followers and views. Pro accounts can be "business" or a "creator." (Creator accounts tend to be used by influencers.) That's according to Melissa Ginn, co-founder of marketing firm Digital New Age, who has run TikTok campaigns and says TikTok's algorithm favors personal accounts.
Pro accounts are also limited to a smaller selection of commercially licensed songs. With a personal account, you have access to all of the trending music on TikTok, which makes it easier to create videos and can help them perform better, Ginn says.
You should also watch others' videos for inspiration. At first, Kelly warns, you might see a lot of "twerking teenagers." When you see content you are not interested in, hold down your thumb on a video to bring up the "not interested" button, and search for hashtags that might be relevant to your brand.
Making your first TikToks
Forget about how you create content for Instagram and Facebook. "Realness wins on TikTok, whereas Instagram is this perfected, really highly polished look," Ginn says. To that end, ditch the fancy equipment: Raitis Puri?š, head of marketing at Charlotte, North Carolina-based Printful, says the company's TikToks started performing better when it used smartphones to record them.
To start off, identify the video formats that are trending that week by scanning popular videos on the "discover" page. You can find trending sounds as well when you click "add sound" to a video and navigate to the playlist "TikTok Viral." ?Then, add your brand's spin. "It's about showing that desire to be part of the club," says Rich Henne, co-founder of mission-driven sweatshirt brand Ivory Ella. On Ivory Ella's account, people dance to TikTok trends, like the Renegade, in company-branded sweatshirts.
If you don't want to dance, people also love videos that have "Today I learned ... " opens or ones with education or utility, advises Farnsworth. Liv Portillo, a 19-year-old entrepreneur and TikToker of DBL Jewelry, found her strategy in making videos about the day-to-day work of being a small-business owner. The important point is to keep experimenting.
Making the most of your content
Once you have some good videos, post them multiple times, Eischens and Alvarez-Cohen advise. One of their earlier popular TikToks didn't go viral until they had posted it four times. Then, to really drum up followers, Kelly advises, post at least four videos a day, even if they are as short as five seconds. In captions, use four to six hashtags, and choose some that have fewer than two million views so people can find your video more easily.
While you can add clickable links in your bio to your company's website with a pro "business" account, that's not the case for personal accounts. Kelly suggests that while you're still keeping a personal account, just ask viewers to send you a message to get the link. By increasing awareness of your brand, your TikTok account also can drive people to your Instagram or Facebook page, where your links might be more accessible, she adds. And when your TikToks begin to gain views, post them on Instagram as well, according to Noriko Roy, another co-founder of Digital New Age.
Taking full advantage
TikTok offers free advertising credits on its self-serve ad platform as part of its "back to business" pandemic recovery package. Are they worth it? Puri?š says Printful is spending 10 to 20 times less for the same reach as it gets from Instagram and Facebook. But the increased brand awareness hasn't resulted in conversions, at least directly: Out of 52,000 website views and 3,500 design uploads from a five-week ad campaign, only 14 people purchased a product directly from TikTok, he says.
If you want to skip the process of developing content and running ads, you could message an influencer directly to post about your brand. Or you can register for the TikTok Creator Marketplace to find influencers to create content for your account or for ad campaigns. The tool, compared with similar ones on Facebook and Instagram, is pretty high-quality, says Farnsworth.
Nov 23, 2020