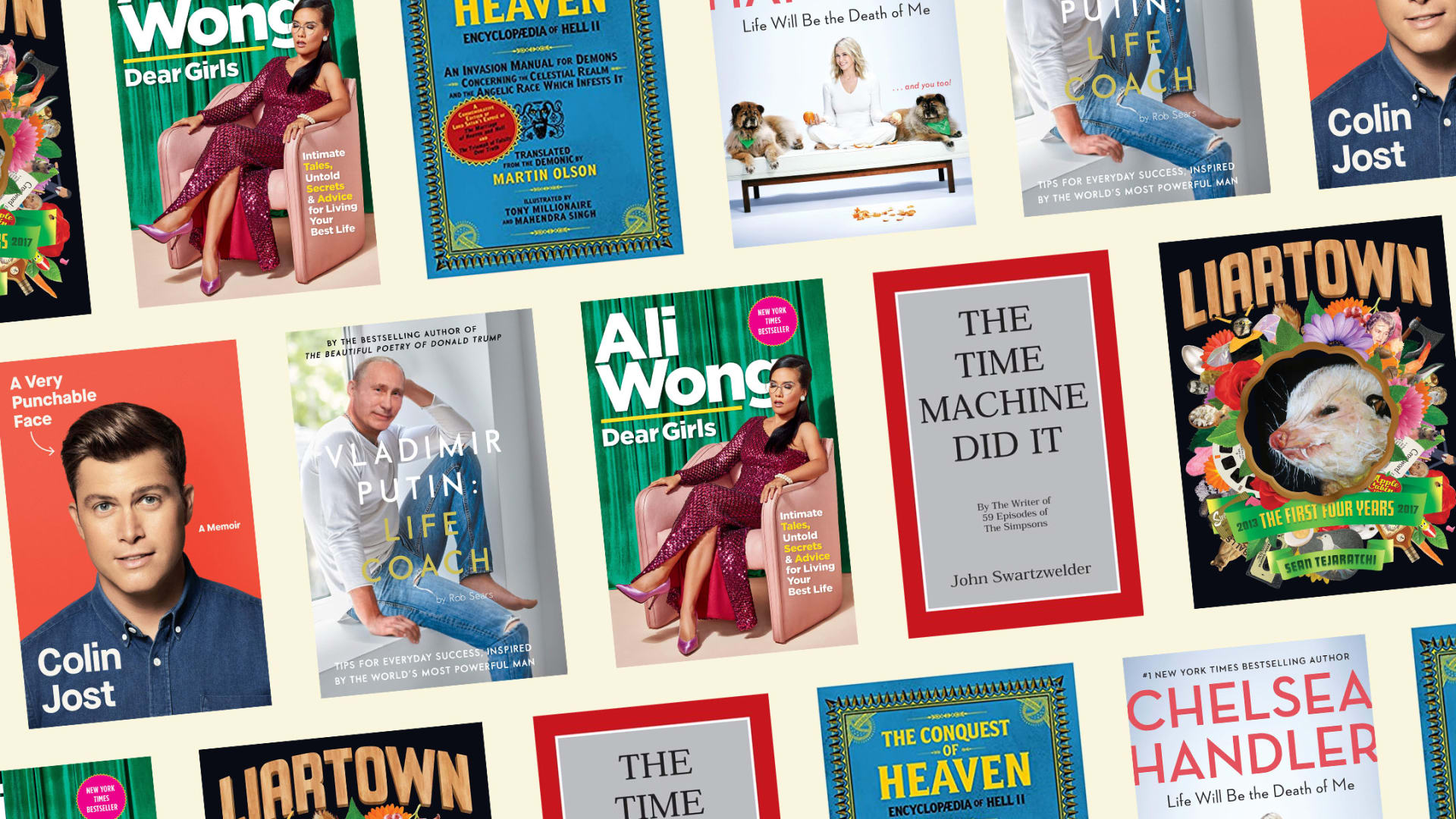 Entire regions in the world are on fire, the pandemic is coming back like gangbusters, and Jeff Bezos flew a giant penis to the edge of space, all of which are legendary signs and portents that the end of the world is nigh. Thus, rather than recommending the obligatory best business books of the year, I thought I'd suggest some lighter reading, so we can all die laughing. Here are my top 7 picks:
7. Vladimir Putin: Life Coach
As long as it's hey-ho-over-the-cliff-we-go, why not reach further afar than America's home-grown Doctor Evil billionaires for our productivity role models? In this case, I'll just quote the jacket copy: "How would you like to ruin your enemies by sharing compromising material about that time they didn't wash their hands? Or annex territory by claiming the office supplies closet at work as your personal empire? Up for hack democracy at the parent-teacher association to ensure you're a shoo-in for social secretary?" Useful advice for our life and end times.
6.
Life Will Be the Death of Me...
Subtitle: ...and you too!
If you're as old as I am, you probably remember laughing your keister off to Chelsea Handler on Girls Behaving Badly, which was undoubtedly the world's funniest hidden camera show, then and now. Since then, she's had a mind-blowingly diverse career, emerging as a perhaps one of our culture's foremost wisest women. Written not long after Trump presidency tipped civilization towards oblivion, her wry observations drip with so much acid wit that I suggest you store the book on a glass surface.
5.
The Time Machine Did It
Author: John Swartzwelder
Swartzwelder (who wrote 50 of the best episodes of The Simpsons) hilariously deconstructs the detective novel into a set of clueless observations and asides that are some of the funniest lines I've ever read. If you're a fan of Jack Handey (who IMO is a god), you'll really love The Time Machine Did It. I almost busted a gut. Seriously.
Subtitle: Intimate Tales, Untold Secrets & Advice for Living Your Best Life
Full disclosure: I am a man. Thus I am probably not the best person to be reviewing a book about impending motherhood. That being said, I thought Ali Wong's take on life (and her daughter's lives ahead) were wry, insightful and worth reading. I laughed, I cried, I kissed the world we're losing good-bye.
3.
A Very Punchable Face: A Memoir
Probably one of the funniest celebrity memoirs I've ever read. I liked it though, not just because it was funny but because the concept of the punchable face is so, well, high-tech. I mean, the high tech world is full of punchable faces, many of them belonging to billionaires. But I digress. Jost's book is wry and funny, and not to be missed.
2. Liartown
Subtitle: The First Four Years 2013-2017
Liartown is a long-running blog that skewers popular culture by creating visual artifacts that on first glance seem to be nostalgia or promotional materials but which are actually surreal commentaries or sometimes just surreal. The Liartown book collects the very best examples, enough to convince you that alternate realities exist and they're a whole lot more interesting than our own.
1.
The Conquest of Heaven
Subtitle: ENCYCLOPAEDIA OF HELL II: A Demonic History of the Future Concerning the Celestial Realm and the Angelic Race Which Infests It
And so, finally, we come to one of the funniest books of all time, a book peculiarly suited for the coming apocalypse in that it probably describes how the end is likely to play out. Like its predecessor, Encyclopedia of Hell, The Conquest of Heaven is impossible to categorize, except as a comedic literary masterpiece that must be savored, page by page. It's an examination, through bombastic letters, emails, drawings, folk tales and court depositions, of a vast mega-battle for the control of the universe. Think of it as Paradise Lost meets The Office on LSD.
Aug 28, 2021