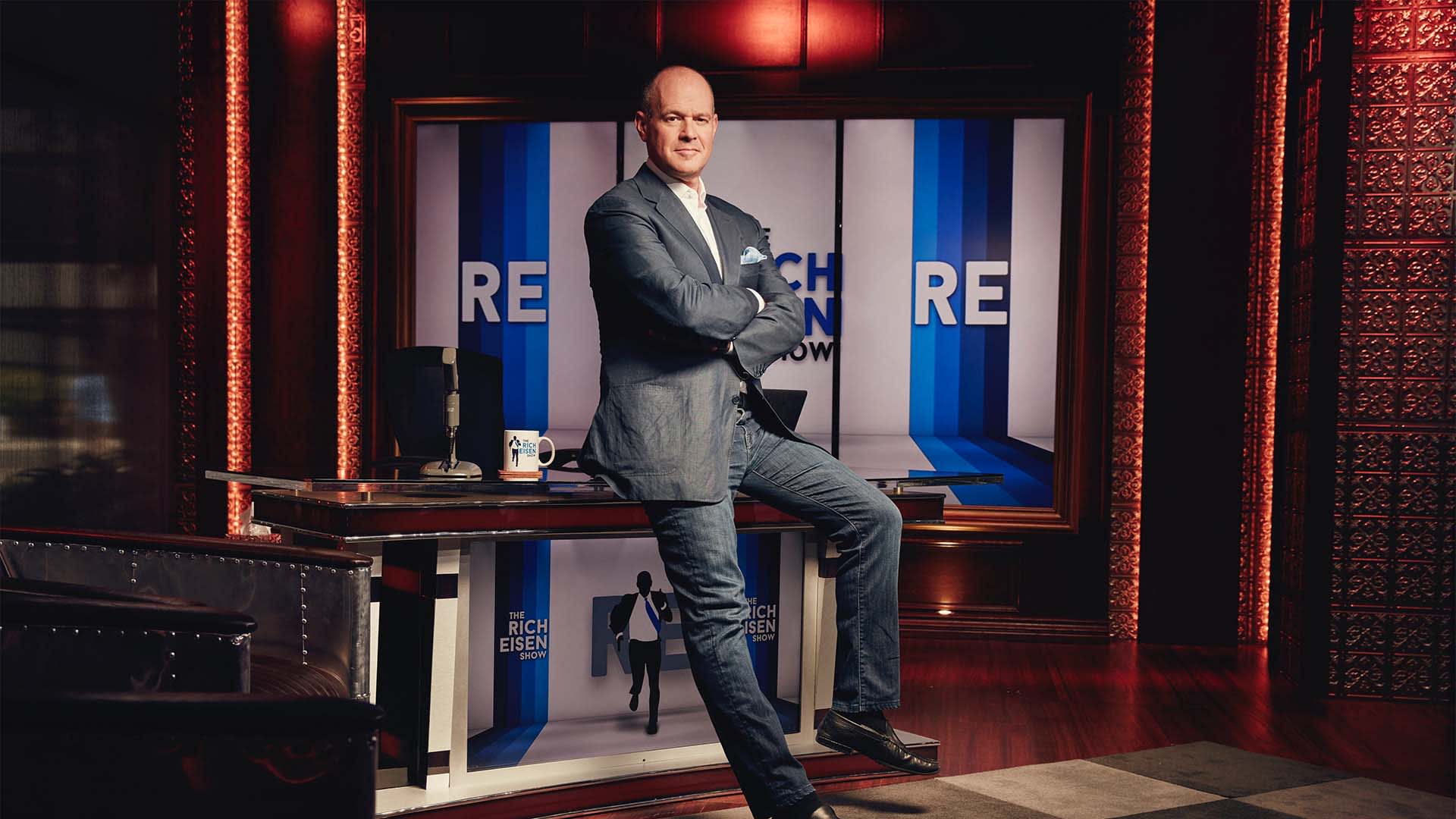 Rich Eisen is everywhere.
The voice and face of the NFL Network during football season, Eisen also hosts the three-hour daily sports talk TV program, The Rich Eisen Show, which is streamed live, broadcast on satellite radio, and available through 48 terrestrial radio affiliates. On April 28, the 52-year-old Eisen will cover the NFL Draft for the 18th year in a row, making him the longest-tenured broadcaster covering the annual player selection event.
Eisen reached another career milestone earlier this month when his eponymous show earned two Sports Emmy nominations. Just two years ago, however, the show was left for dead when its distributor, DirecTV's Audience Network, abruptly shuttered. To keep the program running, Eisen purchased the rights to the show in 2020, launched his own production company, and started pitching new distributors, all during the early days of a global pandemic.
"Whatever market that was forming disappeared when the pandemic hit in March of 2020," Eisen says. "It was a bleak time, to say the least."
Within months of launching Rich Eisen Productions, Eisen leveraged his name and found new distributors in NBC's Peacock and Westwood One, the American radio network owned by Cumulus Media. Clearly, his name resonated. Here are three of Eisen's tips for building a thriving personal brand.
1. Don't let failure tarnish your brand.
Eisen faced skepticism and resistance when first trying to launch The Rich Eisen Show, which started as a podcast for the NFL Network in 2010. Despite having worked in broadcast television at ESPN and the NFL Network for more than 15 years, executives told him he wasn't a radio guy--he was a TV guy trying to do radio.
"Doors slam in your face no matter how many years you're in the business," Eisen says. "You can't take that stuff personally."
2. Brand yourself the same way internally and externally.
When Eisen joined ESPN in 1996, he began working with some of the most well-known names in sports broadcasting, including Chris Berman, Dan Patrick, and Stuart Scott. Something they all shared, aside from prominent personal brands, was authenticity, according to Eisen.
"The person I met was the same exact person I had seen on television," he says. "The most successful people I've ever come across are genuine."
3. Don't take your brand too seriously.
In one of ESPN's most memorable "This is SportsCenter" commercials, which poke fun at professional athletes and ESPN employees, Eisen is sent down to the minor leagues to co-host a show at the fictional James K. Polk High School. At the time, the 30-year-old Eisen didn't like the idea of being demoted, even if just for a gag.
"That's not the branding I wanted to have," Eisen says, adding that he changed his mind after receiving some advice from a colleague. "I remember Dan Patrick telling me, 'They put you in this commercial because they feel like you can handle the material, not because you embody the material.'" Of the hundreds of "This is SportsCenter" commercials that have aired since the early 1990s, the ad featuring Eisen being "sent down" still resonates with viewers, according to Eisen. "To this day I'm asked to show some James. K Polk spirit," he says. "Being self-effacing goes a long way."
Apr 28, 2022