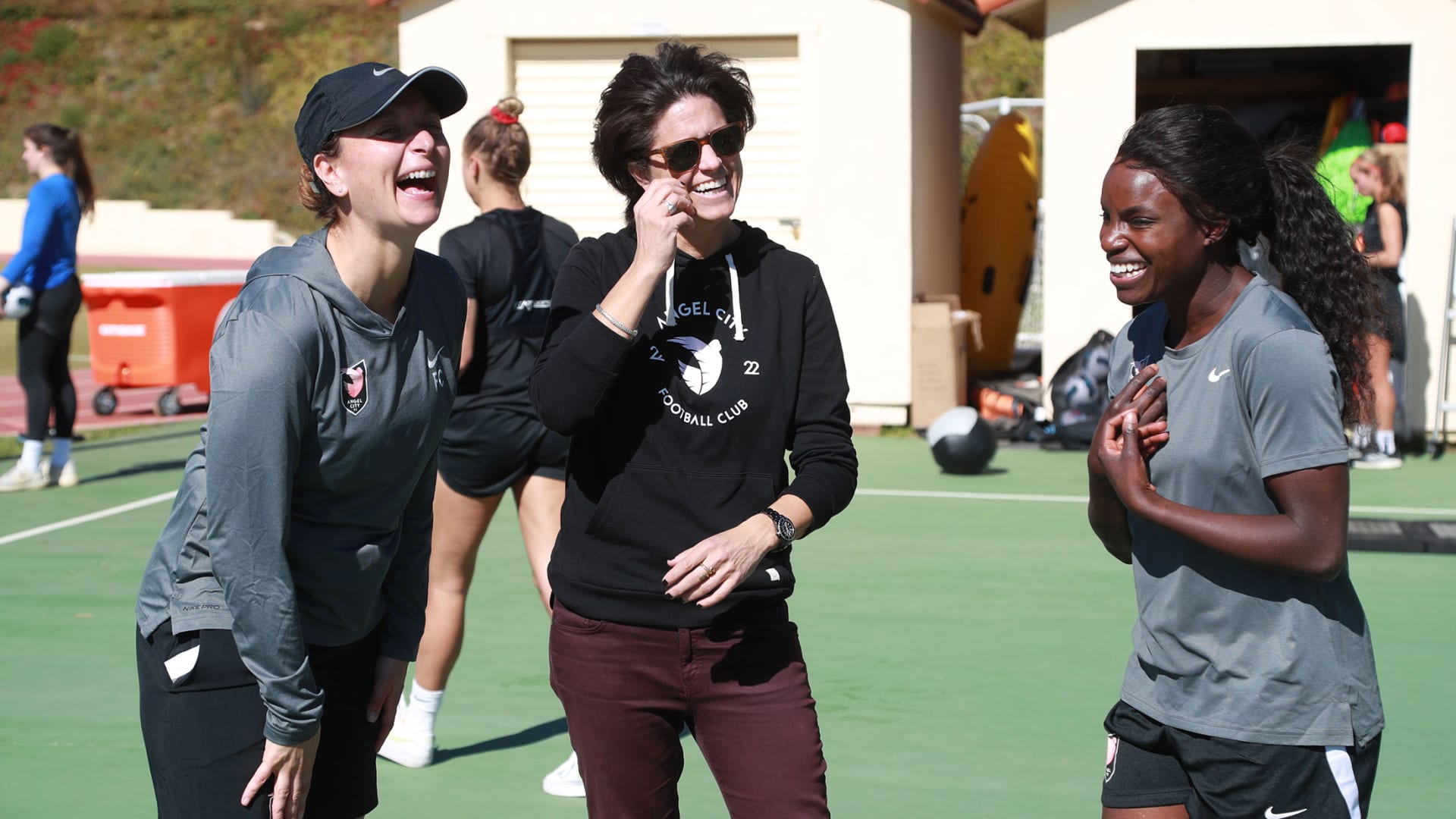 Julie Uhrman's journey to becoming the co-founder of a women's soccer team started--naturally--with a game of basketball.
Uhrman had joined a basketball club for women tech entrepreneurs in Los Angeles, and during a game in August 2019 venture capitalist Kara Nortman pitched her an idea: Let's get this city a women's professional soccer team. Uhrman, a former tech entrepreneur and executive at the entertainment company Lionsgate, grew receptive to the proposal after attending a Major League Soccer game the next week. There, with her future co-founders Nortman and actress Natalie Portman, she saw a woman in the crowd waving a flag referencing the National Women's Soccer League that said "Bring NWSL to L.A." Uhrman viewed it as a signal that if they executed the right vision, the audience would come.
From August to December 2019 the founders met with NWSL team presidents, MLS team owners, and other professional sports management teams to research what it would take for a successful launch. On July 21, 2020, the ownership group announced it had secured the right to create a NWSL team to start in the 2022 season.
Uhrman's intuition was right. Less than two years later, Santa Monica, California-based Angel City Football Club has sold 14,300 season tickets for its inaugural season, which begins in April. The club declined to disclose revenue, but in May 2021 it announced a $14 million Series A funding round that included high-profile investors including Billie Jean King and Serena Williams. Here's how Uhrman, now Angel City's co-founder and president, helped lead the team from sideline talk to reality.
Focus on impact

Since co-founding Angel City, Uhrman has insisted that her roughly 100-employee staff align on one core value: They would prioritize creating more diversity and equity in soccer along with making money. She says the team was built with the understanding that it would have a place in wider discussions about such issues. For example, "To get to pay equity [for women players]," Uhrman says, "the business of women's sports has to deliver on it as well."
Among other initiatives, Angel City works with LA84 Foundation's Play Equity Fund, a nonprofit aimed at increasing accessibility to sports in L.A.'s underserved communities. By December 2020, five months after announcing Angel City's creation, Uhrman and her team had raised $14,000 and reached more than 240 families. It's a useful lesson for all startups: Don't underestimate the impact your business can have, even in its early years, by engaging with national conversations.
Win over the community and industry

Uhrman's plan is for the soccer club to be the first of many entertainment products and services under the Angel City brand. But initially, she and her team faced the challenge of convincing the L.A. community, as well as investors, that a 12th professional sports team was needed. To overcome that, they focused on involving the city in the club's branding strategy. In October 2020, Angel City went on a listening tour, meeting with 11 nonprofits in L.A. to discuss how Angel City could enact its impact pillars of "equity, education, and essentials." When the team launched the Angel City crest in June 2021, it got branding on two Metro trains, while Los Angeles International Airport even lit up its landmark pylons in Angel City's personal color of "Sol Rosa."
Another part of the effort was developing the team's unique sponsorship model--Angel City gives 10 percent of each sponsorship value back to the community--which Uhrman believed would attract fan support and brands that aligned with the team's values. Through its sponsorship with San Francisco-based Doordash, Angel City spotlights L.A. small businesses in a weekly article series on its website, and has provided more than 75,000 meals to people in need throughout L.A.
Along with Stockholm-based fintech Klarna, Angel City also is dedicating funds to increase accessibility to green spaces in Los Angeles, especially in neighborhoods of color. And L.A.-based wellness company Therabody and Angel City have launched an Angel City Impact Fund on the lending platform Kiva to distribute microloans to female small business owners in California.
Don't pretend you know everything

"When we built Angel City, there was no rulebook for what we were doing," says Uhrman. "We didn't see ownership groups that were led by female founders." The team did not have experienced sports executives, but each employee could still bring expertise from their previous industries--from gaming to content storytelling--and apply the skill sets to Angel City.
Uhrman says it's important to be willing to admit what she doesn't know. In being upfront with her team during brainstorming and not pretending to know everything as a leader, she has made it clear that no matter the employee level, everyone's voice is heard. It's a collaborative environment where Uhrman personally holds no pride in authorship.
"There are a lot of people who have great ideas that don't execute," says Robyn Ward, one of Angel City's founding investors. "Between the time that the original conversation happened [at the basketball club] and six months later, they had funding and had filed to do all the things you need to do to bring a sports team to Los Angeles."
Mar 8, 2022