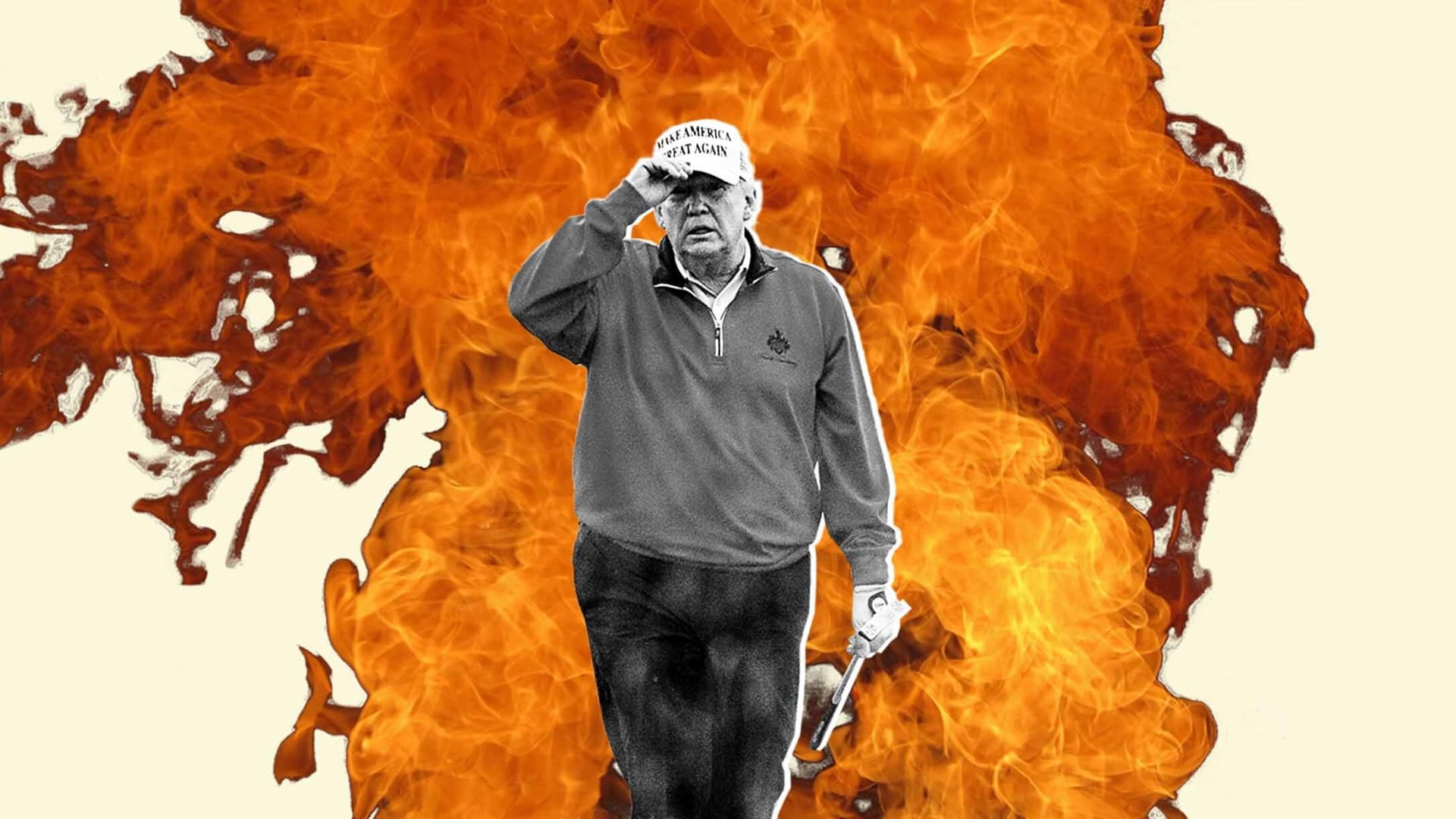 The fact that the Donald Trump "show" has been finally and definitively canceled is small solace. It doesn't relieve us of the burden to memorialize and document all of his perversions and those of all of his enablers. The damage he has done is almost incalculable. The way he has systematically tried to disparage and destroy longstanding traditions and programs across the country is beyond regrettable. He has cheapened the achievements of people who have been previously recognized and honored by extending his clown show into every institution. His grotesque tributes, awards, and honors would be simply snide and bad jokes (and maybe in his warped mind, that's exactly what they are) if they weren't draped with historical dignity and seriousness.
In a closed-door ceremony at the White House the day after the deadly insurrection at the Capitol that he provoked, Trump awarded the Presidential Medal of Freedom, our highest civilian tribute, to three golfers: Annika Sorenstam, Gary Player, and Babe Didrikson Zaharias. The first is Swedish, the second South African, the third deceased. They seem to have been honored for being more proficient at golf than the president. (To be fair, Zaharias was an Olympian and professional golf pioneer.) Yet this is simply more icing on the cake of insults and injury from the fat fake who has played golf more than 300 days since the start of his term.
The Professional Golfers Association of America, on the other hand, yanked the 2022 PGA Championship from the Trump National Golf Club Bedminster course. "It's become clear that conducting the PGA Championship at Trump Bedminster would be detrimental to the PGA of America brand," said Jim Richerson, PGA of America's president.
Trump has turned the Medal of Freedom into a trinket and handed them out like carnival prizes, especially to his most odious enablers. He's even outdone himself by proposing to award this once-prestigious honor to two lowlife politicians, Devin Nunes and Jim Jordan, whose only distinctions have been the depths of their own craven and self-serving depravity, their gross political ambitions, and their steadfast sycophancy and irrational support for Trump's ongoing lunacy. Nunes was the crooked committee chair for the House Intelligence Committee who had to recuse himself from any participation in the Russia probe after he allegedly shared classified information about the investigation with Trump.
It was all too much for New England Patriots coach Bill Belichick, a Trump supporter, who this week declined to accept the medal he was scheduled to receive Thursday.
Awards like the Presidential Medal are supposed to be earned by serious men and women through their prodigious efforts to aid their fellow citizens, contribute to the common good, and further the aims and goals of the country, or by virtue of being outstanding in their field. They're not supposed to go to flunkies, funders, and other frauds. At the end of his administration, President Obama had two important and touching medal award ceremonies. The first was for an amazing group of leaders and innovators from many fields including Bill and Melinda Gates, Newt Minow, Diana Ross, Michael Jordan, Maya Lin, Tom Hanks, Frank Gehry, and Bruce Springsteen. The second, surprise ceremony was solely for one recipient -- then Vice President and now President-Elect Joe Biden, who was awarded the unique Presidential Medal of Freedom With Distinction for a lifetime of service to the United States.
Once again, the Trump touch has diminished and demeaned an honor that many of our most important and prized heroes -- including Jonas Salk, Nelson Mandela, Rosa Parks, and Neil Armstrong -- have shared over the years. Just as Trump's pardons are now stigmata of shame, the medals he has deigned to award will never have the same value and meaning, as his very involvement has cheapened them forever. This is Trump in a nutshell -- worthless praise, undue admiration, and no respect for tradition, morality, or history.
Sadly, this latest affront is completely consistent with Trump's longtime agenda. Historians will call this frightful period an arrogant (and largely aborted) attempt to effect the Great Undoing of almost everything that sane citizens hold near and dear. Even the worst examples should teach us something of value. But, assuming some rationality, what was the point and the purpose of all the pain, deceit, and death that this mirthless madman and his mendacious minions inflicted on our people and our democracy? This angry and bitter man was going to teach the whole world a lesson and burn the place down while he was doing so. He was never about governance, infrastructure, charity, or decency, but only about self-dealing, hatred of others, theft, and fraud -- and, especially, revenge against imagined and fanciful enemies of his own making and imagination. Lies written in ink cannot disguise facts written in blood.
And when the dust finally settles, as the grifters, schemers, and sycophants slink away, and the slime and grime that has tarnished every part of our country for the last four miserable years start to slowly and painfully be removed, what will we take away from the experience, what lessons will we have learned, and what can we share with our children?
The saddest sin of all the Trump lies, exaggerations, and failings has been that this sick dog called himself an "entrepreneur" and the media and TV networks promoted his "successes" when the truth is that he never built anything successful that wasn't gifted to him or grifted by him in some fashion. And as continues to become increasingly clear, his abundant laziness, sloth, and unwillingness to work -- to do the job that the position required for the last four years -- will assure his place in history as the worst president ever.
This little man wanted all the pomp, circumstance, and power, but none of the weight, the work, or the responsibility. He was a fraud from the get-go, never changed, never grew, and remains today as sad and embittered a loser as he has always been. He lied about the Nobel prize, he lied to every member of his family, and he lied to Americans more than 30,000 times. Oh, and he cheats at golf.
And, amidst all the noise and confusion, there is only one truth that we can draw from our national nightmare and share with our children and that Trump never understood, appreciated, or valued. Every true entrepreneur knows that it's never about the honors, medals, and awards--it's always about the hard work. The journey, the ups and downs of the race, the people who join you in the crusade, the pride (not pridefulness) of real achievements that make a difference in the lives of others, and the reality that there's never a finish line -- just another mountain to climb and conquer. This is all, apart from family, that ever really matters.
Jan 12, 2021