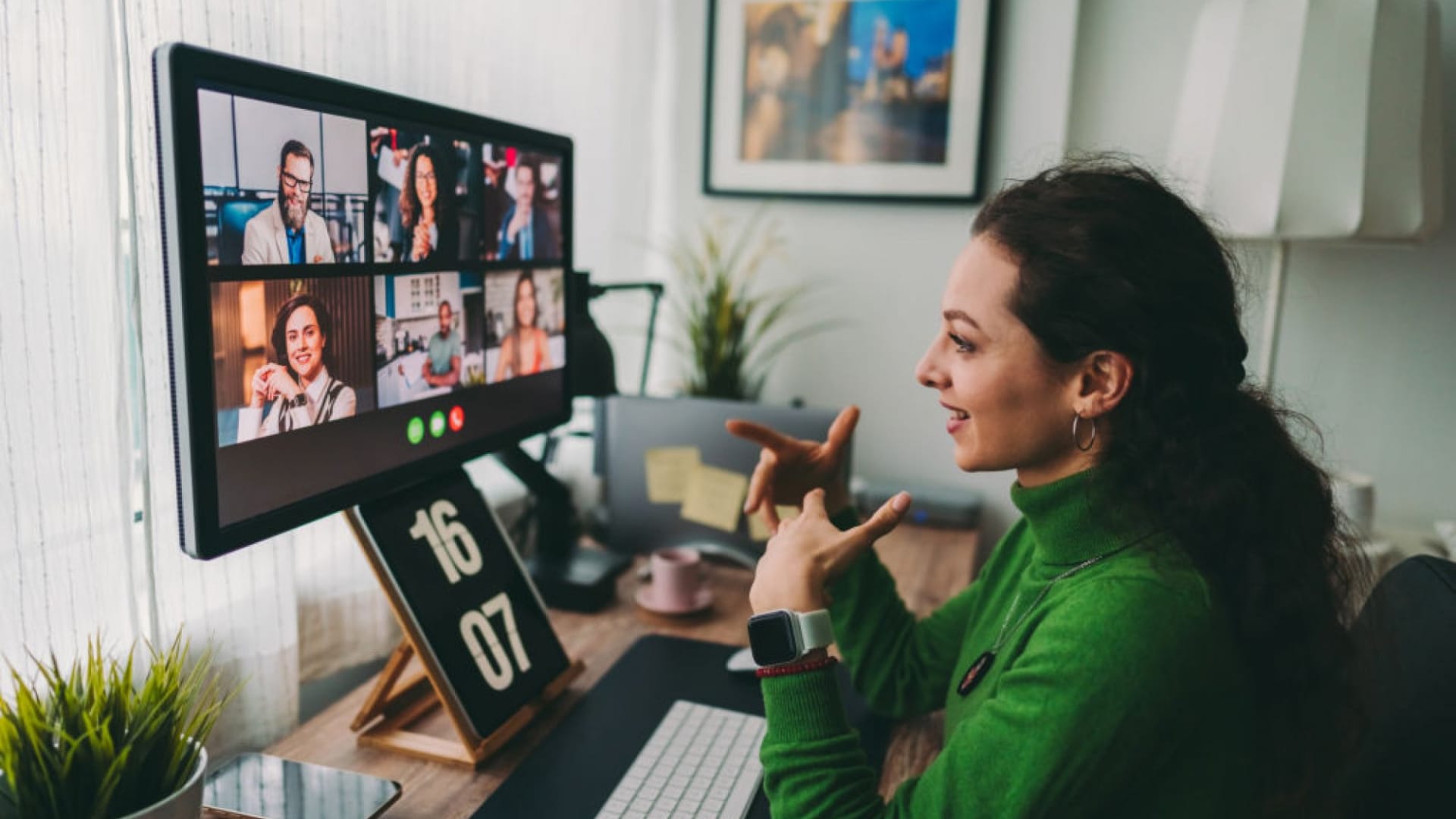 Once upon a time, virtual meetings were a novelty in and of themselves.
People waved gleefully when they popped up onscreen in their own little Brady Bunch rectangle. Co-workers laughed as they uttered "you're on mute" for the first time, blissfully unaware of the eventual infamy the phrase would come to possess.
Today, the magic has worn off.
Zoom fatigue is real. Employees are quick to lose focus in video chats, their eyes slowly wandering over to that second monitor, unable to resist the temptation to multitask. You've got to work harder than ever before to keep their attention.
The same is true during virtual events for businesses, organizations, and universities. Driving attendee engagement while presenting virtually is a valuable skill that the most talented keynote speakers all possess. And with virtual events well-positioned to remain a desirable option for attendees and event planners alike, leaders have got to find ways to stand out and meet the high expectations of their stakeholders.
So, how can you bring back some of that magic to your virtual events in 2022 and beyond? I've got my eye on a few emerging strategies that seem to be doing the trick for many of our clients.
Let your virtual attendees actively participate through technology
Even though your audience might be attending virtually, you should provide opportunities for them to engage with your event. When interactive polling is incorporated into the event itself, live polls can provide you and your audience real-time data on things they care about. If you get polls in front of your audience before the event kicks off, that's where it gets even more exciting.
Why not let your audience take the wheel and drive the conversation? A well-executed pre-event poll of your attendees allows you to do exactly that.
Are you creating fun and memorable virtual experiences? Virtual emcees can lead games, or wellness experts can provide a much-needed exercise stretch or meditation break between sessions. Encouraging live chat between attendees helps them feel connected with the event. Using engaging virtual technology to incorporate them into the session makes for a more captivating experience and gives you a better chance of competing with outside distractions.
Live entertainment: FOMO is real
In my experience, the ability to watch virtual conference sessions after the event can make life easier. But if I'm being honest, it also makes it that much more tempting to skip out on a session here and there--or even to let my focus drift back to my email inbox and away from the virtual event itself.
Create those must-attend moments. Booking a live entertainer is another powerful tool if you're looking to keep your audience present. For larger, all-day virtual events with waiting periods between sessions, consider incorporating a performance from a magician, comedian, or combination singer-magician-comedian (yes, I've seen it before).
Another trend that's surged in the past two years is booking chefs and mixologists for cooking and cocktail sessions. Bringing the kitchen or bar virtually to your attendee's homes can allow them to actively participate with the session, making it more of an experience and less of a presentation.
These tactics can give your event that you-had-to-be-there element and lower your chances of losing attendees' attention between sessions. It also gives attendees more to chat about within the virtual event platform or on social media and can lead to more meaningful networking. There are so many directions you can take.
Virtual events aren't going away
In the first quarter of 2022, we continue to see virtual events making up 49 percent of the total talent booking mix, and this trend is expected to continue. Event organizers have shifted expectations so that they no longer use virtual events to replace the live event experience, but rather, they supplement their event strategy by leveraging each format strategically.
Long story short: Virtual events aren't just a temporary replacement for in-person conferences and gatherings. They are primed to be a key part of event strategy going forward. While it's clear that audiences still appreciate the convenience of virtual, we're going to have to do more to keep them coming back.
Companies and organizations that get this balance right can set themselves apart.

May 18, 2022