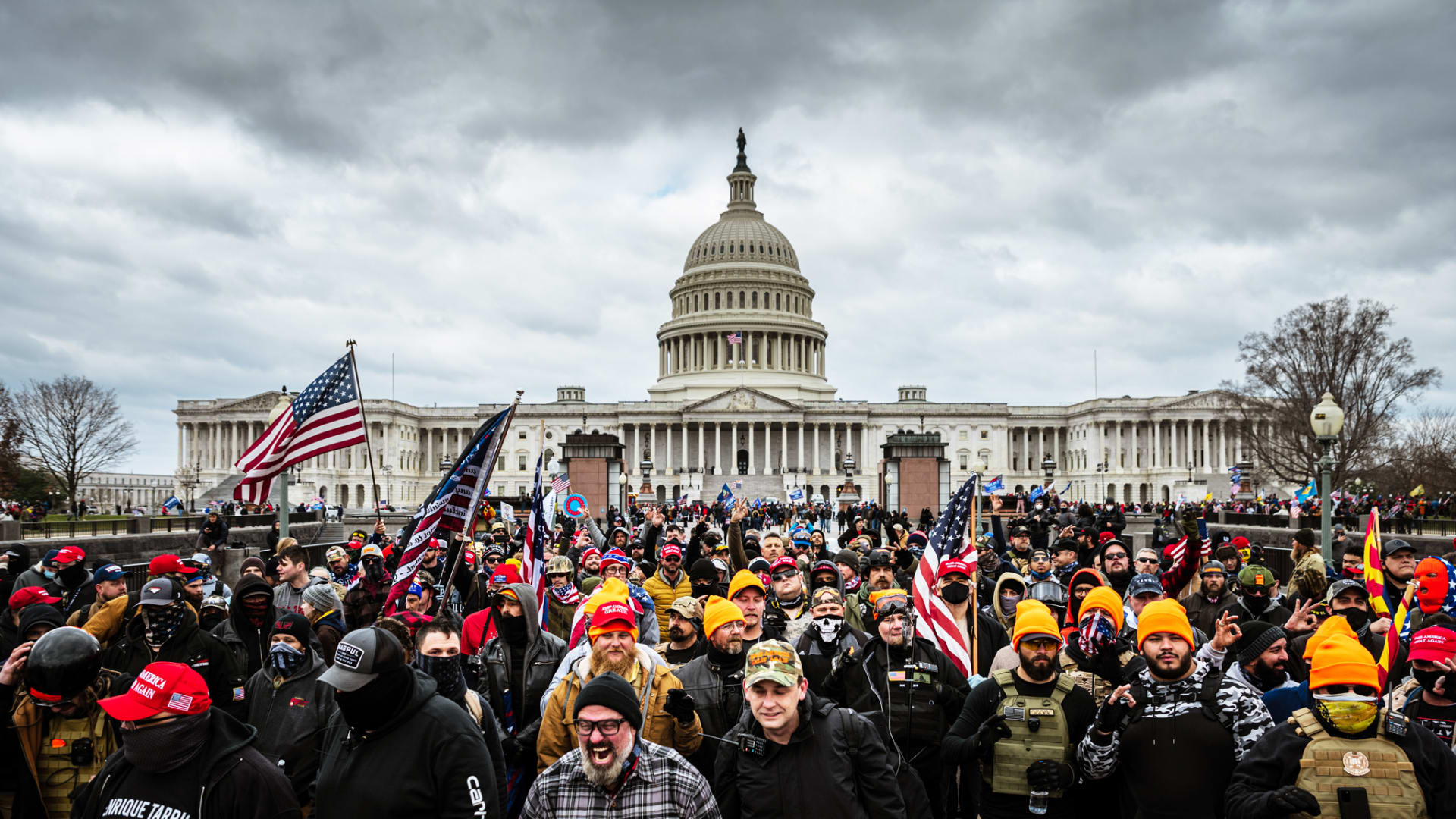 Gina Bisignano literally stood out from the crowd on January 6, 2021, when thousands of rioters stormed the Capitol in Washington, D.C. She spoke over a megaphone about the salon she owns in Beverly Hills. It was a moment that made her an international figure, and a curiosity. While many of the rioters wore military-like gear, Bisignano was outfitted in leather gloves, a Louis Vuitton sweater, and Chanel boots while exhorting the rioters for support.
"Everybody, we need gas masks, we need weapons, we need strong angry patriots to help our boys. They don't want us to leave. We need protection," she said that day. Bisignano's two-person business regularly generated revenue approaching half a million dollars a year.
University of Chicago professor of political science Robert Pape has spent the past year gathering information about the insurrectionists and their co-ideologues. According to Pape, 26 percent of the rioters charged were business owners; an additional 28 percent were white-collar workers.
"There are relatively more business owners in the insurrectionist pool than in America," Pape notes. The composition of those charged with a crime -- with 716 individuals studied by Pape thus far -- undermines what "we're used to thinking about far-right violence and extremism." This was a heavily white-collar riot -- a businessperson's riot -- which is in some ways unsurprising because the protest that set it off was fomented, as President Joe Biden just reminded us, by the businessman/president who lost his bid for reelection.
Where right-wing extremists generally are young, less likely to be employed, and very often members of a gang or a militia group, that doesn't describe the only demographic that rioted at the Capitol. As Pape's studies have shown, the fact that the crowd had so many business owners is an important part of revealing the general insurrectionist movement to be quite a lot larger than had been assumed. His surveys found that the equivalent of around 21 million Americans agree with the disproved conspiracy theory that Joe Biden stole the election in 2020, while also believing that violence to restore Donald Trump to office is justified.
Like many of those arrested, Bisignano now has regrets about what she did a year ago. "I hurt so many people around me," she says. Her son, her mother, and others had to deal with her 45 days in jail, she says. Her business in relatively liberal Beverly Hills suffered. "I lost about half of my people," at her eyelash and skin care salon. As for the other half of her business, "My people that know me, stayed with me; they know I'm pro-life, and I'm a Christian girl."
Even before January 6, Bisignano had divided her customers in two groups, just like the rest of the country: the conservatives whom she'd open up to, and the rest. "Nobody that was liberal knew ... about my political preference," she says, explaining that she "could tell right off" who was a liberal and know not to share her political views around them. After the riot, she lost the liberal half of her clientele. "They dumped me, and they said we didn't know you were an extremist." She laments the loss of half her clients: "I think the way I work, honestly, I'm one of the best lash artists." When it comes to her actions during the insurrection and her political views, she asserts, "That shouldn't affect my work, but I understand how people feel; they take it, they internalize it as if I was a bad person."
Her business has declined from "about half a million dollars a year" and one employee, to "maybe one hundred thousand" and "I'm by myself."
She sees her identity as a business owner as central to the reason why she and so many like her joined the insurrection that day. "You wanna know why?" she asks about her participation, and then goes on to explain with a grab bag of explanations, beginning with "First of all, I'm a single mom," continuing through describing her business as something "I built from sweat and tears" and going on to complain about how, during Covid-19 lockdowns, "they were closing up our restaurants." Her answer is rambling and her thoughts don't seem to connect, save for repeated invocations of "my president."
She expresses some conflicting feelings about Trump and his actions that day, as well. "When the president takes you for a walk, you don't think he's going to lead you into something like ... " she laments, though she goes on to clarify that she doesn't think Trump was actually in favor of the insurrection: "I think he was set up."
Pape hasn't asked whether insurrectionists have faced business consequences -- losses of customers or investors -- as a result of their involvement in the riot at the Capitol, but a number of them showed no noticeable difference from a year ago. One name that stands out is Becky's Flowers in Midland, Texas. Owner Jenny Cudd reached an additional level of notoriety when she asked for a postponement of her court date so she could take her annual trip to Mexico.
For Pape, this anecdote helps illustrate Cudd as an example of "the mainstream of the fringe," a way in which the January 6 riot was bourgeois. (Cudd did not reply to a request for comment.) The company has more than 5,000 likes on its Facebook page, and posts flower arrangements for engagement. Over Christmas, Becky's stuck to its political message, offering "Let's Go Brandon" ornaments for sale. Within a conservative local area, a small business's owner might find that being one of more than 700 insurrectionists won't affect the bottom line. But, as Bisignano discovered, bringing politics into business can have consequences.
While Bisignano has regrets about how her actions affected her family, she draws a clear line around her second thoughts. "If you look at it, what did I really do? I trespassed," she says. If given another chance, she'd still protest, just lawfully: "I'd like for my voice to be heard, I do believe the election was stolen, but next time I won't be on federal property." She recalls her conversations with law enforcement: "The feds go, 'Gina, you can protest, but you can't be on federal property.'"
Jan 6, 2022