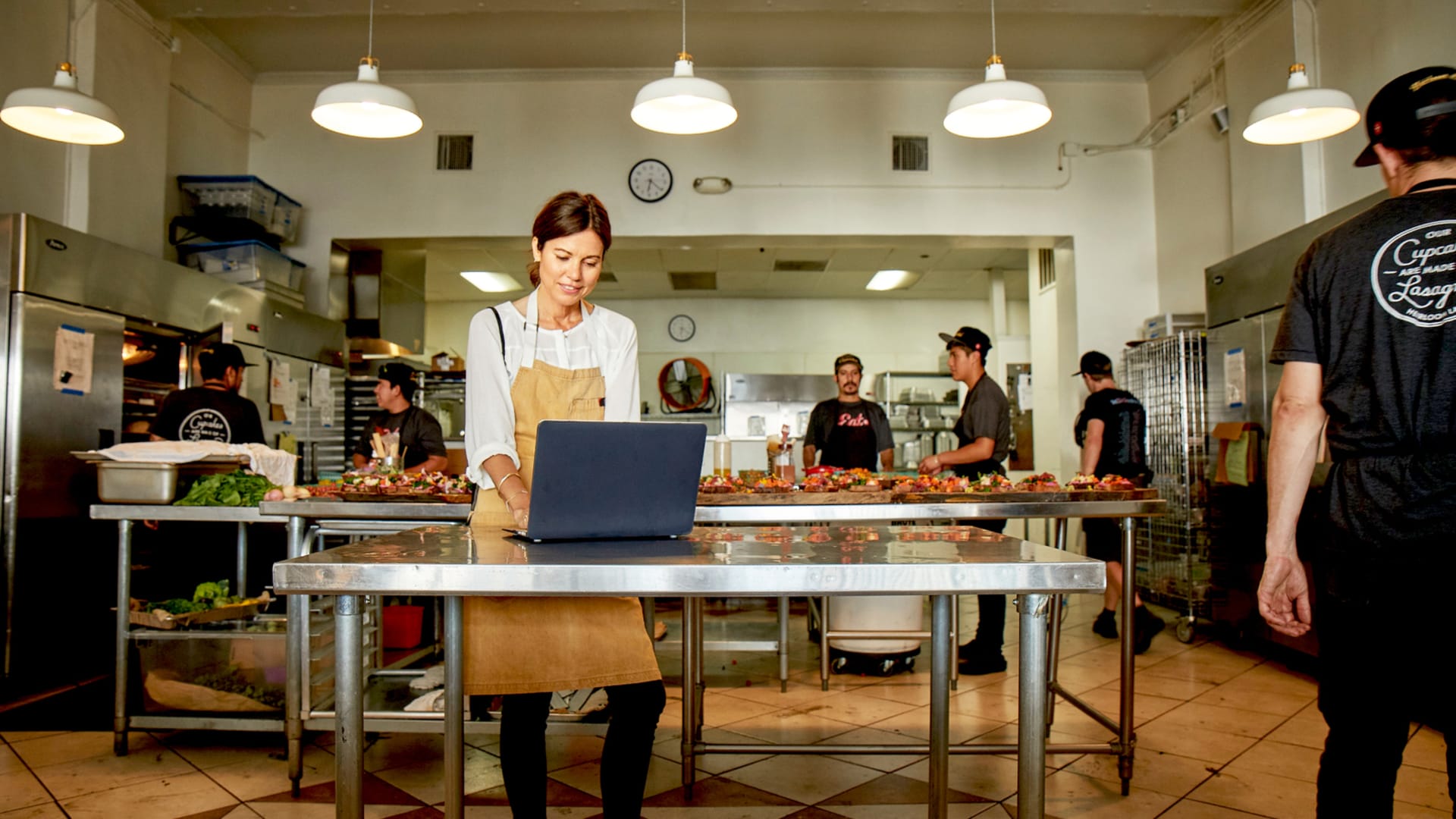 Growing a service industry business is challenging during the best of times, but even more hurdles are presented during a pandemic. Don't tell that to Chelle Neff, though, founder of Urban Betty, an Austin, Texas-based hair salon that launched a new line of hair care and lifestyle products in November, just before Omicron made people rethink face-to-face activities.
While the company had been in business for 15 years before COVID-19 hit, it had opened a second location just a year before the pandemic began. While that may not have been an ideal time to open a new salon, the business has managed to thrive--they are even planning to open a third store soon.
How did this four-year Inc. 5000 honoree do it? By embracing finance-focused digital tools both during the pandemic and back in 2005, when Neff first opened her operations.
She's not alone: more companies than ever before have embraced technology to manage their business. A November 2021 study by QuickBooks found that 75 percent of small businesses had to pivot their business in some way during the pandemic--and adoption of digital tools was a key way they did this. The study also found that 46 percent found an increased reliance on digital technology tools was key during the pandemic.
For Neff, that meant implementing QuickBooks Online Advanced, a cloud-based financial management platform that includes more functionality and features for growing business than QuickBooks Online. She started using the latter program six months after she started her business but upgraded weeks before the pandemic began. QuickBooks Online Advanced played a major part in not only keeping her business afloat but also allowing it to grow.
"It was a vital tool to us during the pandemic," she says. "When we learned we had to close the business for a period of time, I was able to see exactly what our cash flow looked like and what was needed to sustain our business and pay our employees. The reports function allowed me to aggregate all of my accounts in one place to see our current fixed costs, which helped me identify unnecessary costs that I was able to cut.We also had to focus on what we did externally, while Advanced helped us manage the business internally. Tapping tools like Mailchimp to stay in touch with my customers was critical during this time."
Tools that grow with the business
While companies may be implementing more digital tools, many businesses are having trouble finding the right technologies for their size, and more specifically, the right enterprise resource planning (ERP) software. According to a recent Intuit QuickBooks Survey of 1,000 businesses with 10 to 100 employees, 93 percent report outgrowing at least some of their digital solutions, or they're paying for features they don't use.
More than half of those surveyed bought an ERP system to help them grow (though many admit they didn't buy the right one), with 47 percent saying they don't use all of their ERP's capabilities and feel they overpaid.
The Intuit QuickBooks survey also notes that among the businesses that were chosen to participate in the survey, only 19 percent self-described as midsize, while 67 percent described their company as a small business. It's an important differentiating factor when it comes to ERP software, given that 81 percent of survey respondents noted the lack of ERP solutions for midsize businesses.
"We know how well QuickBooks meets the needs of small businesses, but we also know that businesses' needs grow as they become more complex," explains Kelly Vincent, QuickBooks vice president of mid-market small business at Intuit. "So, while they may not want to do a full migration to an ERP system, they are looking for an efficient and customizable solution to meet their needs. That's where QuickBooks Online Advanced comes in - it's able to help what we call the small business mid-market, high growth businesses that need robust tools to grow, but not complicated tools built for larger enterprises where they may overpay."
Seamless integration is key
That's what drove Isaiah Bollinger to embrace QuickBooks Online Advanced. As the co-founder and CEO of Trellis, a full-service digital agency specializing in e-commerce, he found the program's ease of integration with other apps to be one of its most appealing features.
Trellis uses a large number of digital tools for their business, so being able to seamlessly merge them across platforms has been invaluable. "Integration has been one of the greatest value-adds for us when using QuickBooks," notes Bollinger. "As an e-commerce company, we use a great deal of apps, and it makes our lives easier when they can sync up."
Like Urban Betty, Trellis made the Inc. 5000 in 2021, growing by an incredible 496 percent over the last three years. For any midsize business on the upswing, the ability to customize its ERP system--either through scaling up or choosing to adopt an all-in-one tool versus integrating multiple tools--is incredibly important. In fact, 47 percent of businesses reported in the Intuit QuickBooks survey that the inability to customize is one of the top disadvantages of their current ERP system.
Buying a system that's geared to the much larger enterprise market, however, often results in technology overkill and usually leads to overpaying for solutions-;something that businesses should avoid in these financially uncertain times.
"As a growing company, especially during the pandemic, we have had to keep a sharp eye on our cash flow," says Bollinger. "With QuickBooks, we can easily see how much cash is on hand in real time and project expenses."
Mar 24, 2022