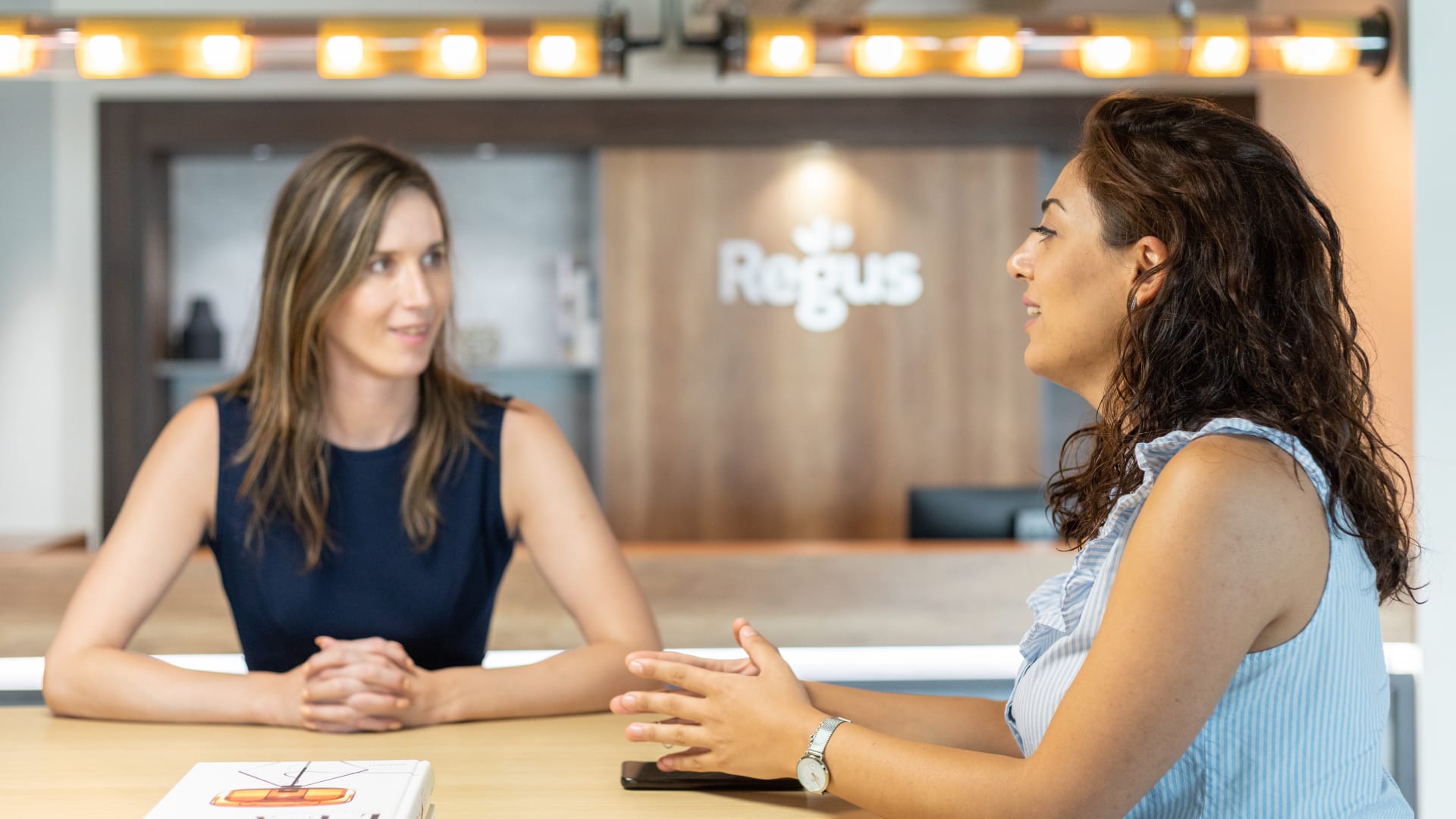 During the past year and a half, companies have undergone an enormous shift in how work gets done. While some leaders were skeptical about mostly or fully remote teams, workers who adopted the hybrid model thrived. As the weeks turned into months, the experience made company leaders realize they could drastically shift how their offices operated and how much real estate space their companies needed, redefining their office occupation models.
The shift to hybrid during the pandemic led many employers to drop geographic boundaries in hiring, widening their talent pool. Many businesses were already considering their real estate footprint prior to the pandemic. That accelerated the move to flexible workspaces as they increasingly adopt the hub-and-spoke model, with smaller central offices, more regional hubs, and the use of local flexspace and co-working providers.
Regus, part of a collective of global and regional workspace brands that form the International Workplace Group (IWG) network, is seeing an unprecedented opportunity for growth in this space. It already was gaining steam prior to the pandemic, part of a trend to move to remote and hybrid work. With recent annual growth rates of 10 to 25 percent, sources like JLL have predicted that 30 percent of the office market might be flexible in some way by 2030. CBRE, a commercial real estate services firm, surveyed its occupants, and an astounding 86 percent said that flexible workspaces are a key component of their future real estate strategies. As companies loosen the reins on mandating a full-time office presence, more are allowing employees to work from anywhere, at least part of the time.
Flexible workspace growth
Demand among larger employers is leading the way, with companies across industries are seeking ways to make employees more engaged and productive. Companies of all sizes are realizing that hybrid work is better for people, profits, and the planet.
"Studies have demonstrated the future for businesses of all sizes is hybrid," says Kurt Ullman, director of franchise business development at International Workplace Group. "Hybrid working is a key driver of the rapidly-growing flexspace franchise market, with many companies seeking cost-effective professional workspace solutions located nearer to employees' homes, making flexible workspaces an attractive solution."
As of 2019, flexible workspaces accounted for less than 5 percent of total office real estate, but are predicted to rise to more than 30 percent by 2030. This year alone, more than two million users have joined IWG's network, bringing its total customer base to seven million and representing the largest increase in the company's 30-year history. As part of this network, multinational corporations like Standard Chartered and NTT are minimizing their exposure and risk as the world of work changes. In turn, the employees enjoy greater flexibility in their working lives, along with reduced commuting time and costs. IWG recently signed its first U.S. franchise partner, after more than tripling the number of new franchised centers globally in the first half of 2021.
Workspace franchising: a smart option
And it's not just flexible workspaces themselves that are gaining interest. Recent research shows that franchisees want to invest in flexible workplaces. In fact, research from IWG shows that 56 percent of business leaders exploring franchise opportunities are considering the flexible office franchise model during the next 18 months. In terms of popularity, franchisees are considering flexible workspace options more than coffee shops (49 percent) or gym franchises (49 percent).
To meet growing demand and the related need to significantly accelerate growth-;primarily in suburban markets-;Regus is partnering with individual, multi-unit, and regional franchisees who have a vision for growth and operations excellence. With more than 30 years of experience in this space and the support of the 3,400 location-strong global IWG network, Regus has a proven franchise model earning healthy returns in an accessible, fully supported, and easy-to-operate business. The company franchisees are true partners.
Across thousands of locations worldwide, Regus offers franchise partners practical advice on opening new centers in the best locations, finding the right locations and structuring floor plans to maximize revenue, as well as business development support to ensure that investments are performing at optimum levels of return. Regus also helps franchisees make the most of established sales and marketing channels while giving them business development and performance review support. These offerings ensure that the franchise partner's investment is positioned to yield higher returns.
"The IWG network, including Regus, has added two million new customers to our global network of flexible workspaces in 2021 alone, with further franchise partnerships poised to continue this momentum," Ullman says.
Time to grow
The flexible workspace market may be trending upward, but it's not a fad. The pandemic exposed and boosted an existing business opportunity. With companies still determining their back-to-work strategies, there is no better time to offer flexible workspaces. Partnering with the world's leader in this sector allows franchisees to seize the significant opportunity presented with this shift in the future of work. Learn more about joining one of the most dynamic and fastest-growing industries and the power of the future of flexible workspaces.
Nov 9, 2021