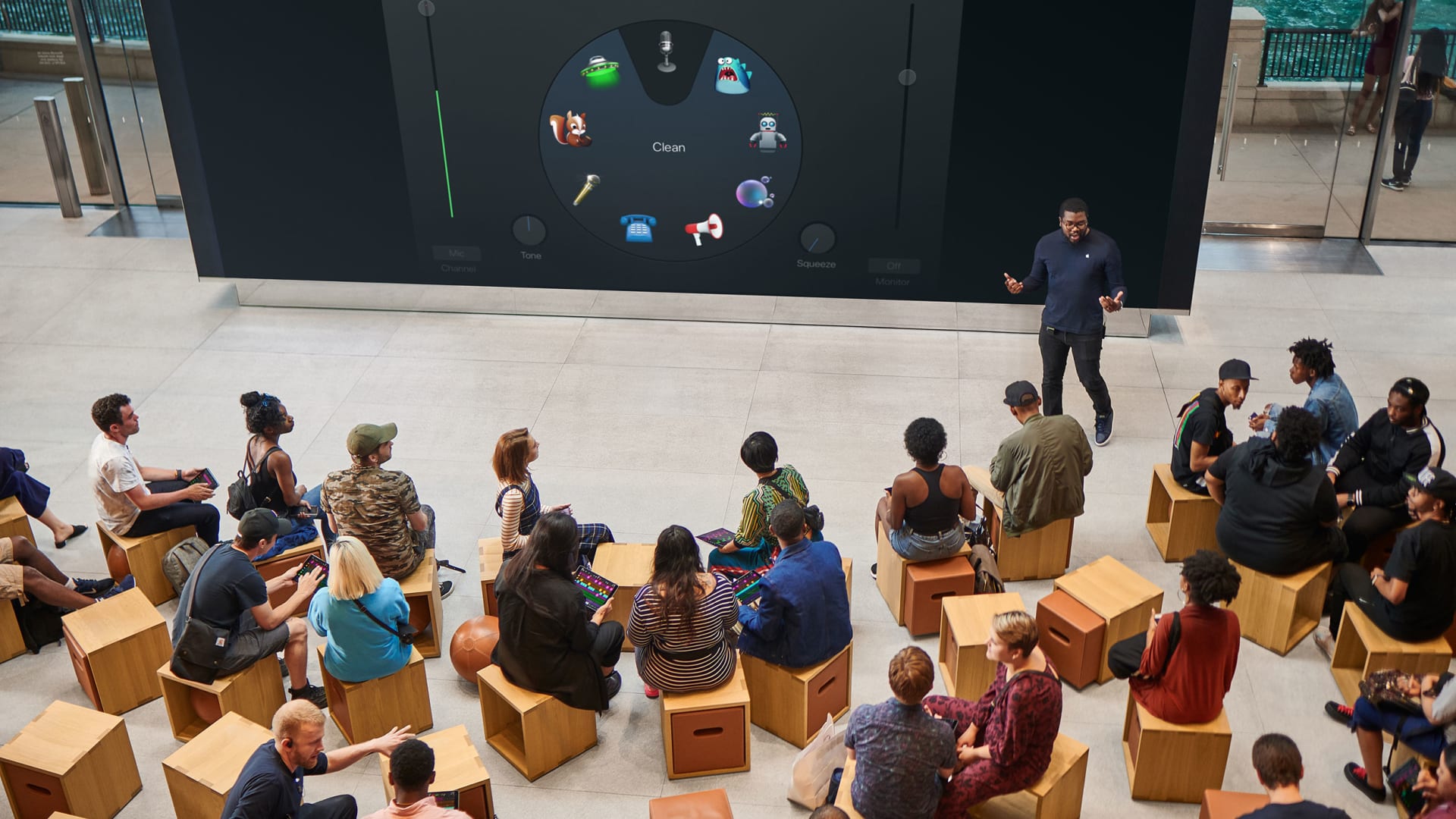 Starting today, Apple's retail stores are getting back one of their best features--the in-person classes and workshops known as "Today at Apple." That means you can visit the Today at Apple page on the company's website to see a collection of classes available at the Apple Store near you.
If you've ever been in an Apple Store, you've probably seen a group of people listening to an instructor talk about photography, creating videos using an iPhone, or editing photos on a Mac. For the last two years, however, Apple's retail stores have looked a lot different. The pandemic forced every company to make drastic changes to the way they interact with customers, while still trying to meet their needs.
I think it's fair to say that Apple did as good a job as any. The company implemented a rigorous screening process for customers entering its stores, implemented order pickup, and allowed customers to make an appointment to shop with a specialist.
During the pandemic, one of the most impressive feats was the way Apple translated its in-store experience online. The company even created a program called "Today at Apple at Home," which allowed customers to take part in workshops and classes virtually, even when retail stores were shut down.
That's a big deal considering Apple's retail stores have--for the past two decades--been an important extension of the company's brand. They're a place where you could experience any of Apple's products in person.
Of course, there are plenty of other places you can go to check out the latest iPhone or Mac. What makes an Apple Store different is the experience. Everything about an Apple Store invites you to pick and touch the products.
Not only that, but Apple Stores are staffed by passionate Apple employees who will take the time to explain the features of your new device, and walk you through how to set it up and copy over all of your information. Then, you could sign up for a class to learn even more about using your device.
At the original San Francisco flagship store, I used to sit in the theater upstairs and listen to workshops about everything from making a movie using iMovie, to editing photos in Aperture. It's one of the things that I missed about Apple Stores during the pandemic, just walking in and listening to someone as passionate about using Apple's creative tools to tell stories and make things.
"We can't wait to welcome more of our communities back to our stores to experience Today at Apple, led by our incredible Apple Creatives," said Deirdre O'Brien, Apple's senior vice president of Retail and People. "We've missed experiencing this connection in our stores, and we're so happy that Today at Apple is back in person."
For Apple, its retail stores have always been about more than just taking your money and handing over a box with an iPhone. Obviously, Apple is happy to sell you whatever you're looking for when you walk into one of its stores. Not only that, it's very good at it. Apple Stores are--by far--the most valuable retail locations in the world.
Still, they've always been about more than just "shopping." There is something about walking into an Apple Store that's different than most retail stores. It really is a different experience, and that's the point.
Apple created its stores to help its customers connect with its people and its brand. I know that sounds cliche but it's true, and Apple has done it in a way almost no other tech company--or retailer, for that matter--has been able to copy. Things like Today at Apple are a big part of the reason why.
Mar 7, 2022