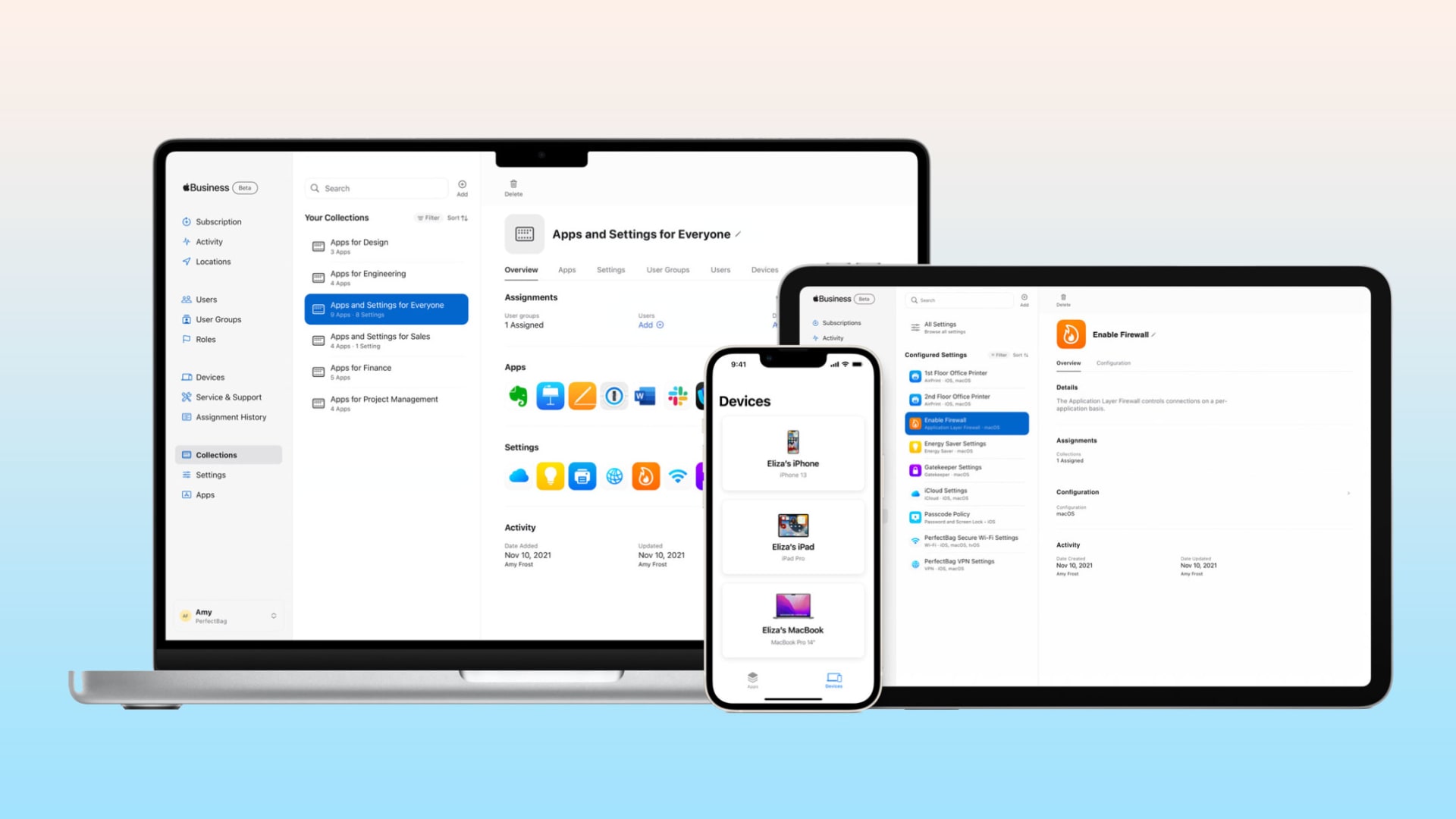 Last fall, Apple introduced a new program for small businesses, called Business Essentials, designed to "make managing devices ... as easy as using them." That's how Apple's VP of enterprise and education marketing, Susan Prescott, described it to me:
We understand that the IT needs of your employees on top of everything else you're already doing is a lot to take on. To help you with that, we're introducing a new service that brings together device management, storage, and support into one simple subscription for small businesses with up to 500 employees.
At the time, Apple called the program a "beta," allowing businesses to sign up, but without all of the final services or plans available. Now, however, Apple is making the program available to all small businesses in the U.S.
"We look forward to bringing Apple Business Essentials to even more small businesses to simplify device management, storage, support, and repairs," said Prescott in a statement. "Using this new service leads to invaluable time savings for customers--including those without dedicated IT staff--that they can invest back into their business."
One of the things many people say they love about using Apple devices is that they "just work." What they usually mean is that they are intuitive to use, and the technology doesn't get in the way of doing whatever you want to do.
There's a simplicity about things like AirDrop, for example, that doesn't require you to understand anything about file sharing or wireless protocols. All you have to do is tap an icon and you can share photos or files with someone. It's fast and simple. It just works.
Managing devices, especially in a business environment, has never been fast or simple. Large companies have huge IT departments to handle things like provisioning devices, onboarding new employees, managing permissions, and dealing with support issues. Small businesses, on the other hand, don't have the luxury of a dedicated team of people to handle those needs.
Instead, it's often the small-business owner who has to deal with it. Considering all of the other things they have on their to-do list, that's not a great use of time.
With Business Essentials, Apple created plans to allow businesses to manage users, not devices. That means that you pay a monthly subscription per user, and each user can have up to three devices. Most likely that will include a Mac, iPhone, and possibly an iPad. The account manager can assign the settings and apps they should have access to on their devices, and when a user logs in, they'll automatically transfer. You might say IT just works.
That's true even if a user brings their own device, something that's already common for small businesses. Employees can bring their own iPhone, for example, log into a work profile, and have access to the storage and apps they need while still keeping their personal data separate.
It's an even bigger deal for companies with employees working remotely, since it makes it easy to set up a profile for a user who might be working from their own Mac at home. They'll still have access to iCloud storage, work apps, and support features like AppleCare.
That last part is new now that the program is no longer in beta. Apple announced today that it is bringing AppleCare+ to the plans. According to Apple, that includes "24/7 access to phone support, training for both IT administrators and employees, and up to two device repairs per plan each year. Employees can initiate repairs directly from the Apple Business Essentials app, and an Apple-trained technician can come onsite in as little as four hours to get their iPhone back up and running."
For each user, the business gets coverage for up to three devices and receives two Repair Credits per year. Those Repair Credits cover things like a damaged iPhone screen, or a logic board replacement on a Mac, for example.
The business simply chooses to use a credit to cover the repair, meaning the employee doesn't have to pay out of pocket or swipe a credit card. In addition, Apple says the credits pool together across all users, however, meaning you can allocate them however you need (not just two instances for each individual user).
The recurring theme here is that Apple is trying to make it easy for small businesses to manage devices by creating a program that just works. Apple Business Essentials plans can be customized to support each user and device in an organization with up to 2TB of secure storage in iCloud, starting at $2.99 per month after a two-month free trial. Plans that include AppleCare+ for Apple Business Essentials start at $9.99 per month.
Mar 31, 2022