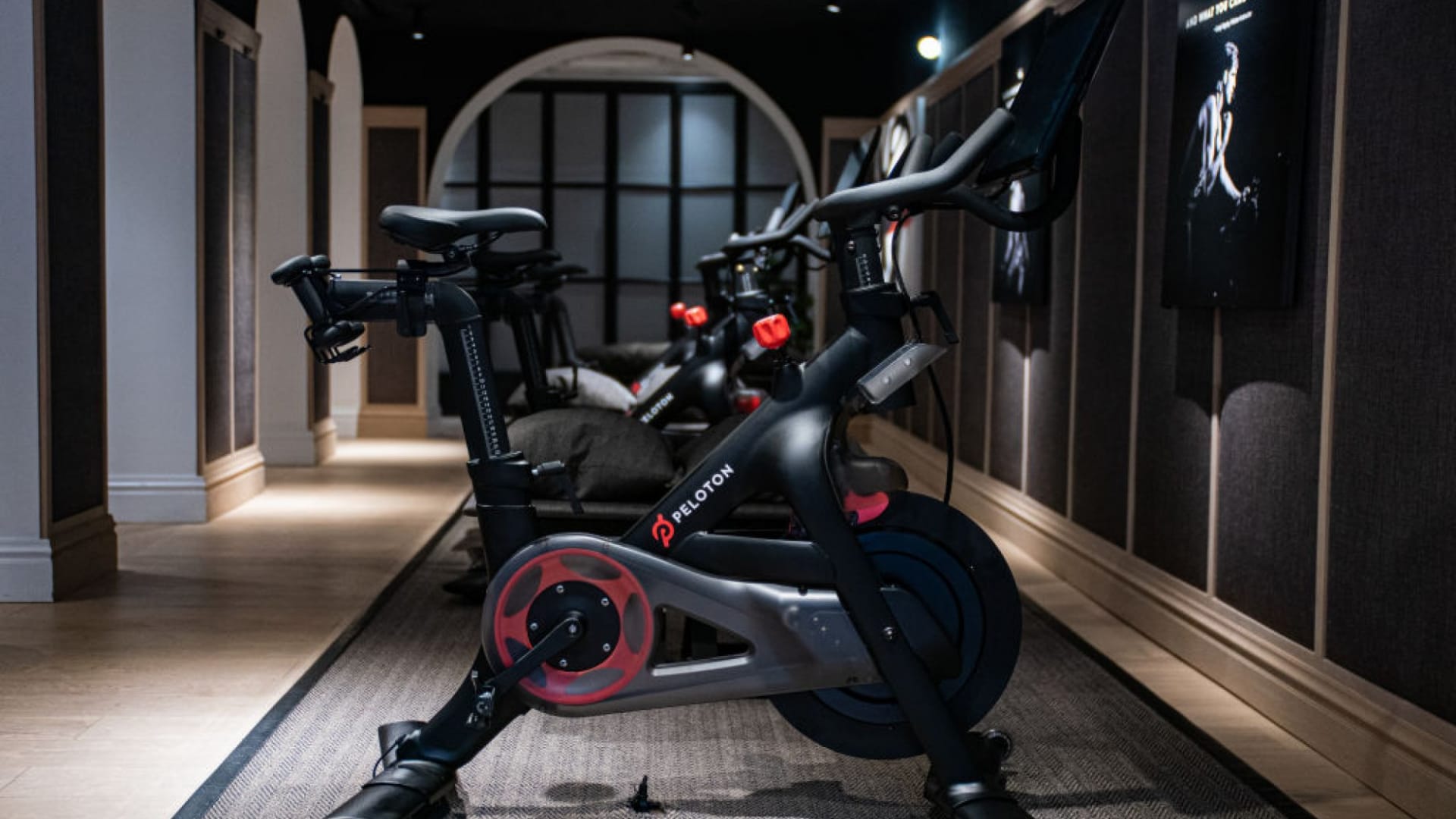 Peloton is having a very bad week. On Thursday, CNBC reported that the company is putting the brakes on the production of its products for at least the next two months. It's as clear a sign as there is that the company's high-end fitness gear is piling up in warehouses. That comes after Insider previously reported the company was preparing for a large number of layoffs.
It's quite the change for a company that was riding high as its sales exploded during the early months of the pandemic. The company's stock price went from $19 on March 13, 2020, to a high of more than $160 by the end of December 2020. Its revenue went from $915 million in the fiscal year that ended in June 2019 to more than $4 billion two years later.
By the end of 2021, however, that growth had slowed. Now, it appears there are fewer people than Peloton expected who are willing to spend $2,000 or more on a bike or treadmill that also requires a pricey monthly subscription. Peloton's shares fell 24 percent on the news.
After the markets closed, Peloton CEO John Foley issued a statement saying that rumors the company was completely halting production are false:
We've found ourselves in the middle of a once-in-a-hundred year event with the COVID-19 pandemic, and what we anticipated would happen over the course of three years happened in months during 2020, and into 2021.

We worked quickly and diligently to meet the demand head-on at a time when the world really needed us, in large part thanks to how hard you worked every day. We feel good about right-sizing our production, and, as we evolve to more seasonal demand curves, we are resetting our production levels for sustainable growth.
Foley doesn't say what he means by "right-sizing our production" or "resetting our production levels." He also doesn't deny that the company is stopping production--he says just that it isn't "halting all production of bikes and Treads." That certainly sounds like there's a lot more supply than demand right now.
If that's the case, it's a sign that the company, which couldn't make enough bikes to keep up with demand a year ago, now can't sell the ones it has already made. That reality comes as it has tried to juice revenue by increasing the cost of its bikes by as much as $350 by charging for delivery and setup.
Peloton said in a statement that it would have more to say when it announces earnings next month. In the meantime, the thing that makes the most sense is for the company's CEO to get on the phone and call Apple CEO Tim Cook and make a deal.
First, Apple could easily afford to buy Peloton, whose market cap was just under $8 billion at the time the market closed on Thursday. Apple, by comparison, is worth around $2.7 trillion.
Let's assume Apple would pay a premium over the current price--say $11 billion. With Apple's pile of cash, which, even after a spree of buying its own stock, sits around $60 billion, Tim Cook could pretty much just put it on his AppleCard. Does Peloton take ApplePay?
Second, there isn't a better company on earth when it comes to forecasting customer demand and managing the supply chain than Apple. Cook is famously an operations guy, something Peloton desperately needs right now. Apple could easily trim back expenses, increase production efficiency, and leverage what Peloton does best--recurring subscription revenue.
More important, however, Apple has made no secret of the fact that fitness is one of its core growth areas. It has a service of its own, called Fitness+, of course. What it doesn't have is any compelling first-party hardware, other than the AppleWatch. For that matter, there isn't really much in the way of a third-party ecosystem taking advantage of GymKit, Apple's framework that allows manufacturers to integrate with its products.
That's a shame when you consider the Apple Watch might be one of the two most important fitness devices of the past 10 years. I think you could argue Peloton's signature stationary bike is the other. Sure, there are far more reasonably-priced competitors, but it was Peloton that redefined a category by pairing its connected equipment with subscription-based live classes.
As a result, Peloton has cultivated an incredibly loyal following of users and established itself as the standard for in-home fitness equipment. Sure, a lot of that is due to savvy branding. There are a lot of alternatives that work just as well, and cost far less. For Peloton, however, the formula seemed to work. Until now.
There's an irony that the Apple Watch and Peloton's bikes don't play all that nice together. Sure, you can connect your Watch to the more expensive version, but it's definitely not the kind of integrated experience you might expect from Apple.
If Apple were to buy Peloton, however, it's not hard to imagine that everything would "just work." Apple would also inherit a very good product with a loyal user base. Even better, those users are essentially locked into a $30 a month subscription. That's exactly the kind of business Apple loves, and it's why I wouldn't be surprised if Peloton becomes the missing piece in Apple's fitness puzzle.
Jan 21, 2022