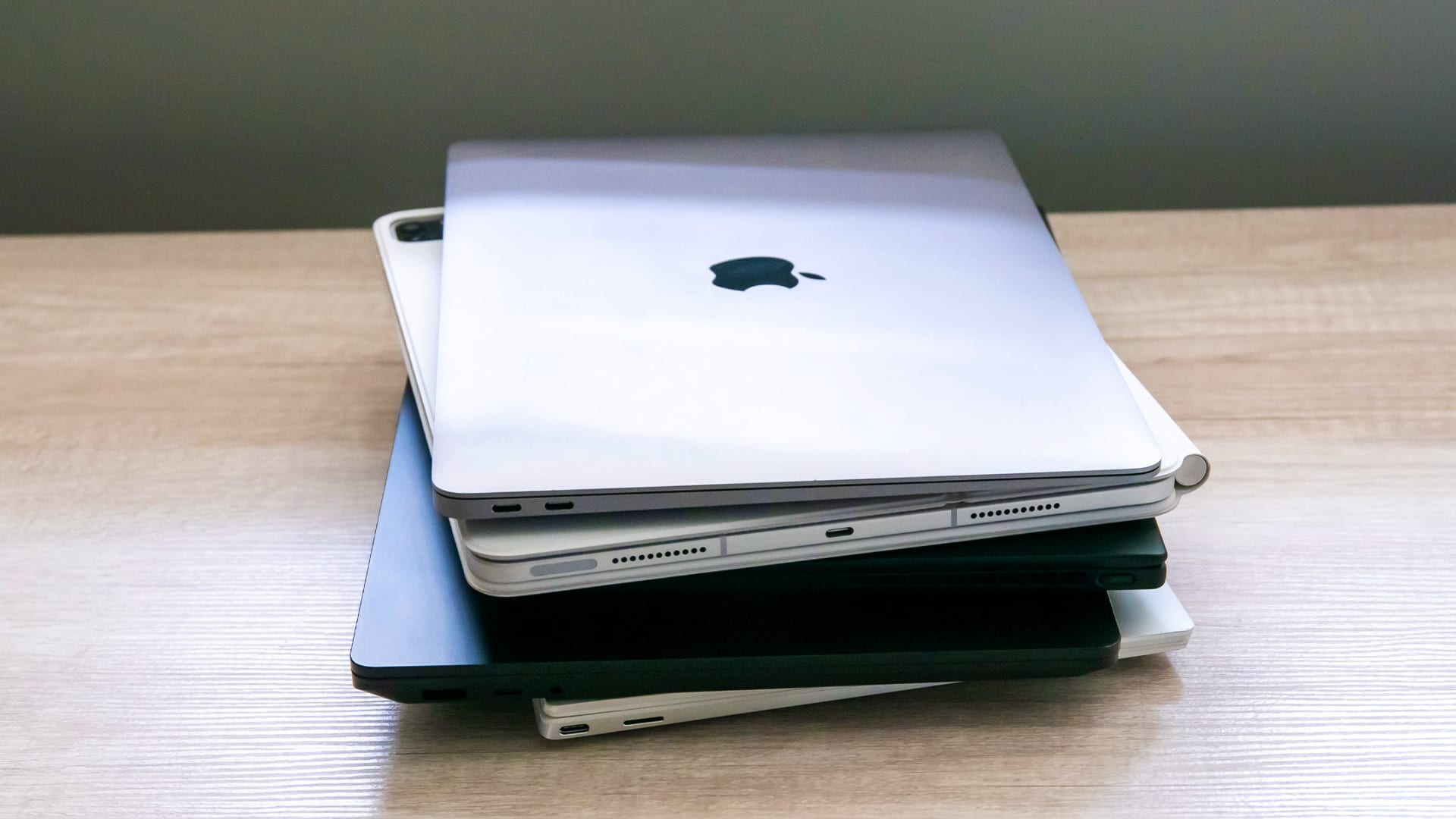 It's August, which means it's the time of year when people start thinking about upgrading their laptop for work or school, or even just to have at home. After a year when all of those things sort of merged together, people depend even more on having the right laptop to get work done.
If you're in the market for an upgrade, here are the six best laptops for getting work done:
1. M1 MacBook Air
Sure, you could argue the M1 MacBook Pro is technically more of a "power user" laptop, but I think it's a close enough call that the MacBook Air is a far better option for almost anyone. Unless you really like the Touch Bar, or are a fan of, well, the sound of a fan (which the MacBook Air lacks), there's very little reason to opt for the 13-inch MacBook Pro.
The latest version of the MacBook Air still has the same Retina display, same slim design, and same number of USB-C ports (2) as the previous model. What's new is that it now sports the M1, the same chip in the aforementioned MacBook Pro, the Mac mini, the newest 24-inch iMac, and the iPad Pro. As a result, it's pretty much faster and more power efficient than anything else on this list. (Starts at $999 at Apple.com)
2. Dell XPS 13 OLED
The most recent version of the Dell XPS 13 I tested looks identical to all of the other 11th-gen Intel Core models. For that matter, it looks like the versions before that as well. That is, until you turn it on. The version I used for a few months has a 13.4-inch 3.5K OLED touch-display and it's amazing.
Aside from that, it's still the same laptop that already earns the title as the best Windows PC you can buy, especially if what you're looking for is a lot of power in a relatively small package. And, it is small. The XPS 13 isn't the lightest option on this list, but it definitely has the smallest profile. As for the OLED display, that will usually add $400 to the cost, but at the time of publication, Dell is running an offer that makes it well worth it. (Starts at $1549.99 at Dell.com)
3. Lenovo X1 Nano
The most important thing to know about the Lenovo Thinkpad X1 Nano is that it's the lightest Thinkpad Lenovo ever made. It still has the carbon fiber body, a fingerprint sensor next to the trackpad, and, of course, the little red pointer nub. The version I reviewed also packs the 11th-generation Intel Core i7, giving it more than enough power, while still treating your battery more gently than previous chips.
Basically, if you're a Thinkpad fan, and want something light and powerful, Lenovo finally has the perfect device for you. It's only a hair bigger than the XPS, but it's easily the lightest laptop on this list. If you're someone who travels back and forth to the office as part of a hybrid work arrangement, that might make a big difference. (Starts at $1487 at Lenovo.com)
4. Microsoft Surface Laptop 4
Like the XPS, the Surface Laptop 4 didn't get any kind of external update. Everything that's new on this device is on the inside. Those changes are similar to the other Windows devices on this list. Better battery life, along with higher performance using Intel's 11-geneneration Core i5 and i7 processors.
Maybe the most interesting change, however, is that you can also get it with either an AMD processor for $300 less than a comparable Intel model. Of all the non-Mac laptops on this list, the Surface Laptop 4 is easily the most minimalist, both in terms of design and extra features. There's nothing especially fancy, but it's a lightweight, elegantly-designed laptop with more than enough power for most users. (Starts at $999 at Microsoft.com)
5. Google Pixelbook Go
After a year of four kids carrying Chromebooks to school, I'll be honest, I'm not a big fan. Most of them are underpowered, heavy, and made of low-quality parts. Of course, if all you need to do is run Chrome and you're only willing to spend a few hundred dollars, it's understanadable why a Chromebook might seem a good choice.
If that's the case, and you are in the market for a Chromebook, the Google Pixelbook Go is the best option available. It's definitely not the least expensive option, but it's by far the best built and it'll save you from wishing you had just bought a regular old laptop running Windows or macOS. (Starts at $749 with an Intel Core i5 at Google.com)
6. iPad Pro 12.9-Inch with Magic Keyboard
Finally, if the "laptop" you're looking for also needs to double as a tablet, there are plenty of options for that. There are two-in-one laptops, the Surface Pro, and detachables like the Surface Book. Still, the 12.9-inch iPad Pro with the Magic Keyboard might be the most versatile--and powerful--option you'll find.
As a bonus, the Liquid Retina HDR display definitely lives up to the hype, making it the ideal device for sitting back and watching a movie when you're done with work for the day. The main drawback is that, with the Magic Keyboard attached, it's heavier (and more expensive) than the entry point for most of the other options on the list. (Starts at $1448 with the Magic Keyboard at Apple.com)
Aug 14, 2021