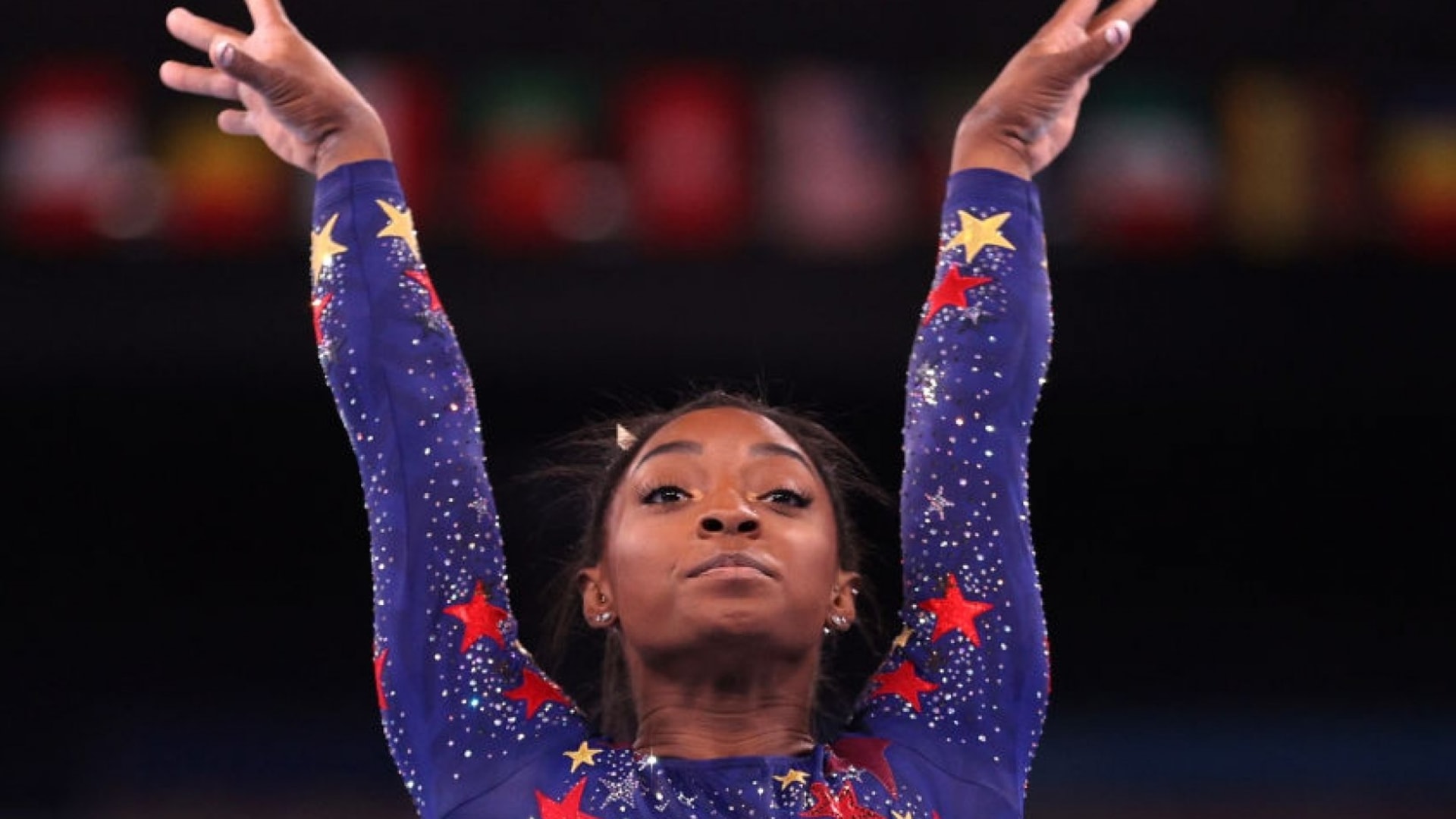 Regardless of what happened on Tuesday evening in Tokyo, Simone Biles's place as the greatest gymnast ever is secure. That she pulled out of the team finals after a bad landing on her vault doesn't diminish the fact that she does things no other human is capable of. It just means she's also human.
It can be hard to see that lesson because, in the moment, it's super disappointing. It's OK to be disappointed. If you're a fan of watching the U.S. win gold medals, you didn't get to see that happen. My two daughters and I were up very early this morning to watch a soccer game (which -- talk about disappointment -- ended in a scoreless tie), and then the gymnastics team finals.
We wanted them to win a gold medal. Like everyone else, we had high expectations.
Of course, according to Biles, those expectations played a role. "This Olympic Games, I wanted it to be for myself when I came in -- and I felt like I was still doing it for other people," Biles said, after the team finals.
You can certainly have whatever feelings you want about whatever Biles is going through. Almost none of us have any idea what it must be like to compete at that level. Almost none of us understand the pressure placed on elite athletes who perform at the Olympics and carry the weight of the expectations of an entire nation.
The point is, if Biles believed that she wasn't able to do her best, then she did the right thing. The fact that it seems so controversial is less an indictment of her decision than of the way we view physical versus mental stress. The thing is, in a sport like gymnastics, one can quickly lead to the other.
Thankfully, Biles wasn't injured in her vault attempt, but it was clear something was wrong. "No injury, thankfully.... That's why I took a step back," Biles said in a team press conference. "I didn't want to do something silly out there and get injured."
That's actually an important lesson. Far too many people operate with far too little margin. In a sport like gymnastics, there is almost no margin for error. It's a sport where, when you run out of margin, the best scenario is you fall or miss a landing. All of the other scenarios get pretty bad and have nothing to do with what color medal you end up with.
There are a lot of people leading without any margin, and none of them are doing their team any good. Most of them make bad decisions because they don't have the time or bandwidth to make better ones. Many of them are either on the verge of burnout or are already smoldering inside. The only thing they're doing better is hiding it. That's not a virtue, by the way.
Gymnastics has long been a sport that idolizes perfection and its pursuit. That sounds noble until you realize it's neither healthy nor attainable. Instead of perfection, too many people simply end up putting themselves and their team at risk.
Yes, you can make the argument that this is her job, and she should have shown up to work just like the rest of us are expected to do. It's not an unreasonable question to ask why you still have to show up if all a pro athlete has to do is talk about having too much pressure and they're given a pass.
To that end, a common take on social media seems to be that Biles was selfish and didn't want to be embarrassed and therefore left her teammates hanging. I think it's fair to judge her based on her record, not on her worst moment on the world's largest stage. And that record is impressive when you consider that she hasn't lost an all-around title in eight years.
During that time, she became the most dominant athlete her sport has ever seen, and the most decorated American gymnast ever. It's probably OK to give her the benefit of the doubt. If Biles felt she couldn't perform her best for her team, the responsible thing to do is to step aside and cheer them on.
"I knew that the girls would do an absolutely great job, and I didn't want to risk the team a medal because of my screwups," Biles said. "Because they've worked way too hard for that."
"You have done all the training, you can do this without me and it will be just fine," Biles responded when asked what she told her team. By the way, as a leader, that is the goal.
And, if nothing else, her teammates saw that even the greatest is still human, and that's OK. It's OK to not always be at your very best. The important thing is what you do when it happens.
Jul 27, 2021