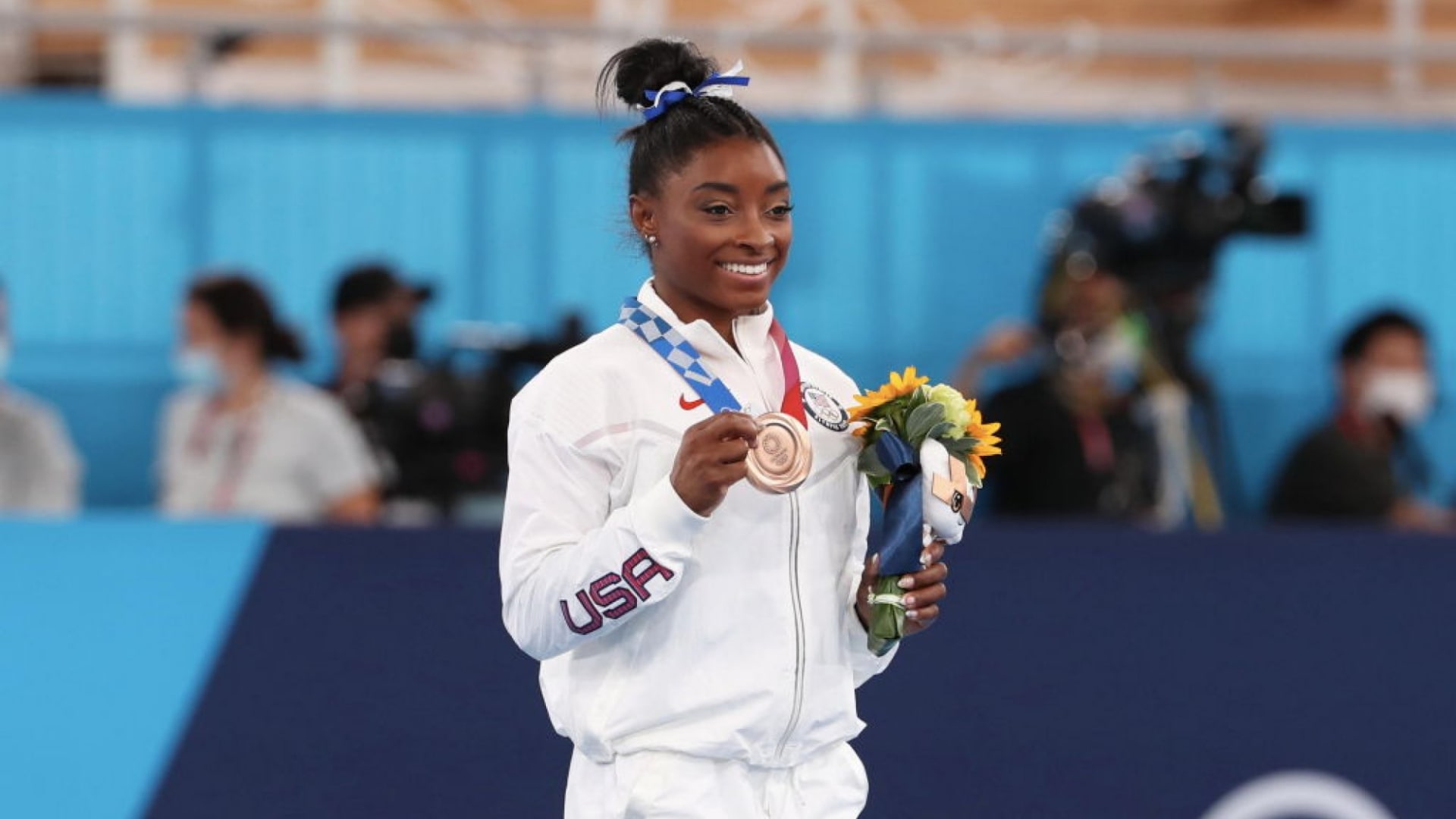 You could see it in the smile. There was something different about this performance, and about this medal. Simone Biles' performance on the balance beam, the final event of this Olympic gymnastics competition--and perhaps her Olympic career--didn't win her a gold medal, but it was the performance of a champion.
This Olympic competition was supposed to be the crowning event in the career of the most dominant gymnast of all time. Biles was the favorite to win four or five gold medals in Tokyo, after bringing home four gold and a bronze in 2016. It was to be one of those incredible stories--the kind people talk about for generations.
Instead, it became a story for an entirely different reason. After a bad landing on her vault in the first rotation of the team competition, Biles pulled out of the team competition altogether.
At the time, she explained that she wasn't where she needed to be mentally, and withdrew so that she wouldn't risk injuring herself or costing her team a chance at a medal.
"I knew that the girls would do an absolutely great job, and I didn't want to risk the team a medal because of my screwups," Biles said. "Because they've worked way too hard for that." Team USA ended up with the Silver medal--which isn't the gold everyone expected--but is certainly a testament to the resilience of those four gymnasts.
Then, the unthinkable. Biles wouldn't compete in the all-around competition, for which she was widely favored. She also stepped back from the vault, floor exercise, and uneven bars. The most dominant gymnast of a generation was taking a pass on adding a few more medals to her legacy.
Her reason was that she was experiencing a case of "the twisties," a phenomenon where a gymnast loses her ability to sense where she is in the air, making it dangerous to fly through the air trying to contort your body into a position where you can land on your feet instead of, say, your head. It's as dangerous as it sounds in a sport where the margin for error is so small.
Biles took plenty of criticism from people, many of whom I suspect have never been inside a gymnastics meet, or even a gym. She was accused of being a quitter--of bailing on her team when it needed her the most. That she took the easy route.
For me, that math never quite added up. For someone as accomplished as Biles, stepping aside had to be excruciating. Acknowledging that the reason was due to her mental health is far braver than enduring for the sake of some arbitrary standard that says 'champions never quit.' Or, that champions are capable of perfection.
Michael Phelps, the greatest Olympian of all time, spoke in support of Biles, adding that he hoped her action might finally spur a change in how we look at mental health among elite athletes.
"Maybe we'll actually be able to help athletes," Phelps told NBC. "One of the things I've been most frustrated with is the lack of change and the lack of support we have for mental health before competition and post competition."
Listening to Biles talk about the mental struggle she was facing, compounded by the fact that lost an aunt who passed away while she was in Tokyo, makes what came next even more incredible. On Tuesday, she competed on the balance beam and won a bronze medal. It brings her total Olympic medal count to seven, tying her with Shannon Miller for the most ever by a U.S. woman gymnast.
The balance beam has never been Biles' strongest event. In Rio, she also took home a bronze medal. It just happens to be an apparatus that doesn't require twisting the way the vault or floor exercise does.
It does, however, require an intense amount of control over your body, and a finely-tuned sense of balance. For most of us, just standing on a balance beam is scary enough. For someone having a bad week, flipping around on a four-inch-wide beam has to be terrifying.
But Biles got back on the beam. By doing so, after the week she had, Biles showed not only that her legacy is secure, but that she's a true champion.
As a dad of a young competitive gymnast, I was especially proud that when I got up with my 11-year old daughter at 4:45 in the morning, she got to watch her hero get back on the beam and compete. She got to see the greatest gymnast of all time remind all of us that resilience is the most important trait of a champion.
It turns out that was a more valuable lesson than had we watched her cruise to a handful of gold medals. It showed that it's okay to not be okay, and that what matters most is what you do next. That resilience is what defines a true champion. I suspect it's still a story we'll all be talking about for generations.
Aug 4, 2021