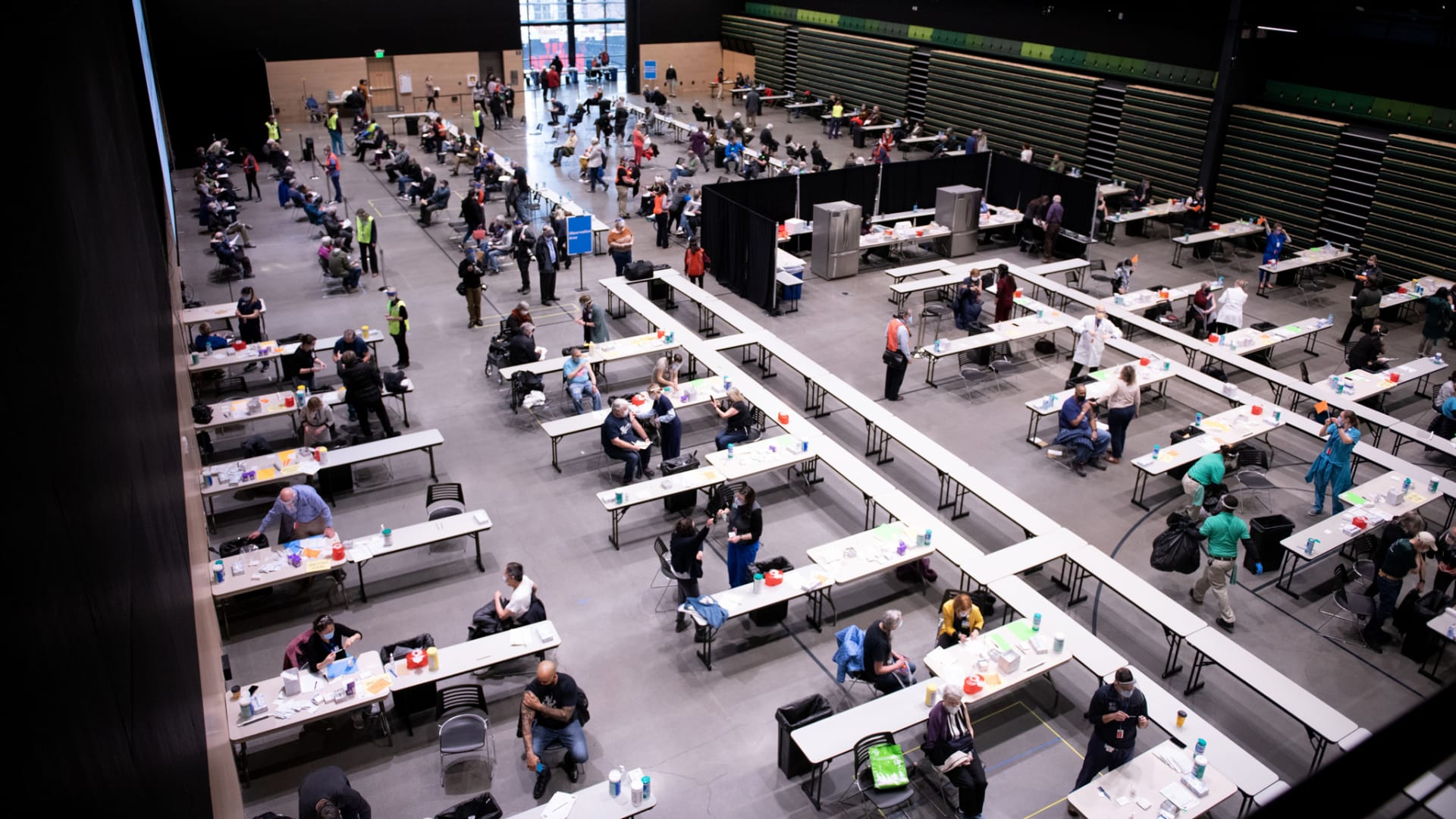 As the federal government is working on getting the Covid-19 vaccine to as many people as quickly as possible, it certainly hasn't been without challenges. The government fell behind its goal of getting 20 million people vaccinated before the end of 2020.
Tech companies are in an interesting position to help. Many of them have empty offices right now. Some of them have vast distribution networks and expertise in getting things where they need to be.
On Sunday, Amazon was host to a pop-up vaccination clinic, hoping to provide shots to 2,000 people. The company also sent a letter to President Biden offering "operations, information technology, and communications capabilities." There aren't many companies better equipped to help with the logistics of getting things to lots of people.
Microsoft has opened its Redmond, Washington, campus as a vaccination site in a partnership with health care providers. And Starbucks has donated the time and expertise of its operations and analytics teams to help design vaccination sites (while continuing to pay those employees).
In normal times, none of these companies would be involved in public health efforts. I think we can all agree these are anything but normal times.
"We are not a health care company," says Kevin Johnson, Starbucks' CEO. "But Starbucks does operate 33,000 stores at scale, serving 100 million customers a week, and we have a world-class team of human-centered design engineers who are working under the direction of the state and health care providers to help support the creation of vaccination centers that can scale and amplify the comfort, care, and safety of every person who gets vaccinated."
Put another way, Starbucks is helping not because it's an expert at giving people vaccines, but because it has the resources to help. It's doing it because it can.
Say what you want about companies like Starbucks or Microsoft or Amazon. Say they're doing it because it makes them look good, or because they're getting something out of it. Honestly, so what? If it helps us get past this faster, I'm all for it. Kudos to all of them.
Imagine if every business that was able to help took that same approach. I have no doubt that many are doing just that, even if we don't hear about it. But there's always room for more. It might be as simple as offering to pick up groceries and set them on the porch of a neighbor. Or, like Microsoft, offering your empty office as a vaccine distribution location.
If nothing else, we've seen over the past 11 months that, when given the opportunity, people will do pretty incredible things. Nurses and doctors get up and go to work every day despite the risk to themselves and their families. Restaurant owners figured out how to keep their employees working and their customers fed.
Maybe the only thing more impressive than that is that scientists have done in months what should normally take years. They've developed, tested, and manufactured safe and effective vaccines that are the key to getting back to normal--as long as they end up in people's arms.
That's something we should all be grateful for, but more important, it should inspire all of us to do everything we can to help. That's how we get back to normal. That's how we get past this pandemic that has cost the lives of more than 420,000 Americans. That's how we save small businesses that are hurting because of lockdowns and customers who are afraid to go indoors.
Jan 26, 2021