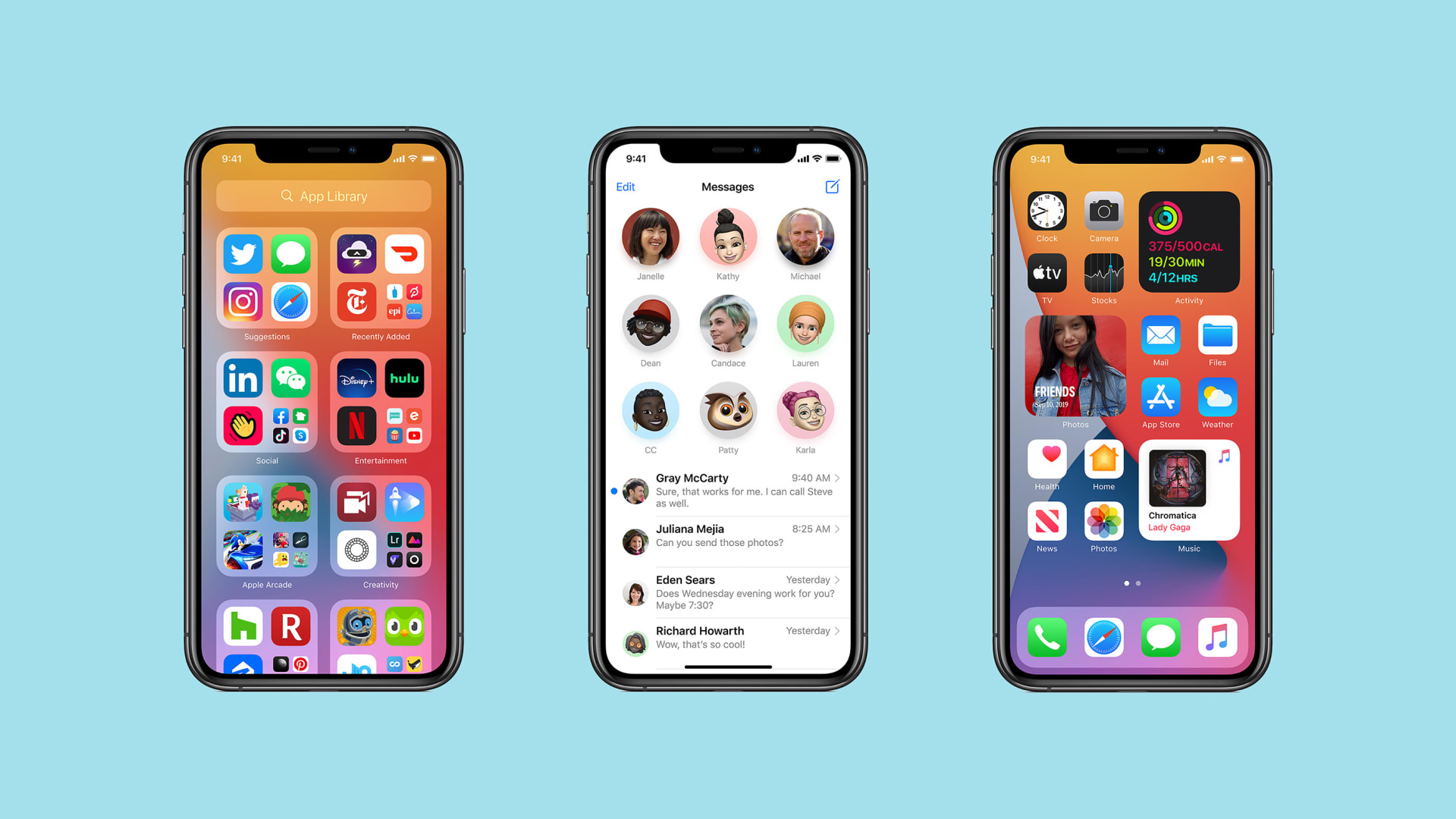 On Tuesday, Apple introduced new versions of the Apple Watch and iPad. While we will just have to wait a little longer for the iPhone 12, at the end of the event, Tim Cook announced that you can download the latest version of iOS 14 starting Wednesday. It's packed with some really great features, and it allows you to change how you interact with your device in a way we haven't seen in a long time.
Of course, you might be wondering whether you should upgrade. If you have an iPhone 6S or newer, or an iPhone SE, you can run iOS 14, but that doesn't everyone should rush to download it.
There's good reason for that. Last year's rollout of iOS 13 was mired with problems, not to mention software bugs. Those issues prompted the Defense Department to advise against downloading iOS 13, but instead to wait for version 13.1.
The beta versions of iOS 14 had far fewer problems than the previous version, but it's worth mentioning that since developers had only 24-hours' notice that the final version was ready to be pushed to phones, it's possible that some of your favorite apps won't be updated yet.
Still, there are a few killer productivity features that might make you want to update your iPhone right now. Here are my favorites:
Widgets
Widgets aren't new to the iPhone, but they've taken a much more prominent role in iOS 14. Now, instead of being confined to the widget drawer, you can add them to your home screen. Apple has created some cool options, including a Smart Stack, which lets you swipe through a series of widgets chosen based on your activity and what Siri thinks you might like. Other developers will be able to add these new widgets as well, though--given the short notice--you may have to wait a little longer for those.
App Clips
At first, I wasn't sure whether I'd classify App Clips as a productivity tool, but considering that they can save a lot of time and streamline a variety of processes, I'm coming around. These are a lite version of an app that you don't have to download.
Instead, when you place your phone near an object that features Apple's new QR code, the App Clip loads, making it easy to order food from a vending machine, pay for parking, or rent a bike. All of the things that used to be a little less convenient because you had to download an app and create an account--all of which took time--just became a lot more intuitive and fast.
Messages
Apple's Messages app has always been the best-in-class, at least for mobile messages. Still, it lagged behind dedicated communication tools like Slack because it was limited in the features that matter. Now, Apple has added a few much-appreciated features.
The first is the ability to pin important messages to the top of the app. This is a great way to easily access messages with the contacts you communicate with most often without having to scroll through a long list.
The other major area where Messages has improved is in group chats. You can now tag individual recipients, create threaded replies within a group chat, and set your notifications to only alert you when someone has tagged you. I don't think it's likely that Messages is going to replace Slack any time soon, but it definitely got a lot more useful.
AirPods
The beauty of the AirPods is that once you connect them to your iPhone, they are automatically paired, via iCloud, to all of your devices. The problem is, you still had to manually connect them each time you wanted to switch between, say, your iPhone and your Mac.
With iOS 14, AirPods get smarter, and are able to automatically switch between devices based on what you're doing. That way, when you stop listening to a podcast on your iPhone, and instead join a Zoom call on your Mac, the AirPods will automatically switch the audio for you. When you're done, if you decide to take a break and watch Ted Lasso on your iPad, your AirPods will follow without you having to manually select them on each device.
App Library
Finally, Apple will also now let you hide apps from your home screens and instead place them in an App Library. Android has had this basically forever, and it's long overdue on iOS. In fact, you can even hide entire home screens. This is perfect for apps you'd like to keep on your device because you use them occasionally, but would rather not have taking up space on your home screen. It also helps reduce the distraction of staring at a device with hundreds of apps and folders, each silently begging for your attention.
If you're ready for iOS 14, I recommend first backing up your device, either to your Mac or to iCloud. That'll protect your data and allow you to restore it in case something does go wrong.
Sep 17, 2020