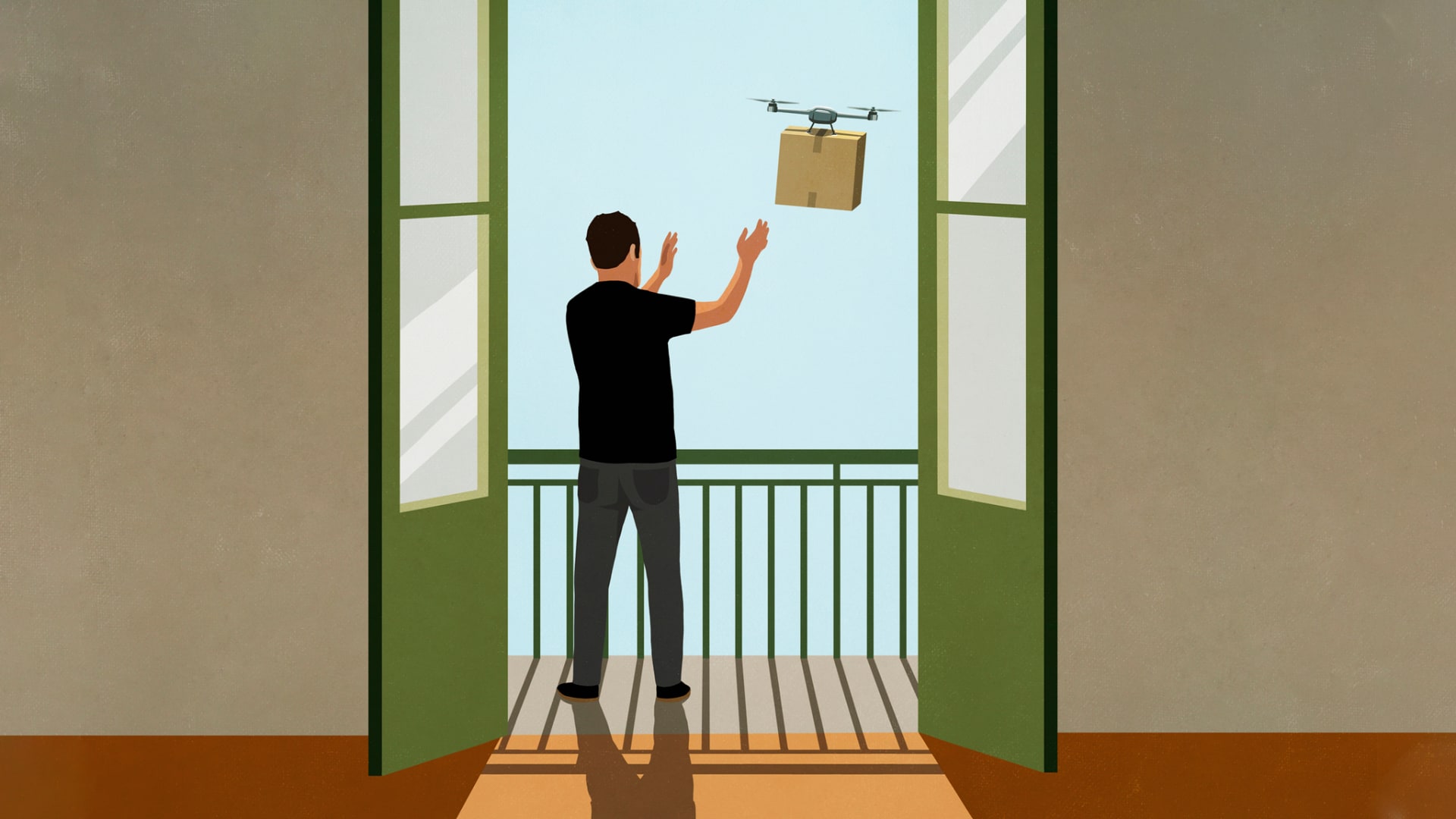 The retail giant announced it is testing out a program to use drones to deliver groceries and other products to your doorstep. For now, it's only available in Fayetteville, North Carolina, but this is just the latest move in an increasingly intense battle with Amazon to dominate online shopping. That's especially important considering the surge in popularity of online purchasing during the current pandemic.
Walmart and Amazon are very different businesses. Yes, they both sell pretty much everything, but the world's largest brick-and-mortar and online retailers, respectively, have historically taken very different approaches.
Lately, as in the last few years, however, the two have increasingly overlapped in both target customers and tactics. Amazon has done what it could to build out a distribution network that reduces the delay between ordering something online and having it delivered to your door. That's crucial, considering that the longer the delay, the more the convenience of online shopping diminishes compared to, say, just making a run to Walmart.
Walmart, on the other hand, has been building out its answer to Amazon in the form of a formidable online presence, combined with in-store pickup and delivery. There's also the fact that just this summer the company announced Walmart+, its competitor to Amazon's Prime membership.
It's always interesting to watch what two giant corporations will do to get an edge on each other. Especially when you consider that the margin for finding that edge is getting very, very small.
So small, in fact, that Walmart's latest move is to test out delivering those orders by drone. You know, the kind that pick up orders, fly through the air, and then leave them on your doorstep.
Which sort of begs the question of whether this is the logical evolution of fast delivery services. Of course, right now those services have been filled by innovative startups like Instacart, Shipt, and food delivery services like UberEats and DoorDash.
This feels different, however.
"We know that it will be some time before we see millions of packages delivered via drone. That still feels like a bit of science fiction," said Tom Ward, Walmart's senior vice-president of customer products.
And he's right, drones flying through the sky and landing on your porch very much does feel like science-fiction, and not the Jetson's kind. I'm not entirely sure that's a good thing. I'm not entirely sure grocery delivery should feel like science-fiction, but I suppose that's why Walmart is piloting the program in one area.
I also think there's something interesting in that statement. Ward doesn't say that it won't happen, or that Walmart isn't headed in that direction, only that it will "be some time."
The reason this matters is that battles like the one between Walmart and Amazon aren't going away anytime soon. Quite the contrary, we can expect them to continue to escalate over time. That means that as each looks for ways to gain an advantage, two-day and next-day shipping are going to seem dated.
Which, if anything, means that this battle is about to get very interesting.
Sep 11, 2020