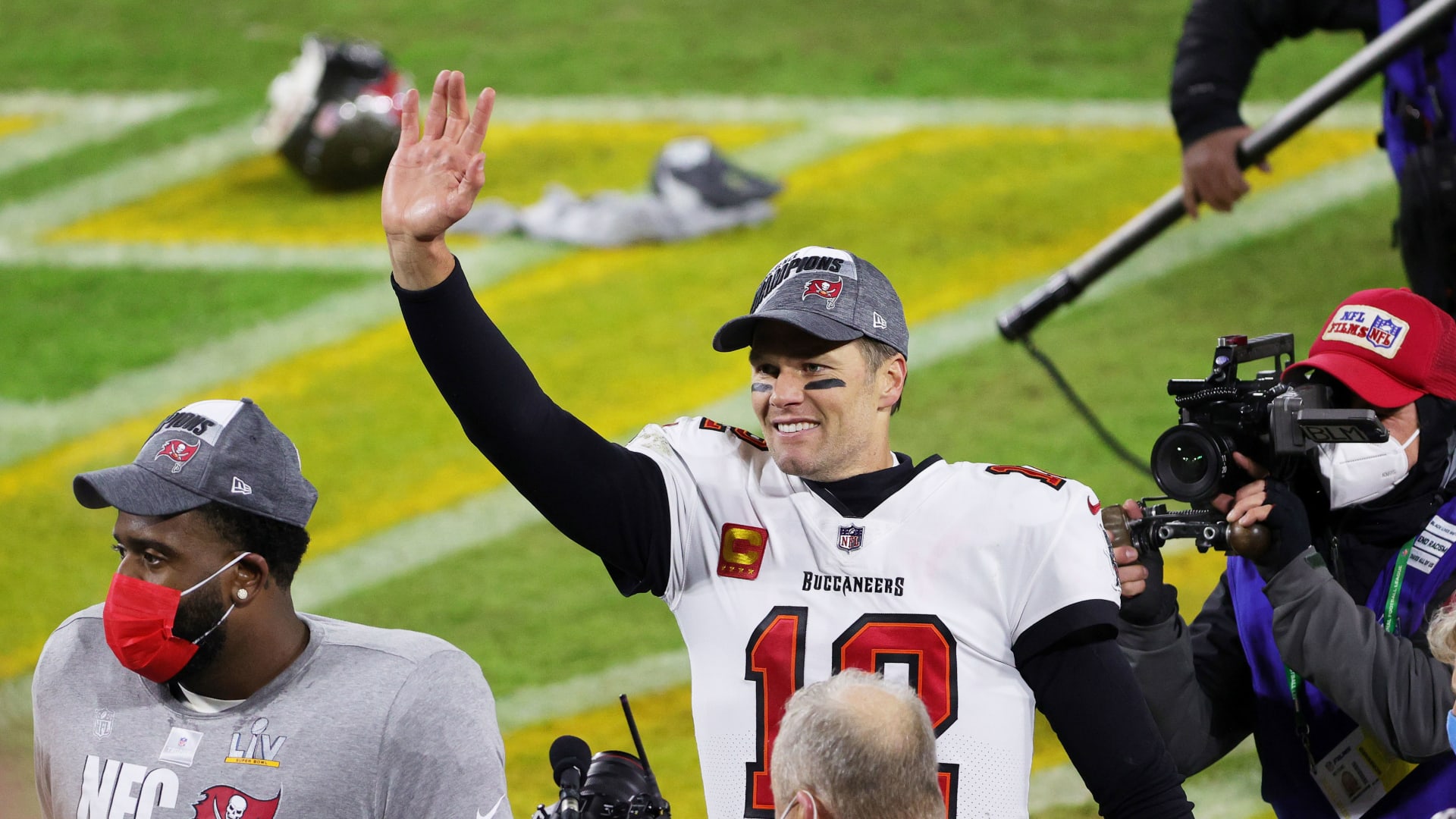 A year after he retired from the NFL, Hall-of-Fame-in-waiting tight end Rob Gronkowski answered his phone. "[Tom Brady] hit me up and was like, 'Would you come down?' And I was like, 'I've been waiting for you. I've been waiting for you to make a move.'"
Three years after the Jacksonville Jaguars made him the fourth pick in the NFL draft, running back Leonard Fournette found himself without a job. "The first guy that hit me when it happened was Tom," Fournette says. "I've [known] Tom and Tom hit me like, 'Man, I would love for you to come help us out.'"
After a tumultuous (to put it mildly) 2019 season that left him out of a job, wide receiver Antonio Brown joined Tampa Bay in mid-season after serving an eight-game suspension. Why take a chance on a perceived "me first" instead of "team first" player? Brady wanted him. (So much so that Brown moved into Brady's Tampa home.)
Fast-forward a few months to the Super Bowl. Gronkowski caught six passes, two for touchdowns. Fournette ran for 89 yards on 16 carries, including a 27-yard touchdown run. Antonio Brown caught five passes for 22 yards and a touchdown.
None of them played for the Buccaneers a year ago.
All were recruited by Brady after he joined the team.
Be a Leader Who Recruits
The average leader only thinks about recruiting and hiring great people when they have an opening.
The vast majority of their time is spent developing the people they have. Building a great culture. Building stronger teams. Improving individual performance. Achieving results.
All of which makes sense.
Great leaders go a step further. Great leaders aren't satisfied with what they "have." Great leaders also work to identify and recruit talented people.
Brady knew Gronkowski had more in the tank. Brady knew Fournette was a punishing, physical runner who would add a different aspect to the Bucs' ground game as well as much-needed depth. Brady knew that his on-field connection with Brown could flourish, especially if he spent time building their off-field relationship.
That doesn't mean Brady thought poorly of his existing Tampa Bay teammates; after all, he chose to join that organization because he felt it gave him the best chance to return to a Super Bowl.
But he also knew that attrition is a fact of life in the NFL.
No matter how great your current team, someday, someone will leave. Several someones will leave.
Instead of waiting until that happens, think ahead. Spend a little time each week looking for great people to add to your team. Make connections. Take notes. Stay in touch with people you may want to hire down the road.
Instead of putting together a list of potential candidates to replace Alicia when she gets promoted or moves on, have a list of your own ready.
Start looking now -- before you have a need.
Then, spend the rest of your time developing the people you currently lead. Best case, you'll never have to pull out your list.
But if you do need it...you'll be ready.
And Hire Leaders Who Recruit
A friend who owns a 4,000-employee manufacturing business applies an unusual filter to job candidates.
"By the time you're on your third or fourth job," he says, "if a person you worked for hasn't recruited you to work with them at their new job, that's a bit of a red flag."
To him, that means the candidate hasn't built solid professional relationships. It means the candidate hasn't developed a level of reliability and trust that causes someone to say, "If I want to succeed at my new job, I need to bring her with me."
On the flip side, that means the individual doing the recruiting needs to be the kind of leader, and the kind of person, that people want to team up with.
Gronk, Fournette, and Brown were clearly the kind of players Brady wanted to play alongside. Brady is clearly the kind of athlete -- and leader -- they wanted to play alongside.
Success attracts success. Great people want to work with great people.
You may not be Tom Brady. (I'm certainly not.)
But you can start identifying great talent now -- before you have a need. And you can make sure they're the kind of people that others would want to follow. Even if you don't need them to bring talented people along, the fact that great people would speaks volumes.
Then make sure you're the kind of leader, and person, that great people want to work with.
Because it all starts with you.
Feb 12, 2021