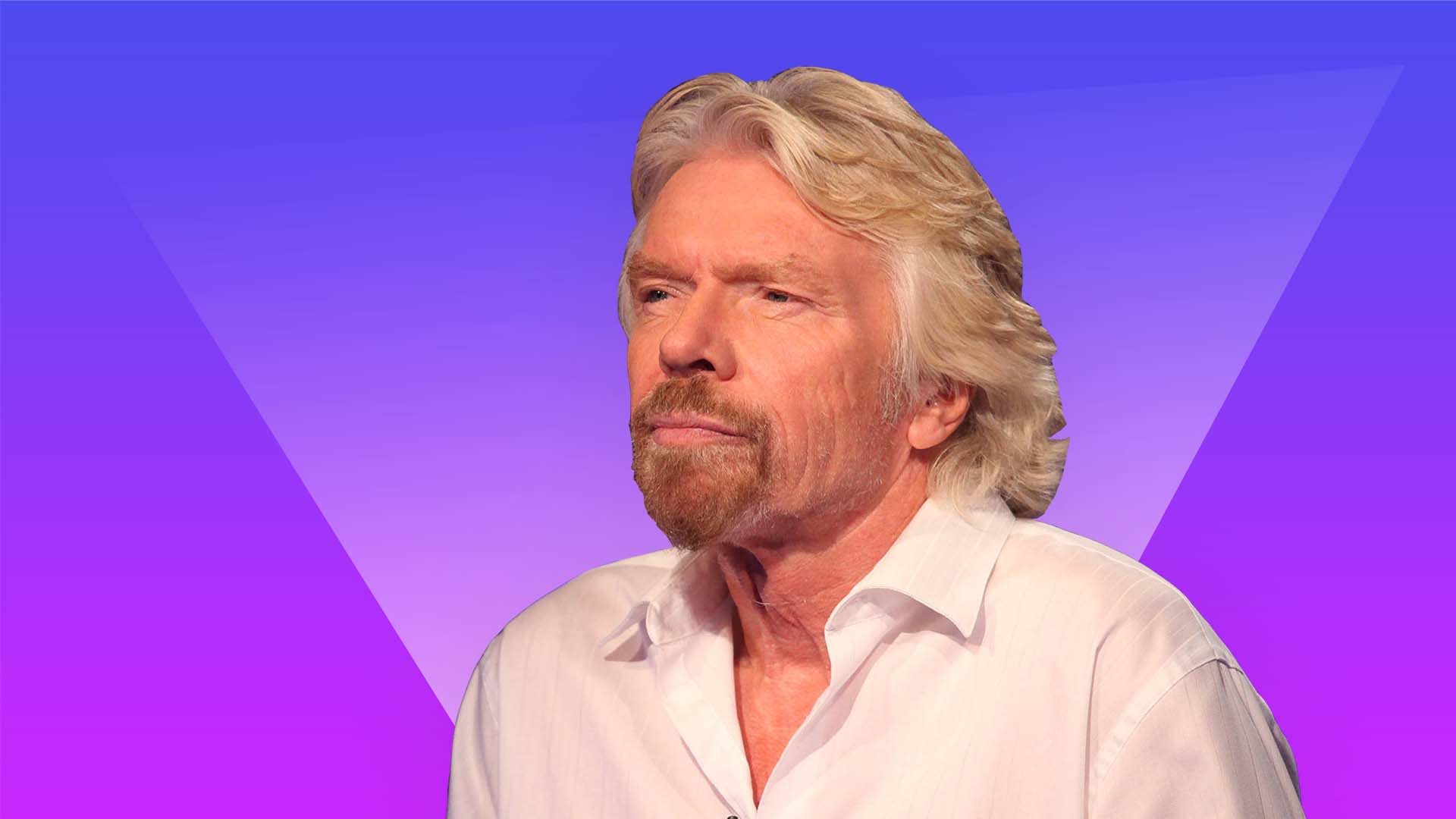 Thirty-six years ago, Richard Branson sat in an airport waiting to board an American Airlines flight to the British Virgin Islands. Then the airline canceled the flight.
Frustrated, the 28-year-old Branson went to the back of the airport and used a credit card to hire a plane. He borrowed a blackboard, wrote, "Virgin Airlines: One-way to the Virgin Islands, $39," walked around the airport, and managed to fill every seat the plane. When the flight landed one passenger said, "Sharpen up the service a bit and you can be in the airline business."
The next day Branson called Boeing to ask if they had any used 747s for sale.
Even though starting an airline hadn't been on Branson's radar -- until his flight got canceled.
That story epitomizes Branson's entrepreneurial career: Not just recognizing (because everyone has good ideas) but then seizing opportunities to build brands that provide better service, better quality, better experiences, better something (or hopefully everything) than established brands.
Fifty-six years after starting his first business at the age of 16, the Virgin Group is made up of over 40 different companies in sectors like travel, hospitality, financial services, media... and even space. Branson's career serves as a master class in starting businesses.
Branson's class on Disruptive Entrepreneurship was just released on MasterClass, the online learning platform where subscribers get unlimited access to over 150 instructors like Sara Blakely, Bog Iger, Malcolm Gladwell, Howard Schultz, and even Metallica. (His class also features a 50-page downloadable Class Guide with stories, tips, and a list of books he recommends.)
I watched it last week. It's great: Part nuts and bolts, part career retrospective, completely inspirational.
Take diving in to seize what you believe is an opportunity when others don't, without even trying to ensure the numbers work. That's lesson two, "Lighting the Fire With Your First Ventures."
"Take Virgin Atlantic," Branson says. "If I'd gone to a firm of accountants and said, 'I run a record company. I'm thinking of buying one second-hand 747 to take on British Airways with their 300 planes, and Pan Am with their 300 planes... could you tell me whether or not we're going make money or lose money? I knew what the answer would be, so I saved the money on accountants and just felt screw it, let's do it. Let's give it a go. The worst that can happen is we fall flat on our faces. The best that can happen is that in a year's time people love the experience and we'll add a couple extra planes. And that's what happened."
He took the same approach with Virgin Voyages, his latest business venture. Branson instinctively felt there were enormous amounts of people who would never go on a voyage. (He was one of those people.)
He felt that creating a fun Virgin experience, for adults only, would not only win over current cruisers, it would also open the market up dramatically.
"The great thing," Branson says, "is that having built the Virgin brand over many, many years, people will give us a go when we launch a new venture. We just have to get it right. Fortunately, we have teams of people who have worked with different Virgin companies for many years. The person who designed the upper class lounge at Heathrow also designed the cruise experience; people don't mind if the plane gets delayed because they love being in the lounge." (Laughs.)
That's lesson eight, "We, Not Me: Bringing Value Out of Your Team."
Yet while all that sounds fairly big picture, Branson is also a stickler for detail. He didn't just enjoy the experience of going into space, he carried a notebook, took notes, and returned with ideas for making the experience even better for the next person.
"A lot of people who run companies," Branson says, "do not listen. They don't take notes. They don't get back to people when they have good ideas, or have problems... and that's the primary reason people leave companies."
That's lesson nine, "Listening Deeply and Getting Things Done."
And here's the best part.
"Everything I've done in my life has been instinctive," Branson says. "Having to analyze why I do things was an unusual challenge for me. I would tell a story and then I would think, 'I'll have to give a reason for that.' (Laughs.) I left school at fifteen, so literally everything I know comes from keeping my eyes open and learning from the real world."
And from, as Steve Jobs once said, letting the dots connect themselves in hindsight. Sir Richard's parting words for aspiring entrepreneurs whose dream is to start a business, but haven't?
"Don't ask everyone whether it's a good idea," he says. "The best way to find out whether it's a good idea is to try it. If you fall flat on your face, pick yourself up, try again, and again, and again, until you succeed."
That's the biggest lesson you'll draw from Branson's class on MasterClass.
Branson -- a dyslexic high school dropout -- didn't assume successful people had special talents or gifts from the startup gods he did not. He applauded their success and thought, "That's awesome... and if he or she can do that, why not me?"
Watch Branson's class, and you'll also think, "Why not me?" You'll realize that, when you're willing to dream big and work hard, there are no reasons why you also can't succeed.
At least none that matter to you.
Aug 4, 2022