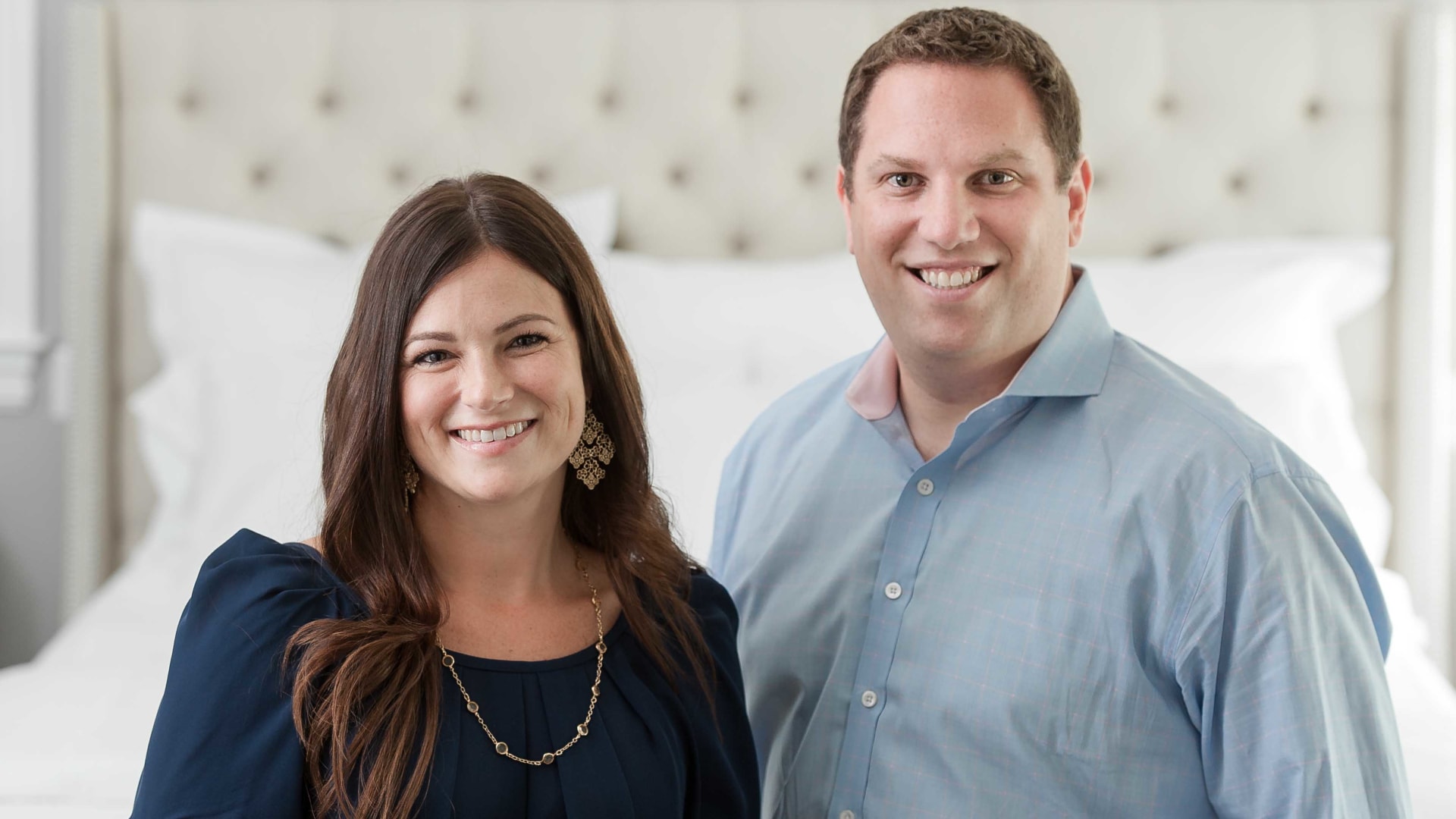 In late 2012, Missy and Scott Tannen needed to buy sheets for a new king-size bed. Unsure of how to choose sheets, Scott decided to do a little research.
By the next morning, Scott realized that thread count -- in a world where big numbers are seemingly better than smaller numbers -- indicated neither comfort nor quality. Nor did the source of cotton, since most "Egyptian" cotton is actually grown elsewhere. And as for the industry's level of socially responsible sourcing and sustainability? Eek.
So the Tannens started Boll & Branch, a luxury bedding company. They felt they had found an industry with no market leader, significant consumer participation, and a real opportunity to upgrade quality standards and social impact.
Still, even the best building blocks don't spark startup success.
"Just don't lose the house," Missy said.
We'll get back to the house in a moment.
A Big Gamble ...
As a self-financed company, Tannen spent most of Boll & Branch's money in its early days on developing products and, most important, developing its supply chain. Working directly with farmers through cooperatives. Working directly with dyers and weavers. Developing a proprietary weave. Meeting Fair Trade standards.
By 2014, Boll & Branch was doing over $1.5 million in sales, largely through PR and word of mouth.
"If it was free, we were into it," Tannen laughs. Six weeks after launch, Boll & Branch was mentioned in a Wall Street Journal article about textile sustainability during a time when few companies in the fast-fashion home sector were built on a foundation of sustainability.
Even so, the company struggled to grow through earned media and customer referrals alone. Then, one day, Tannen thought about Howard Stern. Tannen, a long-time listener, knew about Stern's skills as a marketer.
"Howard is clearly a broadcasting genius," Tannen says, "but what many people ignore is that he's also a marketing genius. I've bought so many things because of that show. I bought Avion Tequila, and I don't drink tequila. I buy Tommy John underwear. So, yes: I trust Howard."
Tannen received a quote for advertising on Stern's show. But he hesitated to write the check.
"I really felt Howard and Beth [Stern's wife] would love our products, would love what they stand for," Tannen says, "so I sent some for him to try, and we heard back that Howard legitimately loved them."
Then Tannen was ready to move forward -- except at the time Boll & Branch was doing less than $2 million in annual sales, and the minimum ad spend commitment was six to seven figures.
So Tannen, after talking with his wife, decided to bet his house, using it as collateral against a U.S. Small Business Administration-backed loan.
"Yep," Tannen says, "I literally mortgaged my house."
... That Paid Off
Fortunately, within six months, Boll & Branch was doing more in monthly sales than the previous year's total.
Yet rapid demand growth created a new set of problems. "We were shipping our products from India to the states by plane," Tannen says. "Which was OK. While we weren't making any money, we were breaking even -- and in the process finding new customers and generating massive brand awareness. That period really put us on the map."
Today Boll & Branch, a company that generates more than $100 million in annual revenue, spends significant sums on advertising. But not on actors for radio commercials, especially early on.
"At the time, founders weren't doing their own ads. My wife and I started the company with our own money, we had mortgaged our house ... so it was a lot cheaper to use me than someone else," Tannen laughs.
Marketing efforts have expanded beyond satellite radio. Digital. Terrestrial radio. Television. Podcasts, which Tannen admits can be hit-or-miss.
"Podcast advertising reminds me of print advertising," Tannen says. "With print, you had to hope your ad appeared on a page facing an article people cared about. With podcasts, it's the same. It's not just the show, it's the specific episode. Advertising on one episode of a particular show will be phenomenally successful, and yet on the next episode, no one will care."
But "hit or miss" is something Tannen feels didn't -- and still does not -- apply to the Stern show.
Or to Stern himself, who Tannen describes as the "best marketer on the planet." Early on, Boll & Branch saw its two primary messages -- comfort and quality, and social responsibility -- as separate messages.
"Howard's show is so successful because he understands how to reach people," Tannen says. "When he started talking about our products on the air, I learned more about how to market than I would ever have figured out myself. Howard would say, 'I love the way the sheets feel, there's nothing on earth that is better, and that's because they're using a cotton no one else is using ... '"
That led to combining comfort and quality with social responsibility into one message: A commitment to responsibility is an investment in quality and customer experience. The sheets are so comfortable because of the way they are sourced and manufactured.
Which leads to a final point.
A startup with sufficient funding can buy sales; you can buy as much revenue as you want, at least until the money runs out.
Actually making money -- or at the very least, funding operations through ongoing revenue -- requires spending every advertising dollar as wisely as possible.
And taking intelligent risks.
For Tannen, that first meant betting he had created a product Stern would love.
Then he felt comfortable betting on the level of engagement the Stern show audience has with Howard.
Because the best advertising message, the one that truly resonates with an audience, is always genuine.
Whether it comes from you, as the founder, or from the people you trust to spread the word.
Feb 3, 2021