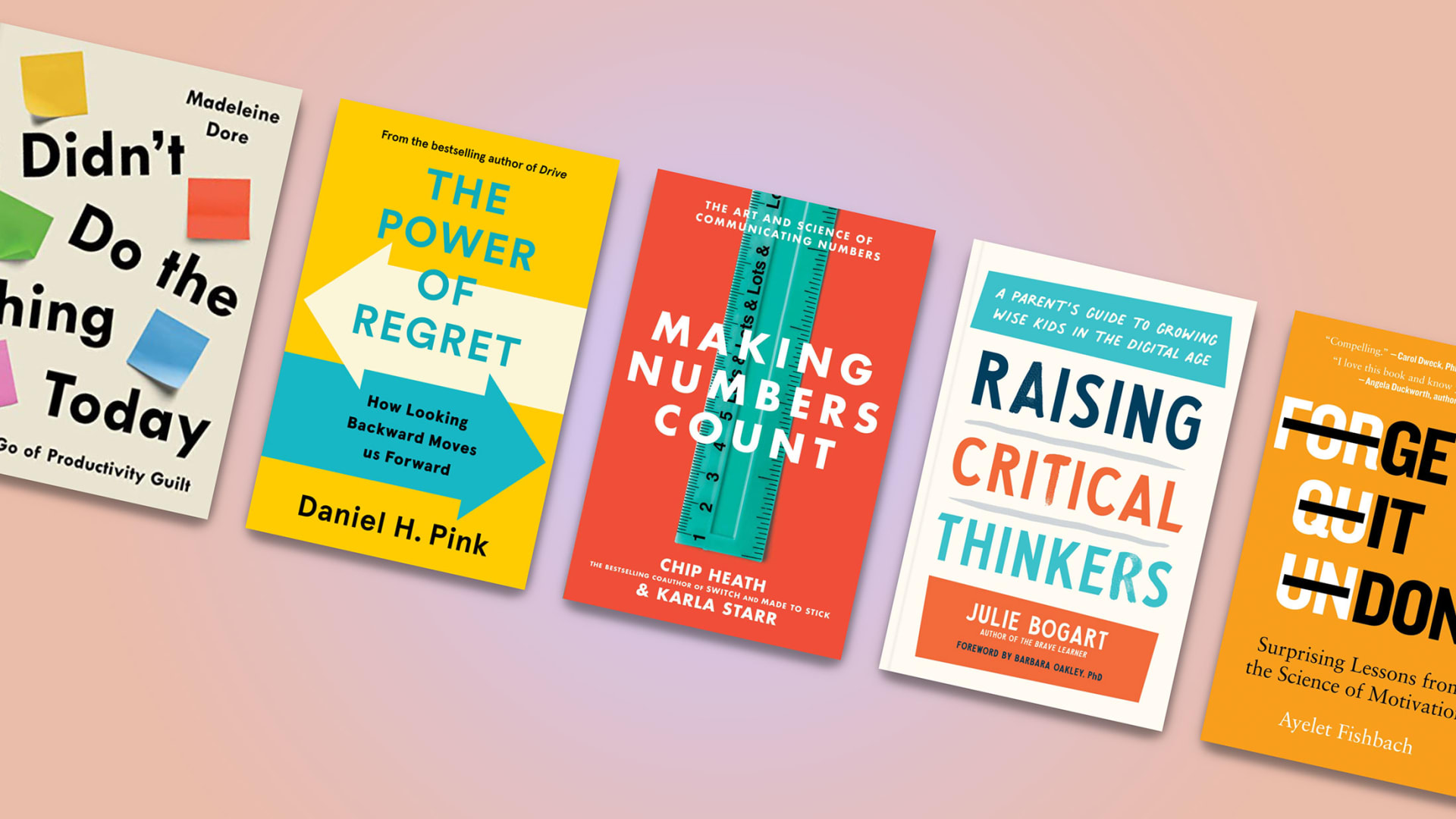 I don't know about where you are, but in my corner of the world it's miserably cold this week. The days are short, the skies gray, and leaving the house a trial. When the weather's like this, it's easy to get down about, well, just about everything.
Which is why I was so excited when the latest edition of Adam Grant's newsletter arrived in my inbox promising books to "brighten up winter." The bestselling author and star Wharton professor regularly offers book recommendations, but this latest batch seemed particularly well-timed for those, like me, who just want to hide away with a good book until the weather improves.
And these aren't just any old books. Grant's selections offer optimism to counter some of our gravest worries and advice to practically improve your life this year. So grab a cozy blanket, make yourself a cup of tea, and prepare to curl up with a book that will make you feel a little warmer and more hopeful despite the gloom outside.
1. The Power of Regret by Dan Pink
A book about regret doesn't sound super cheery, but Grant explains the latest title from his "favorite writer on work and life shatters the myth that you should live with no regrets--and reveals how to make missed opportunities and foregone identities work to your advantage." You might not be able to avoid regret, in other words, but you can channel it productively.
2. Toxic Positivity by Whitney Goodman
I've written a bit about toxic positivity on Inc.com before, so I'm curious about this book from a therapist offering a deeper look at our "culture where too many people suppress unpleasant emotions and silence the suffering of others." Goodman "walks you through strategies for sitting with your own painful feelings and making space for friends, family, and colleagues to express their struggles," Grant goes on to explain.
3. The Power of Fun by Catherine Price
Now this sounds like a book to cut through the gloom of even the coldest, darkest days. "A joyful journalist offers a road map for making your days less dull, putting play on your to-do list, and moving from languishing to flourishing," says Grant.
4. I Didn't Do the Thing Today by Madeleine Dore
5. Get It Done by Ayelet Fishbach
If your problem isn't productivity guilt, but instead an actual lack of productivity, then maybe skip the title above and advance straight to this one from a social psychologist offering "surprising and useful insights for closing the gap between your intentions and your actions," according to Grant.
6. Stolen Focus by Johann Hari
If your New Year's resolution was to be more focused this year, then this is the book for you. Grant describes the author as "a thoughtful critic of our modern malaise" who "explains why we've lost the capacity to concentrate, and how we can win the war on distraction."
7. Making Numbers Count by Chip Heath and Karla Starr
8. The Eye Test by Chris Jones
Worried about the future of humans in a world of increasingly sophisticated A.I.? Then pick up this optimistic book. "A journalist convincingly illuminates when the patterns of the past don't always predict the future, why we need people in the analytics equation, and how data can inform human judgment rather than replacing it," says Grant.
9. Raising Critical Thinkers by Julie Bogart
It's been a hard couple of years for parents in part because of misinformation-driven division and discord. You can't do much to make other adults more thoughtful, but you can channel your frustration into ensuring your kids grow up to do better. In this book, Grant says, "an influential educator delivers a guide to teach your kids to become thoughtful consumers of information."
10. The Revenge of Power by Moises Naim
If it's politics that has you stressed this winter, then perhaps the cure is this book by a foreign policy expert explaining "why authoritarians and autocrats have risen around the globe--and how we can defend democracy in our own backyards."
11. The Black Agenda edited by Anna Gifty Opoku-Agyeman
"An award-winning founder and change-maker brings together prominent Black scholars to examine what we can do to fight systemic racism and build a more just world," writes Grant of this book. Now that's a worthy goal for 2022.
12. From Strength to Strength by Arthur Brooks
This book, set to be released in mid-February, is aimed at those of us staring down the second half of our life and worried about the future of our careers. "The social scientist who wrote a viral article on middle-age career decline examines how we can reverse that trend to find happiness, meaning, and success in the second half of life," says Grant.
Jan 25, 2022