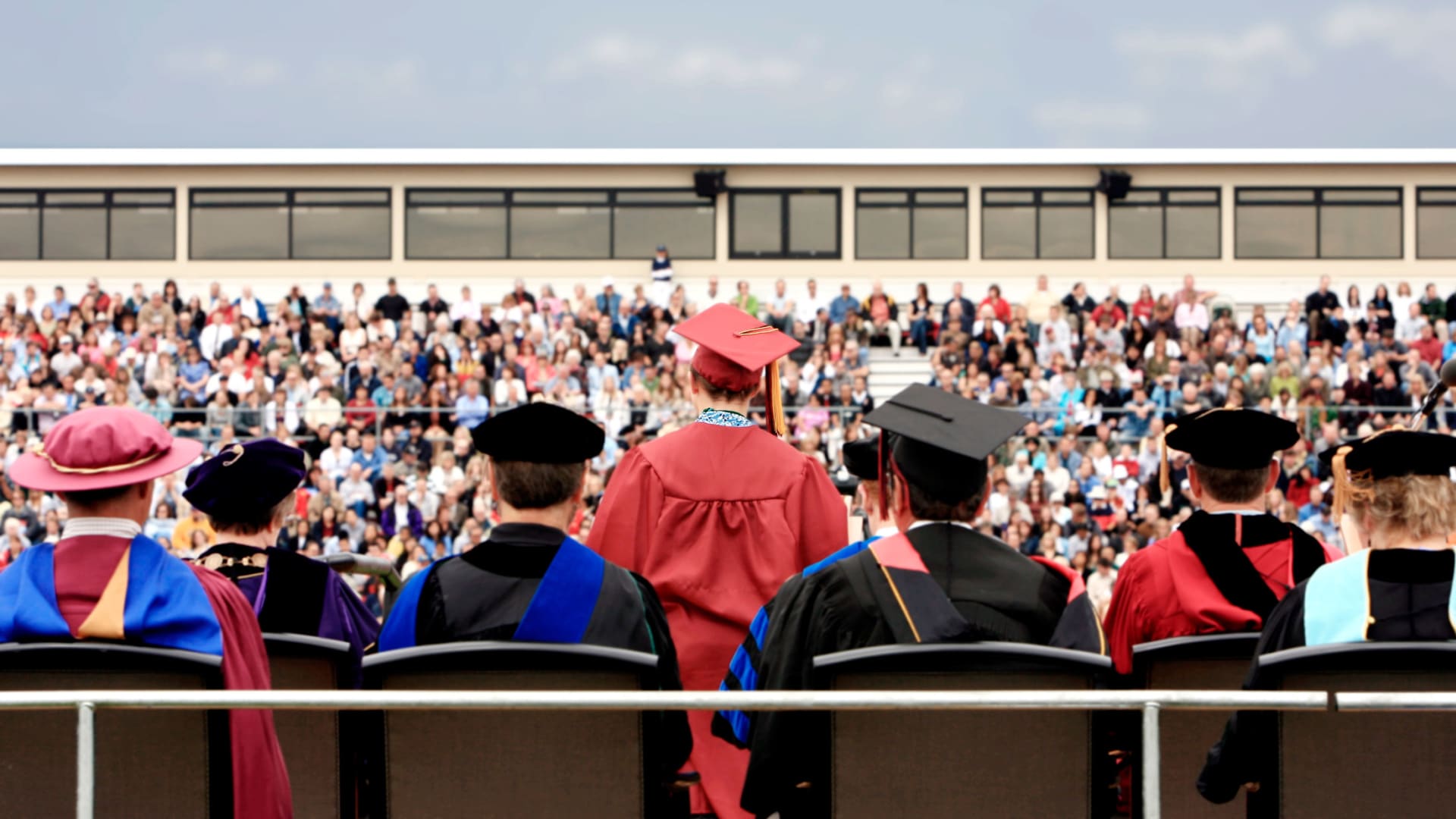 My own college graduation speech is a complete void in my brain, and, with a handful of notable exceptions, nearly every commencement speech I've ever read or heard has been equally forgettable. Still, with so many high-powered and super successful people handing out free advice, there surely must be a few diamonds hidden in this massive mountain of cliches and congratulations.
Luckily, someone else has unearthed them.
100 speeches boiled down to four lessons.
"I've spent the last few years gathering and coding hundreds of life stories, looking for patterns and takeaways that could help all of us live with more meaning, purpose and joy. I decided to put some of my coding tools to work, analyzing 100 of the most popular recent commencement speeches," he explains.
Better him than me. What did he find through this heroic act of service? Feiler insists all these commencement speeches boil down to the four basic but essential life lessons.
Dream big. Whether it's Vice President Kamala Harris imploring, "Graduates, we need you," or Google co-founder Larry Page offering the counterintuitive insight that "it is often easier to make progress on mega-ambitious dreams," speaker after speaker comes back to this basic point: Don't sell yourself short before you even try. Self-doubt is a part of life, but we are all capable of doing so much more than we think we can on our least confident days.

Work hard. Huge dreams are a necessary starting point, but pretty much every speaker agrees that achieving them requires immense amounts of simple hard work.

Make mistakes. "My experience has been that my mistakes led to the best thing in my life," Taylor Swift told NYU grads this year. She's just the latest in a long line of speakers urging grads to view setbacks as inevitable learning experiences rather than dream-ending catastrophes.

Be kind. "What I regret most in my life are failures of kindness," writer George Saunders told Syracuse University grads in 2013. He's one of many speakers offering a reminder that while striving is wonderful, the point of all this striving is improving life for our fellow humans. Simple acts of kindness are the surest way to advance that mission and live a fulfilling life.
Are these earth-shattering insights? Absolutely not. These are some of the most roundly agreed on pieces of advice in the world. But just because advice is common as dirt doesn't make it worthless. The fact that all these exceptional people offer such unexceptional advice might even be a worthwhile lesson in itself.
Obvious does not equal worthless.
Few of us may have the songwriting gifts of Taylor Swift or the tech skills of Larry Page, but the basic tools these superstars used to rise to the pinnacle of their professions aren't rare or flashy. They dream big, work hard, keep at it, and play nicely with others--just like the rest of us.
Feiler's deep dive into commencement speeches past just underlines the importance of fundamentals like hard work, empathy, and resilience. Which suggests most of us should spend less time trying to ferret out secrets and shortcuts and more time just getting on with our dreams.
Jun 9, 2022