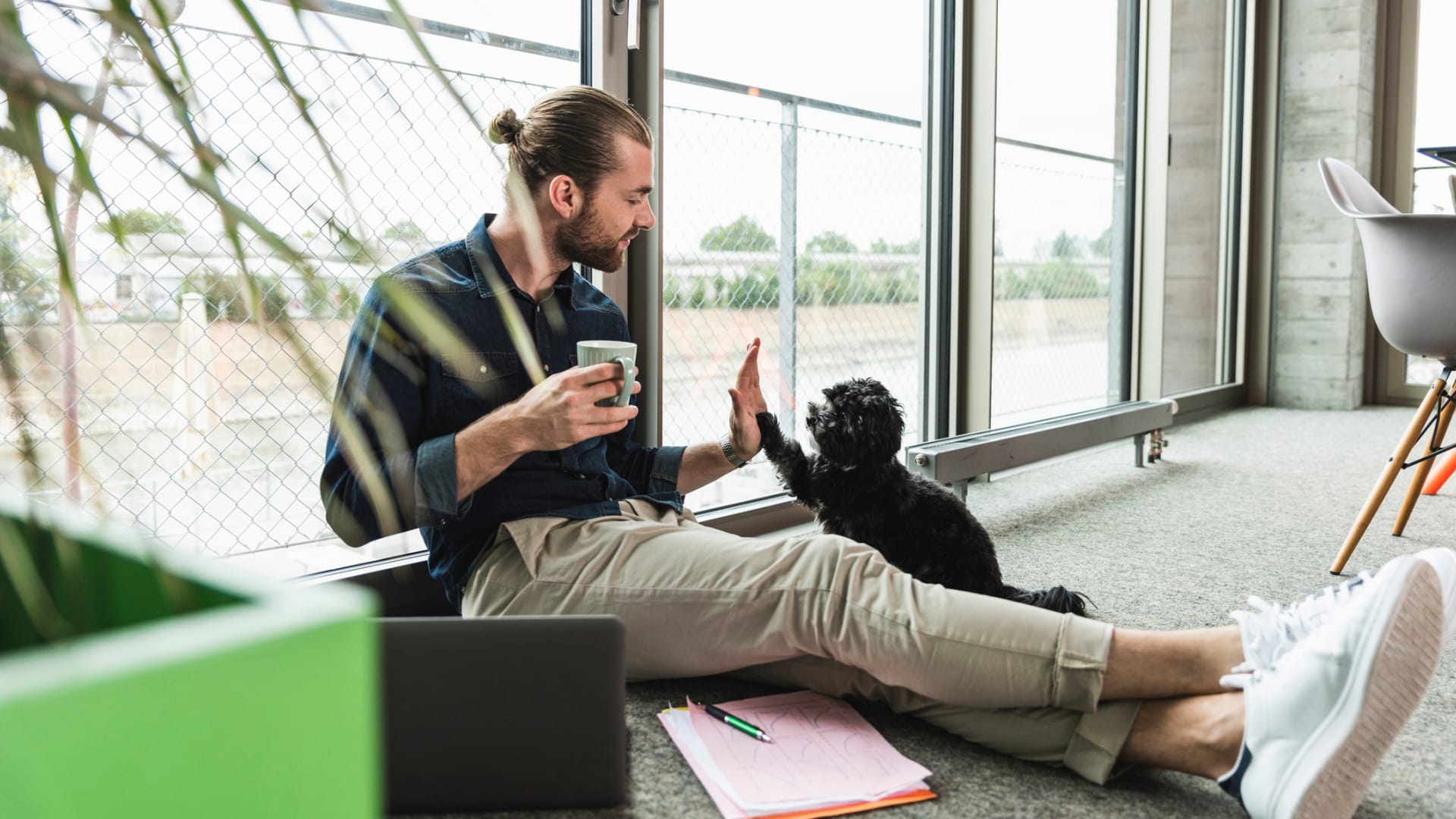 Just about everyone had a lousy time the last two years thanks to Covid, with one notable exception: America's dogs. Thanks to lockdowns, pets across the nation suddenly had their fondest dreams fulfilled as their humans were home with them 24/7. Shelter pets got good news too as adoptions skyrocketed among lonely, housebound Americans.
How the Great Resignation is leading to incredibly pampered pets.
"Employees are in a unique position right now with more freedom and choices when it comes to finding the right workplace for themselves, and their dogs. One trend we're noticing is a rise in dog-friendly workplaces," Jovana Teodorovic, head of people and culture at Rover, tells Inc. Her company found that more than one quarter of the companies it surveyed this year plan to make new dog-friendly accommodations.
But allowing pets in the office is just the beginning of the pet-friendly perks Rover uncovered. Teams that are staying remote for the moment are still finding ways to include beloved pets into the workday. "Many companies are maintaining a dog-friendly culture with dog cameos on video calls (87 percent), virtual introductions to new dogs (74 percent), and swapping dog footage with colleagues (94 percent)," Rover found.
"Beyond free treats in the office, pet insurance, and pet bereavement, we're seeing some companies go above and beyond with benefits--like non-slip floors for elderly and fearful dogs, and free pet services such as dog walking and grooming. One company even has a pet emergency team, made up of former vet techs ready to respond in case a dog in the office needs emergency medical help," Teodorovic reports.
Where can I get these lavish pet perks?
If that sounds like the right amount of pampering for your beloved pooch, where should you apply? Here are the top 12 companies topping Rover's rankings this year:
Amazon (Seattle)

Athenahealth (Watertown, Mass.)

Trupanion (Seattle)

Kinship (New York)

PetDesk (San Diego)

Stride Health (San Francisco)

Petco (San Diego)

Purina (St. Louis)

SelfMade (New York)

SS&C Advent (San Francisco)

WeWork (New York)

VMware, Inc. (Palo Alto, Calif.)
The pet store and pet food companies on this list probably surprise no one, but why so many health firms and tech behemoths? Maybe because they've read the research showing that pets in the office reduce stress and boost collaboration. Or maybe they understand companies need every edge to attract top talent right now, including welcoming their beloved fur babies.
Or maybe they just can't resist the cuteness.
Oct 5, 2021