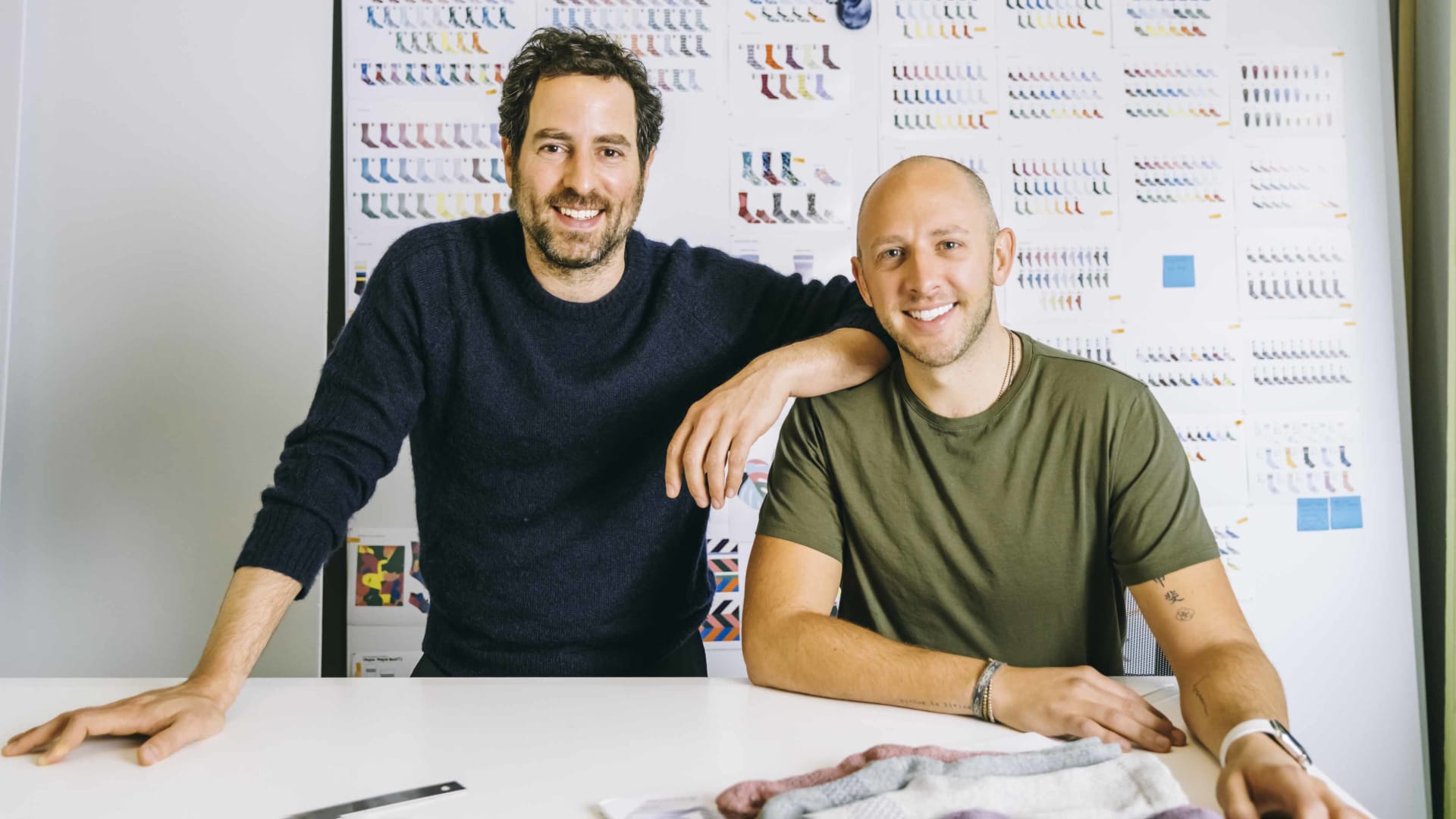 The beginning of 2020 was bleak for e-commerce startups. In February, Brandless, an online retailer, went under. Then mattress maker Casper's IPO spooked investors the same month. By March, Outdoor Voices founder Tyler Haney was out, leaving the athleisure company to fend for direction--and cash. But a deadly pandemic has a way of upending things. Suddenly, physical retail space became a liability--and those that already had smaller physical footprints, along with a relevant product, a trusted brand, and a strong online presence, blossomed.
"Being a direct-to-consumer startup absolutely gave us an advantage," says Bombas co-founder Randy Goldberg, whose socks and other accessories brand became acutely relevant to homebound--and often shoeless--consumers during the pandemic. The New York City-based company, which hit No. 515 on Inc.'s 2020 list of the fastest-growing companies in America, booked $250 million in revenue last year, up from $171 million in 2019.
What also helped? Staying lean. Making better use of current customer data and doubling down on customer service. Maintaining less inventory and shrinking when possible helped too. Here's how some of the fastest-growing DTC companies in America kept on growing during one of the hardest years on record.
Less Is More
For made-to-order businesses, the water's been just fine. Ask Fresh N Lean, the Anaheim, California-based meal delivery service, which landed at No. 847 on Inc.'s list with $40 million in 2019 revenue. Last year, the 11-year-old business booked $87 million in revenue, even as it poured about $2.6 million on Covid-related costs like shipping--a hefty sum for a company with 516 employees that aims to deliver its freshly prepared meals anywhere in the U.S. in under 48 hours. Still, its low inventory needs means its other costs are lower than those for companies that may be dealing with non-perishable goods. Among others, there's the cost of housing merchandise, maintaining it, and selling it.
Fresh N Lean co-CEO Thomas Asseo says he felt lucky to be carrying "very little inventory," even though Covid logistics presented challenges. When the pandemic hit in March, he says he was more concerned about securing packaging materials for refrigerated shipments, like food trays and gel packs, than anything else.
Melanie Casey says she benefited from the same dynamic. As the designer and founder of her eponymous fine jewelry brand in Andover, Massachusetts, she makes her pieces to order and doesn't have to think about inventory at all. During the pandemic, she says her company managed to grow its bottom line revenue more than 50 percent year over year, to $7.7 million in 2020. "I saw a ton of people doing virtual sample sales and trunk shows to stay afloat," she says. "We really didn't have to do anything outside the ordinary," other than temporarily shift her team of 31 employees to working remotely.
The Power of Data
At a time when companies big and small have been slashing marketing budgets, customer retention remains critical, which means businesses ought to continue to keep close tabs on data to lean into what's working. For Ettitude, the Los Angeles luxury bed and bath products seller, this strategy translated to shifting its messaging in March 2020 to emphasize comfort in addition to its focus on sustainability, says CEO and founder Phoebe Yu, whose business grew 150 percent in 2020 over the previous year.
Data also drove its purchasing decisions, says Yu, whose company smartly stocked up on in-demand items in advance of the holidays. Bombas similarly used sales trends to inform buying decisions. For instance, over the summer, Goldberg says Bombas noticed a surge of interest in performance socks. When all-purpose performance socks sold out, the company quickly began promoting its running and other performance socks, which sold well in a time of socially distant outdoor activities like golf.
A Trusted Connection
Having a product that matches the mood of the moment has helped, as evidenced by Bombas and Ettitude. But that mood translated in other ways--and for some companies figuring out how to cash in without alienating customers has been invaluable.
In March last year, sensing shoppers would be receptive to hearing about Bombas's charitable efforts in the homeless community, Goldberg says he increased the messaging--including customer emails and social media--around its efforts. Since launching in 2013, the company donates one product to a homeless shelter or community organization in America for each product sold. "We didn't have to shift the message so much, we just turned the volume up," says Goldberg. Follower growth has risen 9 percent since the pandemic hit in mid-March while average engagement has soared 7 percent, up from 3.9 percent, according to a Bombas spokesperson. Framing "socks as the new shoes" didn't hurt either, as Bombas saw higher than usual website conversion rates in June.
Casey was also able to keep her jewelry business going because, well, she stayed open. Despite feeling the squeeze from gold and diamond suppliers hindered by lockdowns, new client inquiries rose sharply, and Casey found herself selling more engagement rings than she had in the previous year. "When somebody decides to buy an engagement ring online because nothing is open, that's when a strong online presence and reputation matter," she says.
Back to Basics
Of course, the devastation of this moment also hit the DTC brands--particularly those that operate physical locations. New York DTC brands including The Sill, a boutique plant seller, and accessories and apparel company Rent the Runway closed stores last spring. Ashley Merrill, chief executive of Lunya, a sleepwear retailer, did so too. Merrill says she made the painful decision to temporarily close four stores in Atlanta; Santa Monica, California; Manhattan; and Brooklyn at the start of the crisis. (Its locations in Atlanta and Nolita, in Manhattan, later reopened.)
But after doing so, she says, Lunya, too, benefited from keeping a tight leash on inventory. Whereas bigger companies carry somewhere around 2,000 products, Lunya, which has about 40 employees, stocks fewer than 100. That made it easy to "get real scrappy" and stage low-fi product-photo shoots with her daughter at home. "We were all very much in the mindset of, 'We just need to weather the storm,' " says Merrill.
EXPLORE MORE Inc. 5000 COMPANIES
Mar 5, 2021